četvrtak, 05.04.2012.
It! The Terror from Beyond Space (1958)



Produkcija: Robert E. Kent Productions (aka Vogue Pictures)
Režija: Edward L. Cahn
Scenarij: Jerome Bixby
Film je slobodna obrada priče "DIscord In Scarlet" treće priče (poglavlja od 13 do 21) iz zbirke kratkih priča SF pisca A. E. van Vogta pod imenom "The Voyage of the Space Beagle" objavljene prvi put sad već daleke 1950 godine

Uloge:
Marshall Thompson (Carruthers)
Shirley Patterson (Ann Anderson)
Kim Spalding (Van Heusen)
Ann Doran (Mary Royce)

Film je izašao u kina u kolovozu, 1958 godine
Trajanje: 69 minuta
Foršpan film...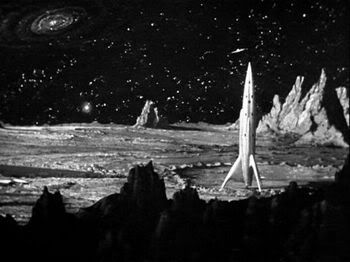 SADRŽAJ:
"- Godina je 1973. Tijekom spasilačke misije prvog zemaljskog svemirskog broda koji je sletio na planet Mars, krvožedno vanzemaljsko stvorenje, se uvuče u spasilački svemirski brod i počne ubijati članove posade jednog po jednog. Tko će od prestale posade uspijeti preživjeti oštre kandže od naizgled neranjivog i nezaustavljivog stvora, dok njihov svemirski brod se sigurno i polako vraća prema Zemlji."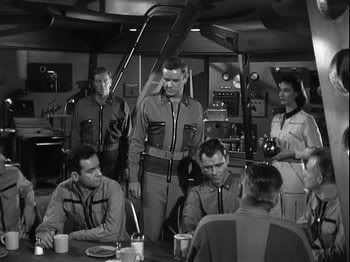 RECENZIJA:
- Dugo sam vremena već želio pogledati ovaj film i prije par dana sam se lijepo bacio na krevet i dok je vani bilo neko stvarno bljutavo vrijeme dao sam se na gledanje ovog SF klasika. Sigurno će te se pitati koliko je dobar...pa nije loš, no prvo obratimo pozornost na njegove dobre i loše strane:


Što valja kod filma:
- osnovni dio priče
- glumačka postava
- atmosfera
- vanzemaljčeva snaga i neranjivost
- odlična i napeta mjuza Paula Sawtella, koja me je je jako podsjetila na onu iz prve "Zle Smrti"


Što ne valja kod filma:
- scenarij u drugom dijelu filma
- veći dio dijaloga
- scenografija
- način ponašanja vanzemaljca i njegov kostim
- vidi se mali budžet kojim film raspolaže




Završna riječ:
- Možda ne znate, ali ovaj film (uz Bavin "Planet Vampira") je najviše utjecao na scenarij Dana O'Bannona od kojeg je na kraju nastao "Alien" (1979) Ridleyja Scotta, tako da vam mogu reći da je Scottov film definitivno neslužbeni rimejk.
Nabrojat ću vam najvažnije sličnosti između oba filma, a vi sami procijenite da li je moja gornja rečenica točna:

- vanzemaljac se uvuče na svemirski brod i počne kokati njegovu posadu (ta scena kako monster uđe na brod je ista ona kad jedan Xenomorf uđe u skladište letjelice UD4L Cheyenne u kojoj su Spunkmeyer i Ferro izgubili guzice u "Aliensima")
- prvi koji strada je tip čija je funkcija strojara i to na isti način kako pogiba i Brett
- način na koji se riješe vanzemaljca je skoro pa isti (ovdje ga uguše dekompresijom, dok Xenomorfa Ripley uz pomoć isisne snage dekompresije uspije izbaciti van)
- oba vanzemaljca je iznimno teško ubiti (O'Bannon se tu mnogo bolje iskazao kad je izmislio da Xenomorf ima koncetriranu kiselinu umjesto krvi)
- u početku se vanzemaljac koristi ventilacijskim cijevima kako bi napao posadu (vidi treću fotku...jebena fotka, ali bogme i scena)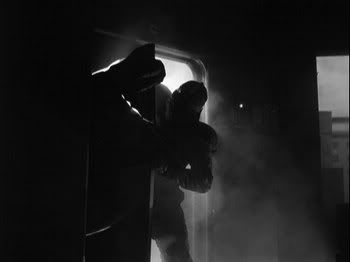 Redatelj Edward L. Cahn je imao samo 6 dana da snimi film, te je po meni uspio snimiti doista zanimljivo djelce, čiju bih radnju vrlo lako mogao opisati kao "The Thing From Another World" ali samo u svemiru, gdje je Marsovski vanzemaljac tj. glavni negativac skoro ista stvar kao i "The Thing" (čak oboje sišu ljudske enzime i tekućine).
Cahn je tip redatelja koji je imao filmove poput crno bijelih klasika "Zombies of Mora Tau" (1957), "Invisible Invaders" (1959) i "Creature with the Atom Brain" (1955), ali i poneki fijasko kao što su bili "Voodoo Woman" (1957).
Čudno je bilo vidjeti da je sama priča dobro osmišljena, no problem je što je dijalog predrven i neozbiljan, ali to neću nikako zamjeriti scenaristu Jeromeu Bixbyju (scenarist nekih epizoda "Zvjezdanih Staza" i "Zone Sumraka"...zaslužan za scenarij treće priče u filmu "Zona Sumraka" pod imenom "It's a Good Life") kad je na raspologanju imao 6 dana.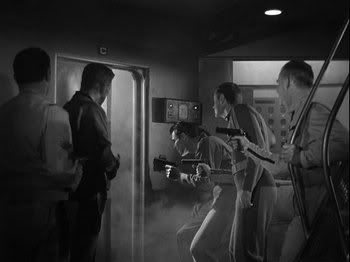 Upravo zbog tako kratkog perioda vidi se da je i budžet samog filma bio mršav, pa tako sam dobio dojam kao da gledam neki film koji je nastao iz produkcije Rogera Cormana ili Williama Castlea.
Scenografija je pogotovo bila smiješna, jer mi je izgledalo da se većina filma događa u samo jednoj prostoriji (od 6 levela svemirskog broda/rakete svaki level isto izgleda). A što reći na sam početak u kojem vidimo raketu na Marsovoj površini, a sve me podsjetilo na crtić o Marvinu Marsovcu. Također sam primjetio i određene greške u samom scenariju koje su upečatljive:

- prvi put ljudska posada slijeće na Mars i to na jedvite jade, ali USA vlada bez problema šalje još jednu posadu da vidi šta je bilo sa drugom, iako nam film daje naznaku da je to sve skup proces i da ljudi baš nisu toliko vični da lete tamo vamo bez problema
- ovo je za sada jedini SF film gdje sam vidio da cijela posada puši cigarete ko Turčini...a nitko ne misli o zalihama kisika?
- u samo 3-4 sata koliko je vanzemaljac bio u svemirskom brodu uspio je potrošiti on sam 40% kisika...dobra neka pluća ima ili se posadi vratilo ono što sam rekao o njihovom ovisničkom pušenju?
- posada se tako raspucala po vanzemaljcu (čak se koristila i bazuka jednom prigodom!!) da su više metaka ispalili oni nego vojnici u odličnom "Objective, Burma!" (1945), ah da i to sve događalo u svemirskom brodu dok se vraćao prema Zemlji...a da ne govorim kako su na samom početku kad su saznali da je vanzemaljac u ventilacijskim cijevima postavljali na izlaze po 7-8 ručnih bombi, koje je monster aktivirao naravno, da je to bila realna sitacija film bi završio u 20 i nekoj minuti jer bi se cijeli brod raspao od eksplozija (uf šta ti ameri rade jebene trupove broda kad ga nikakva eksplozija ne može razjebati)
- iako mu nisu mogle ni meci, niti bombe, niti plin, niti bazuka, a bogme ni radijacija iz jezgre brodskog pogona...vanzemaljac se nije uspio dočepati jednog člana posade koji se od njega branio opremom za zavarivanje i nekom let lampom na argon
- godina je 1973, ali žene i dalje služe muškarce tako da im spremaju marendu i ručak, te im odnose tanjure sa stola dok ovi veselo puše i čavrljaju i traže kavu...a obje žene su kao ravnopravne muškarcima u filmu i same su znanstvenice
- upucavanje Ann Anderson pukovniku Edwardu Carruthersu (našem junaku):
"- So I decided after one bad marriage to bury myself in science." (i to onako ona njemu odjednom...iako su samo prije toga jednom malo razgovarali i 'značajno' se pogledali)




Čudovište čiji kostim (osmislio ga Paul Blaisdell) nosi poznato lice u westernima Ray "Crash" Corrigan ("Fort Apache", 1948) je nezgrapno i trapavo, te je maska glupavo napravljena.
Dobra je stvar što se vanzemaljac ne pojavljuje u svom liku odmah na početku nego ga filmaši skrivaju u mraku. Ali ipak je to daleko od pojave "The Thinga", te pogotovo "Gill-Mana" (Gill-manov kostim je neusporedivo superiornije osmišljen i napravljen nego Vanzemaljčev).
Ali fascinira snaga vanzemaljca...kandžama kida metalne oplate broda kao da su od maslaca...me like it!!!

Unatoč brojnim lošim stvarima "It! The Terror from Beyond Space" (1958) je napet film, jako dobre glumačke postave, koji se okoristio kalustrofobičnim okolišem unutrašnjosti svemisrkog broda koji se nalazi u svemiru i do tada slabo iskorištenom radnjom, te je s razlogom proglašen SF B-klasikom i jednim od najboljih SF filmova nastalih u 50-tim godinama prošlog stoljeća, no po meni nikako nije bolji od Hawksovog "Stvora" ili Wiseovog "The Day the Earth Stood Still".
Dakako da ću film preporučiti svima, a ne samo ljubiteljima SF-a ili starih SF filmova...a fanovima Alien franšize bi ovo trebalo biti upisano u notes pod - što prije pogledati...