utorak, 27.03.2012.
Lord of Illusions (1995)

Gospodar Iluzija (1995)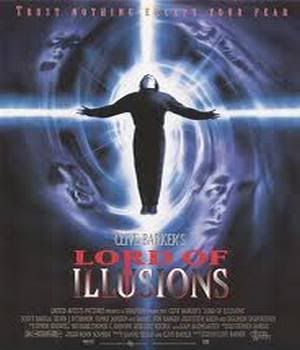 Produkcija: United Artists Pictures / Seraphim Films
Režija i scenarij: Clive Barker
Glazba: Simon Boswell
Spec. Efekti (šminka): K.N.B. Effects Group
FIlm je snimljen prema kratkoj priči "The Last Illusion" Clivea Barkera

Uloge:
Scott Bakula (Harry D'Amour)
Kevin J. O'Connor (Philip Swann)
Famke Janssen (Dorothea Swann)
Daniel von Bargen (Nix)

Film je izašao u kina 25. kolovoza, 1995 godine
Trajanje: 108 minuta (cenzurirana verzija) / 116 minuta (necezurirana verzija)
Red Band Foršpan filma...
Nagrade:
1996 godina - osvojio nagrade "Chainsaw Award" (za najbolji soundtrack) i "IHG Award" (najbolji film), te zaradio nominaciju nagrade Saturn u kategoriji najboljeg horor filma




SADRŽAJ:
"- Opasnost započinje za detektiva Harryja D'Amoura (Scott Bakula) kad mu priđe prelijepa žena, Dorothea Swann (Famke Jansen). Dorothea je udana za Philipa Swanna (Kevin J. O'Connor), imućnog iluzionista koji je pronašao slavu u prikazivanju stvarne magije kao trikova za pozornicu i vjeruje da joj je suprug možda izložen opasnosti.
Harry nevoljko pristane istražiti slučaj i otkrije da je Swann stekao neprijatelje u bizarnom religijskom kultu koji želi uskrsnuti svog vođu, zlog čarobnjaka kojeg je ubio Swann."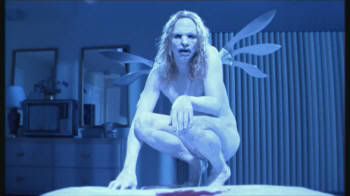 RECENZIJA:
Clive Barker nije jedan od mojih dražih horor pisaca, no jedno mu se mora priznati znao je napisati (orginalni naslov priče nosi naziv "The Hellbound Heart"), a još bolje i režirati prve "Čuvare Pakla" tj. "Hellraisera".
Što se tiče ovog filma, koji mu je za sada zadnji redateljski uradak, mogu reći da su mi dojmovi dvojaki. No, prvo se okrenimo onim pozitivnim i negativnim aspektima samog filma:


Što valja kod filma:
- osnovica priče
- glumci i režija
- štih 80-tih
- specijalni efekti koji se tiču maske i šminke
- negativac i njegovo uskrsnuće na kraju
- Famke Jensen u poluprozirnom crvenom džemperu bez grudnjaka
- gledati Director's Cut verziju jer su sve gore scene u njoj


Što ne valja kod filma:
- slab scenarij i karakterizacija likova
- razvoj priče
- vizualni specijalni efekti
- nedovoljno iskorišten glavni negativac (izgleda kao manje zlobna verzija Dr. Philipa Channarda / Channard Cenobita iz "Hellraisera 2")
- homoseksualne seksualne konotacije u krivo vrijeme ubačene




Završna riječ:
- Da dojmovi oko ovog filma su dvojaki, jer mnogo toga ovdije funkcionira, no opet s druge strane neki važniji djelovi i ne. Prvo što mogu reći da je Barker okupio lijepu glumačku ekipu, gdje glavnu riječ vode Scott Bakula (najpoznatiji po ulozi kapetana Jonathana Archera iz serije "Enterprise"), Kevin J. O' Connor (Igor iz "Van Helsinga" i "Benji iz Sommersove "Mumije"), nikad ljepša Famke Jansen (Jean Grey iz filmskog serijala "X-Man"), te Daniel von Bargen ("The Silence of the Lambs", "Basic Instinct"...) koji je još jednom dao sigurno glumačko ostvarenje glumeći glavnog negativca Nixa.
U cameo ulogama možemo primjetiti Dannyja Woodburna (serija "Special Unit 2", "Watchmen"), Kena Davitiana (Azamat iz "Borata"), te u još jednoj lijepoj epzodnoj ulozi odličnog Vincenta Schiavellija (Fredrickson iz "One Flew Over the Cuckoo's Nest").

Dobra strana filma je svakako onaj lijepi štih 80-tih najljepšeg doba horor žanra koji "Gospodar Iluzija" svakako ima, bez obzira što je nastao 1995 godine.
Dakako i ovdje se Barker bavi svojim standardnim temama koje obuhvaćaju - Meso, Sex i Smrt. No, to ovdje nije tako zanimljivo i dobro kao što je to napravio u "Hellraiseru". Možda je problem što priča i nije toliko mračna koliko ju je redatelj želio prikazati ili su likovi previše vedriji zbog naglašenog noir elementa i izražene detektivske priče.
Upravo zbog noira i detektivske priče sam film se jedva može okarakterizirati hororom, jer je više zagazio u vode fantastičnog trilera (može se reći i kao okultni triler). Mogu reći da nisam baš veliki fan Scotta Bakule, ali ovdje kao detektiv Harry D'Amour (slaba karakterizacija) nije uopće loš (sam lik izgleda kao akcijska verzija Dylana Doga), dok je Famke sasvim ok, no najbolji je Kevin J. O'Connor koji još jednom dokazuje da glumac koji zna glumiti.
Što se tiče von Bargena on je poznata filmska faca i ovdje kao uber negativac je dobar, no posvećeno mu je vrlo malo vremena, tako da sam lik nije uspio razviti svoju zlobnost.
Dok su CGI efekti podbacili, šminka je ispala odlična no kad znate da su je radili momci iz K.N.B. Effects Group ("Evil Dead" serijal, serija "The Walking Dead"...) nemate brige...sve ispada oflično.




Šteta što je sama priča dosta blijeda (sam početak me mnogo podsjetio na Bavin "The Mask of Satan" kojoj je pridodan Charlie Manson i njegova Obitelj, koje ovdje glume Nix i njegovi sljedbenici), što glavni junak nije dobio lijepu karakterizaciju (čitaj: nerazrađeniji je od ostalih likova), što taj detektivsko noirski đir nije napravljen ugodnije i sivije, dok su mi svakako smetale naglašene homoseksualne reference (kad Nix priča o svom Swannu) kojima se ubila jeza, horor i ozbiljnost samog kraja (jednostavno mi se dođe smijati kad Nix počne pričati o Swannu kako ga želi, da je on stvoren da uz njega vlada...i td., a meni umjesto da se koncentriram na sve napetiji kraj i obračun junaka sa negativcem u glavi mi odzvanja gay pornić).
Da se razumijemo nemam ja ništa protiv homoseksualizma, ali ovdje je to sasvim nepotrebno ubačeno...

Na kraju mogu reći da bez obzira na sve viđeno film je svakako pristojan, ali da je to daleko od fenomenalnih "Hellraisera" i "NightBreed", te da je novela bolja od filma to je sigurno (konkretnija i sigurnija u pričanju priče)...eh da preporučam Director's Cut verziju, jer baca malo bolju svjetlost na samu priču i samom detektivu D'Amouru poboljšava karakterizaciju za jedan nivo više. Kako bilo film je dobar za ubiti dva sata poslije subotnjeg/nedjeljnog ručka...