ponedjeljak, 12.03.2012.
Night of the Living Dorks (2004)

Noć Živih Štrebera (2004)




Produkcija: Constantin Film Produktion / Hofmann & Voges Entertainment GmbH
Režija i scenarij: Mathias Dinter

Uloge:
Tino Mewes................................Philip
Manuel Cortez............................Wurst
Thomas Schmieder...................Konrad
Collien Fernandes......................Rebecca

Film je izašao u kina 04. studenog, 2004 godine
Trajanje: 89 minuta
Budžet: oko 3,500,000 €
Foršan filma...




SADRŽAJ:
"- Philip i njegova dva najbolja prijatelja Wurst i Konrad, pravi su šmokljani. Ostali učenici i nastavnici stalno ih zadirkuju. Međutim, u centru Philiphovih snova nalazi se Uschi, vrlo erotična plavuša. Problem je što djevojka iz snova voli samo pobjednike i što je njezin dečko arogantni Wolf, kapetan nogometnog tima i sin bogatih roditelja. Jedne noći Rebecca i njezino društvo pozovu trojicu frendova na ponoćni vudu ritual na lokalnom groblju. Ritual propadne i ne dogodi se nista. Pri povratku kući njih trojica se slupaju u kombiju te se probude u lokalnoj mrtvačnici, te vrlo brzo spoznaju da su postali zombiji, te da novostećena 'moć' ima mnogo pozitivnih strana no jednu vrlo negativnu i opasnu."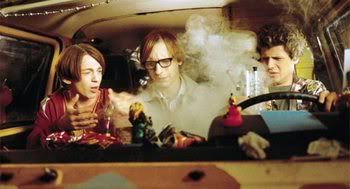 RECENZIJA:
- Znamo da su Njemci jako utjecali na horor žanr u početku njegovog stvaranja (pa tako i na američki horor žanr), no danas tj. u zadnjih 20 godina njemačka filmografija se većinom bavi dramom, komedijom i akcijom. Jedan od rijetkih predstavnika horor žanra je i današnji film koji recenziram. Koliko je zanimljiv i dobar možete pročitati nakon par malih natuknica njegovih pozitivnih negativnih strana:

Što valja kod filma:
- prvi CGI efekt
- nekoliko verbalnih šala
- 3-4 sporedno epizodna lika
- ugodan je za gledanje


Što ne valja kod filma:
- zadnjih 20 minuta
- 80% smiješnih situacija i verbalnih šala
- puno vuće na američko-britanske zombi horor komedije
- kopira "Američku Pitu"
- premalo ozbiljnijeg horor elementa
- prebljutavi i prebrzi happy end




Završna riječ:
- Da, film je ugodan za gledanje i vrijeme uspije tako kako proći, većinom zbog mlade glumačke postave čiji su likovi iako jako jednodimenzijalni i papirnati većinom prijazni gledatelju.
No, bez obzira sam film ima mnogo mana od kojih bih najviše izdvojio dvije:

- ponajprije kopiranje "Shaun of the Dead" humora, koji je neuspješan u svim svojim segmentima.
- te previše amerikanizma u samom filmu

Naravno ovaj film nema niti trunku sofisticiranog humora koji je imao "Shaun of...", no ipak u par scena uspijeva nasmijati (npr. kad se svi nađu na groblju a darkeri, koje film prikazuje i kao sotoniste...što po meni nije isto, pokušaju izvesti Vudu obred, te nakon što ne uspije...jedan od naših junaka pokazuje na nacrtanu Davidovu zvijezdu koja je u stvari trebala biti pentagram i kaže: "- The only thing you're going to summon with that is the Jewish Council!").
Koliko sam shvatio sam film je u montaži dobrano unakažen, jer je zadnjih 20 minuta filma nanovo snimljeno i montirano (i to pola godine nakon što je snimljen), te se izgubio onaj malo ozbiljniji ton kojem je trebao ići (stoga i nema onog opakog zombija, kojeg možemo vidjeti na nekim plakatima filma).
Nikad mi se nije sviđalo kad neki strani film preuzme američki štih ili kad se uljiguje američkom tržištu (no to je sasvim shvatljivo ako se film želi prodati), no kako tome u Europi prednjače baš Njemci (šifra: "Kobra 11") nije niti za čuditi, no ipak ova horor komedija je ima malo previše za moj ukus (neuvjerljivo je da se likovi u svemu ponašaju kao u američkim filmovima).




Sama priča nije ništa spektakularno, no ono što je najvažnije gledljiva je. Na žalost sam film ima par nepotrebnih CGI efekata (recimo ona na ragbi igralištu, gdje naš junak odalami tipa a on odelti 20 metara u zrak, koja kao da ju uzeta iz filmova o "Asterixu i Obelixu").
Glumačka postava je solidna, no bolji i zabavniji su mi bili neki sporedni glumci (učiteljica Niedermacher, dva napušena bolničara...). Sam film mnogo duguje "Američkoj Piti" (Wurst je njemačka verzija Stiflera, a već spomenuta učiteljica je njemačka verzija Stiflerove mame), jer drugi dio radnje se baš bazira na tom američkom hitu. Da nije tako film bi bio mnogo lošiji i to bez obzira, što i ovako to vuče na minuse.

Na kraju bih rekao da se film da pogledati no nije ništa posebno, jer sličnih filmova ima na bacanje, kao što je "Dance of the Dead" koji je mnogo stabilniji u samoj priči i horor elementima (pa i u humoru), te ''Idle Hands" čija je radnja također slična iako se u filmu ne radi o zombijima.
Čak mi se i Balabanov "My Boyfriend's Back" više dopao, no tu se već radi o okusima...mislim da bi se mnogima ovaj njemački uradak dopao pod uvijetom da se film gleda negdje poslije obilatog ručka i u trenutku kad vam je mozak na paši...