srijeda, 15.02.2012.
Demoni 2 (1986)



Produkcija: DACFILM Rome
Režija: Lamberto Bava
Scenarij: Dario Argento, Lamberto Bava, Franco Ferrini i Dardano Sacchetti
Spec. Efekti: Giacinto Bretti i Rosario Prestopino
Glazba: Simon Boswell

Uloge:
David Edwin Knight (George).........................Nancy Brilli (Hannah)
Coralina Cataldi-Tassoni (Sally Day)............Bobby Rhodes (Hank)
Asia Argento (Ingrid Haller)

Film je izašao u kina
Trajanje: 91 minuta
Talijanski foršpan filma...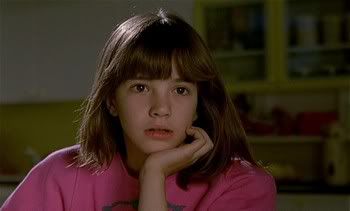 SADRŽAJ:
"- Stanari jedne zgrade ostanu zarobljeni u njoj kad se pojavi infestacija koja obične ljude pretvara u demone. Koga ti 'demoni' ugrizu ili ogrebu i njega samog pretvaraju u demona. Samo još nekolicina preživjelih odoljeva napadima hordi zlih bića...no svima iznad glave visi pitanje - koliko će još moći izdržati."




RECENZIJA:
- Godinu dana nakon što su trojac Bava/Argento/Sacchetti izbacili "Demone" stigao nam je i njegov nastavak. Kako to biva u 90% slučajeva nastavci budu lošiji od originala. "Demoni 2" svakako spadaju u tu skupinu, no bez obzira na to film itekako vrijedi vaše pažnje bez obzira što nije ponovio kvalitetu koja se od njega očekivala i koju je ponudio prvi dio. Dakle evo nama najprije dobrih i loših strana ovog hororca o demonima na talijanski način:


Što valja kod filma:
- legenda Bobby Rhodes
- veliki dio specijalnih efekata i šminke
- mjuza Simona Boswella ("Phenomena", "StageFright", "Lord of Illusions")
- gore elementi i i probijanje tabu teme sa dječakom
- Hankova smrt
- ako je ovaj film imalo inspirirao filmove poput "Ringu" i "REC" svaka mu čast na tome

Što ne valja kod filma:
- scenarij (naj detalj je da netko na svom stolu u običnoj kuhinji drži bocu sa kiselinom!!), dijalozi i gluma
- krađa nekih detalja iz nekih horor uspješnica 'from good 'ol United States of America' a bogme iz iz Kanade
- povremeno režija i mjuza
- scena sa malim demonom
- repriziranje priče iz prvog dijela
- sretan završetak filma nasuprto depresivnom i po meni hororičnom očekivanm kraju





Završna riječ:
- I ovaj je film zabavan kao prvi dio no fali mu mnogo toga da budem u potpunosti očaran viđenim. I ovaj put se ne zna tko koga i zašto, no to nije ni važno, ali najveća zamjerka filmu ide što je pokrao/kopirao neke ideje ili scene iz raznih drugih filmova...primjeri slijede:

- "Shivers" aka "They Came from Within" (1975) - najmanje što mi je smetalo ali sam jednostavno morao to spomenuti jer tijekom gledanja sve podsjeća na Cronenbergov film (recimo za razliku od oba "REC"-a, kojima se radnja dešava isto u zgradi i sa sličnim elementima, ali ne misliš na "Shivers" nimalo)
- "Alien" (1979) - glavna demonka u filmu prokrvari demonsku kiselinu koja progriza podove/stropove od betona i cigli 10 i više katova (i ta kiselina padne baš na mjesto gdje se nalaze glavni kablovi od struje)...a ako to ne baca na "Osmog Putnika" onda ne znam što ne baca...a sama scena je totalno nepotrebna
- "The Thing" (1982) - imamo scenu gdje se pas pretvara u demona a u stvari kopira haskija iz Carpenterovog ''Stvora" (fotka br.4)
- "Fright Night" (1985) - ne samo da glavna demonka (fotka br. 3) mnogo naliči sa zubima na Evil Eda iz vampirskog klasika sa Roddyjem McDowallom, a taj dio zanemarujem, nego se u svom urikanju koristi istim urlikanjem kao što je to Evil Ed radio kad je umirao u filmu (fantastična scena pretvaranja u vukodlaka)...barem su to mogli izbjeći u filmu
- "Night of the Comet" (1984) - kraj "Demona" isti kao kraj ovog filma
- "Videodrome" (1983) - za kraj još jedan Cronenbergov film koji se kopira...demon izlazi iz televizije (ako ništa drugo scena odlično izgleda pa neka je samo kopija)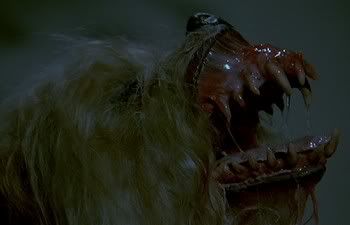 Za film koji je prvenstveno rađen za TV ovo nije niti loše, no bilo bi mi draže da su se Bava i Argento orijentirali na to da film ubace u neki postapokaliptični ambijent (padaju mi na pamet odmah ''Mindwarp" sa Bruceom Campbellom ili Romerov "Day of the Dead", takve bi radnje stvarno odgovarale) kao što je to početak obećavao, jer bi to bilo mnogo bolje i realističnije s obzirom na sam kraj prvog dijela.
Također su me iznenadile neke slabo odrađene scene sa specijalnim efektima u kojima prednjače scena sa malim demonom, koji kao da je neka bljutavija verzija Ghuliesa (neko bi rekao Muppet verzija gremlina, ja bih rekao kao Slovojed sa oštrim zubima) gdje sve izgleda kao neka lutkarska predstava iz nekog sela Bogu iza nogu. A što je još više pogoršalo kod te scene što ona traje kojih 9-10 minuta i do zla boga je dosadna i iritirajuća, ali ujedno i smiješna. Sljedeća scena koja kvari dojam je scena sa psom, gdje su nekom jadnom Benjiju priljepili masku sa zubima i to se vidi kao iz aviona.




Scenarij nastavka (budžet bio dva skoro dva puta veći od onoga iz prvog dijela tj. oko 1,5 milja dolara) je kopija prvog filma sa nekim nebitnim omanjim razlikama, tako da su likovi skoro isti, kao i radnja (iako se sve događa u zgradi a ne u kinu, kako se kaže ista stvar samo u drugom pakovanju), a čak opet imamo i grupu pankera, koji za razliku od onih iz prošlog dijela imaju još manju ulogu u samoj priči (da tu su samo da nadopune vrijeme kako bi bilo drugo).
S druge strane dobra je štoviše odlična stvar ponovno aganžiranje Bobbyja Rhodesa (Hank), koji je opet jedina prava zvijezda i koji jedini ima prejebene onlinere (najbolja je ona sa aparatom za požar
), ali šteta što i ovdje umire legendarnom smrću. Slatka Asia Argento ovdje ima svoj filmski debi, dok se iz stare postave prvog dijela pojavljuje osim Rhodesa još i Lino Salemme (panker Ripper iz jedinice, a ovdje glumi zaštitara u zgradi).
Bavini "Demoni 2" su bez obzira na zavrzlame, slabiju priču i ostale gore spomenute minuse zabavan film u kojem se kao i u prvom dijelu uvijek neki vrag događa i gdje demoni non stop nadiru i napadaju preživjele ljude, a ovaj put glazba nije toliko napadna iako je i ovdje ponekad u pogrešnim scenama također prisutna.
Kao i original svakako ću preporučiti gledanje i ovog hororca, bez obzira što će dojmovi većine biti mješani tj. od negativnih do pozitivnih komentara...samo nemojte zaboraviti dovoljnu dozu pijače i kokica/pereca/smokija.


THE SCENA:
- svaka sa instruktorom Hankom, kojeg glumi Bobby Rhodes