utorak, 07.02.2012.
Demoni (1985)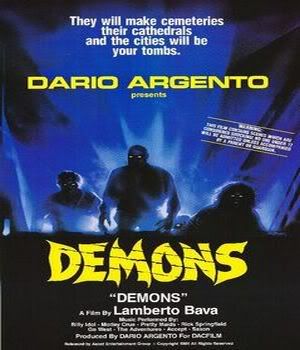 Produkcija: DACFILM Rome
Režija: Laberto Bava
Scenarij: Dardano Sacchetti (originalna priča), Dario Argento, Lamberto Bava, Dardano Sacchetti i Franco Ferrini
Glazba: Claudio Simonetti
Specijalni efekti: Rosario Prestopino i Sergio Stivaletti

Glume:
Urbano Barberini (George)...................Natasha Hovey (Cheryl)
Karl Zinny (Ken)....................................Fiore Argento (Hannah)
Bobby Rhodes (SvodnikTony)..............Geretta Geretta (Rosemary)

Film je izašao u kina 4. listopada, 1985 godine
Trajanje: 88 minuta
Originalni talijanski foršpan filma...
Nagrade:
1986 godina - zaradio nominaciju nagrade "International Fantasy Film Award" u kategoriji najboljeg filma (Fantasporto)


Tony the Pimp sa svojim kokama

SADRŽAJ:
"- Grupa ljudi ostaje zarobljena u ogromnom kino kompleksu u Zapadnom Berlinu sa sve većom i rastućom populacijom demona. Koga god od ljudi ta zla bića ogrebu ili ugrizu i sam postane demonom.
Grupica preživjelih raštrkani na sve strane pokušavaju svim silama izbjeći užasan kraj..."




RECENZIJA:
- Iako, sam rekao da će sljedeća recenzija biti ''Don' Afraid of the Dark" (2011), ipak sam odlučio ostaviti ovu recenziju za kraj mjeseca. Sad se bacam na filmove o demonima i pošto sam malo zapustio horore iz 80-tih bilo bi lijepo vratiti im se. Stoga kud ćeš boljeg izbora od Bavinih "Demona".


Što valja kod filma:
- Tony the Pimp (Bobby Rhodes)
- specijalni efekti (Rosario Prestopino i Sergio Stivaletti)
- ugođaj i atmosfera
- mjuza (zaslužan Claudio Simonetti, bivši klavijaturist grupe "Goblin") i gore element (čitaj: krvoproliće do koljena)
- kutevi snimanja i montaža
- mačo preseravanja glavnog lika
- gledate kako drugi gledaju, a kad se jedni pretvore onda se pretvore i ovi drugi...što je priznat ćete jebenica velika
- likovi se ubijaju bez setimentalnosti


Što ne valja kod filma:
- scenarij i logika
- mjuza u krivom momentu
- dijalog i gluma većine glumaca
- krađa nekih detalja iz nekih horor uspješnica 'from good 'ol United States of America'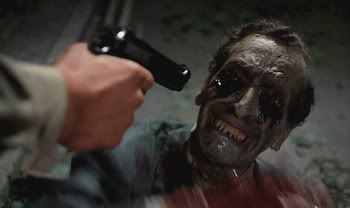 Završna riječ:
- Ovo je jedan stvarno čudan, ali opet izniman film. U nekim djelovima jako loš (što mu daje šarm), no u drugim prejebno napravljen (divota za gledateljeve buljavice).
Zamislite film u kojem nema logike u vezi radnje i likova (tipa sa maskom glumi nitko drugi doli Michele Soavi redatelj "Dellamorte Delamore" i "StageFrighta", dok djevojku Hannah glumi starija sestra Asie Argento tj. kćer od Daria jel), gdje demoni vode glavnu riječ (kao negativci, pokretači radnje i kao pokazatelji spec. efekata), radnja se događa u Njemačkoj, glumci su Talijani čija je spika sinkronizirana na engleski...i to loše, jako loše. Ako želite film sa logikom onda vam savjetujem da ne gledate film, jer upravo vam se zbog toga neće svidjeti. Kao u mnogim talijanskim horor filmovima (iznimka su filmovi velikog Maria Bave) logika u radnji je odsutna svjetlosnim godinama (kao i pristojno napisan scenarij).

A evo i nekoliko primjera:
zajeb br. 1 - u filmu imamo jednu ženu koja naplaćuje karte u kinu, te nam kamera i njeno lice govori da bi ona mogla biti neki glavni vođa i pokretač demonske sile...a ono na kraju ispala običan da običniji sporedni lik može biti
zajeb br. 2 - potom dobijamo mini podzaplet u kojem usporedno sa koljažom u kinu između demona i ljudi pratimo četvero pankera i sad ti pomisliš da će oni išta utjecati na radnju i dodatnu napetost, ali ne i oni posluže kao pojačanje demonima i to bez da dadu ikakav otpor (ne vidimo njihove transformacije iako ih kamera nemilice forsira)
zajeb br.3 - polako dolazi kraj filma, kad u finišu ostanu samo naš uber mačo jebač George i njegova koka Cheryl (zanimljivo da se ona zove isto kao i Ashova sestra u prvom "Evil Deadu" hmmm) i baš se pitaš kako će k vragu njih dvoje pobjeći kad je sve (prozori i vrata) zaziđano u ciglama i nema izlaza...kad dolazi brilijantno riješenje našeg genijalnog scenarističkog četverca i usred svega kroz strop uleti jebeni helić i tako otvori put za bijeg...jebote trebaš vjerovati da bi vidio
zajeb br. 4 - progutao sam sve i helić (kasnije saznajemo da je cijeli svijet u borbi sa demonima, pa naravno bili su i piloti...ali gdje je naznaka tome?), i 'važne' likove (kad smo kod toga pitam se koja je uloga slijepca, koji je išao na kino predstavu? a onog tipa koji je dijelio karte, koji je sa demonima, ali ne izgleda kao demon?), ali jedno nikako nisam mogao koliko god to drugima nevažno bilo...a to je kako se ljudi uspiju pretvoriti u demone a niko ih nije ugrizao ili ogrebao?




Sva sreća znao sam što mogu očekivati pa se nisam ničim opterećivao (satrao sam pol litre crnog vina i 2 ogromne zdjele kokica), jer znao sam kakvim se talijani scenarističkim trikovima služe - npr. pankeri su bili tu samo da popune vrijeme i sl.
Budžetiran sa slabih 800 000$ ovaj je film, za kojeg Lamberto kaže da mu je najdraži (čitaj najvjerojatnije zato jer se na njemu najviše zabavio, ali i dobro zaradio), producirao Dario Argento (redatelj"Deep Red", "Suspiria") kojem je ovo bio prvi pokušaj da se probije na američko filmsko tržište. Koliko god ti loši djelovi filma bili izraženi (ultraloša engleska sinkronizacija) i vidljivi film je bez obzira uber zabavan, a evo zbog čega:

- Tony the Pimp
(legenda Bobby Rhodes) u elementu protiv demona (jedini glas razuma i pravi prototip meštra za preživljavanje) u kojima u kratko vrijeme valja odlične onlinere...i po meni je veći jebač od Shafta, a za sam film toliko je pamtljiv kao pop Jon McGruder ("I Kick Arse For the Lord!!") u Jacksonovom "BrainDeadu".
- razne transformacije u kojima možemo vidjeti kako ljudima ispadaju zubi umjesto kojih izrastu još oštriji u krupnom planu, krv šprica na sve strane (ugrizi za vrat, za ruke), u kojima se povraća zelena tvar, gdje demon izađe ženi kroz leđa...jednostavno specijani efekti i šminka (misli se na maske demona) su bezprijekorni za ovakvu vrst filma, no to ne treba čuditi kad su sve nasilne scene dobro skriptirane i u kojima je dopušteno samo malo improvizacije
- krešendo u kojoj se naš George na motorčini vozi kroz kino i sa samurajskim mačem maklja i siječe demone na komadiće (opet šprica krv, letu ruke, poneka glava...)
- scena sa kokainom, žiletom i dojkama Enrice Marie Scarivano, koja glumi pankericu-narkomanku Ninu (slika ispod)




Bez obzira na jeftinu glumu, što film ne nudi nikakvo objašnjenje ili logiku, što se rock mjuza pušta u sasvim krivo vrijeme (tempiranje je ubije me Bože) i što bi netko za ovaj film rekao da je najveće smeće snimljeno, mogu reći da se unatoć tome radi o jako dobrom filmu unatoč što je okrao neke filmove poput - Romerov "Night of the Living Dead" (ljudi zarobljeni na jednom mjestu, dok beštije pokušavaju ući), Carpenterov "The Fog" (najveći utjecaj, demonima svijetle oči dok izlaze iz magle...zadnja slika), Raimijev "Evil Dead" (demoni, način opsjedanja, sam film koji likovi gledaju u kinu...).
Zašto je dobar? Pa zato jer - ima gotičku atmosferu i ugođaj jako blizak originalnoj "Magli", čudni kutevi kamere naglašuju izoliranost likova, depresiju, bezpomoćnost i očaj, a sami likovi su ipak nezaboravni.
Šteta što Bava Junior nema očevih redateljskih kvaliteta ili barem dio njegove redateljske finese (jedan je Mario Bava), jer bi film bio i još opipljiviji no i ovako je prava horor delikatesa prvenstveno zbog gore scena, kojih ima na pretek tj. koliko god se može naći u svakom dobrom talijanskom hororcu. Neću više ništa drugo reći doli da dajem pretople preporuke za gledanje svima, a pogotovo ženskoj publici....jer se samo ovdje mogu nauživati golih bicepsa, tricepsa i preplanulih prsa glavnog junaka Georgea, kojeg utjelovljuje Urbano Barberini. Ovo je prejeben film da bi ste ga propustili...

THE SCENA:
- ovakve face koje se svako malo pojave u bu momentu



- i nezaboravno uspinjanje demona uz stepenice kina