utorak, 13.12.2011.
Motel Hell (1980)

Motel Pakao (1980)




Produkcija:
Redatelj: Kevin Connor
Scenarij: Robert i Steven-Charles Jaffe, Tim Tuchrello (nekreditiran)
Glazba: Lance Rubin

Uloge:
Rory Calhoun (Vincent Smith).........Nancy Parsons (Ida Smith)
Nina Axelrod (Terry).........................Paul Linke (Šerif Bruce Smith)

Film je izašao u kina 18. listopada, 1980 godine
Trajanje: 102 minute
Foršpan filma...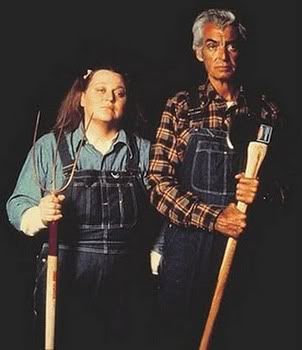 SADRŽAJ:
''- Farmer Vincent sa svojom sestrom Idom kidnapira slučajne namjernike, koji imaju tu nesreću da odsjednu u njihovom malom motelu zvanom ''Hello'' ili koji noću prolaze u svojim vozilima sami na osamljenoj cesti.
Nakon što ih 'milosrdno' likvidira Vincent od mesa ubijenih radi poseban sastojak za svoje mesne poslastice od kojih su najpoznatiji Vincetovi štapići od sušenog mesa. Kad se farmer zaljubi u Terry, jednu od svojih žrtava, on joj poštedi život, ali tako uvede nemir u svoj... Romantični odnos farmera i mlade djevojke počne naveliko štetiti 'poslu' i samom odnosu sa Vincentovim mlađim bratom Bruceom, te pogotovo ljubomornom sestrom Idom..."




RECENZIJA:
Jedan od najpodcjenjenijih hororaca uopće je upravo današnji film odličnog naziva ''Motel Pakao'' čija se tema kao i kod prošlog filma ("Parents") vrti oko kanibalizma. Koliko je dobar i da li ima ikakvih mana...pa vidjet ćete ako bacite svoje neumorne buljavice na tekst ispod:

Što valja kod filma:
- Rory Calhoun i Nancy Parsons
- čudni ugođaj i atmosfera
- humor (samoparodiranje) i dijalozi, montaža, kamera i scenarij
- jezive scene (glasanje žrtvi kojima je Ida prerezala glasnice)
- kraj filma


Što ne valja kod filma
- ponegdje spor
- karakterizacija sporednih likova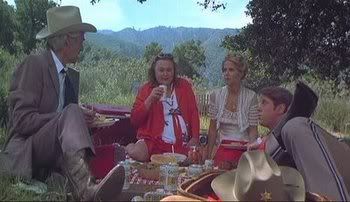 Završna riječ:
- Da ''Motel Hell'' je jedan od onih filmova za koji ste čuli, ali najvjerojatnije ga niste još imali prilike pogledati. Ja sam ga gledao prvi put tek prije nekoliko dana i to ponajviše zahvaljujući njegovom odličnom filmskom plakatu i VHS coveru, te činjenici da ga neki svrstavaju u slasher filmove.
E, pa mogu vam reći da oni koji to tvrde jako griješe, jer sam film najbliže pripada filmovima o serijskim ubojicama. Stvarno ne znam odakle nekima ta smiješna ideja da je ovo slasher, ali što se može. Inače, film unatoč tome što izgleda kao neka jako dobro napravljena nezavisna produkcija u stvari je projekt kojeg je financirao respektabilni i jako liberalan United Artist (produkciju trebali odraditi Universalovci, no zbog bizarnosti priče koja im se nije svidjela na kraju su odustali od realizacije), te bih film poput i ostalih kojih su ga gledali opisao kao ugodnu mješavinu ''Psiha'' (motel, kokanje onih koji u njemu odsjednu) i ''Teksaškog Masakra Motornom Pilom'' (kanibalizam, motorne pile, 'mesna' industrija farmera Vincenta) .

Film sasvim lijepo funkcionira u pogledu glavnih likova tj. negativca i samoj radnji, no koliko god imao dobar dijalog i osmišljenu priču, jedan dio koji se tiče sporednih glumaca jako pati. Njihova karakterizacija nije u tako dobroj mjeri dobra kao ona farmera Vincenta i Ide, ali može proći.
Scenarij braće Jaffe (Robert i Steven + Tim Tuchrello, koji je nekreditiran) je napisan negdje polovicom 70-tih, no trebalo je proći nekoliko godina da se taj tekst pretvori u cjelovečernji igrani film.
Sama priča filma inspiraciju crpi na priči o Edu Geinu, no kako ste primjetili ne bavi se Plainfieldovim serijskim ubojicom tj. njegovim slučajem, nego radnja ide u malo drugačijem smjeru, ali stvarni i izmišljenilik lik su u bazi skoro pa isti u načinu svog djelovanja.
Režije se prihvatio britanac Kevin Connor, najpoznatiji po redateljskom radu sa producentskom kućom Amicus Productions ("The Land That Time Forgot"). Connor je svoj posao odradio staloženo i rutinerski, zbog čega film ima lijepu atmosferu i ugođaj.
Odabir glumaca Roryja Calhouna ("Hell Goes to Frogtown", "Night of the Lepus") i Nancy Parsons (''Porky's") za uloge Vincenta i Ide je bio pun pogodak, jer su glumci odradili tako dobro svoje uloge da su im oboma to najbolje uloge u karijerama.




Posebice se to odnosi na Calhouna, koji je kako se vidi stvarno uživao u ovoj ulozi, te nam tako dao nezaboravan horor lik, koji se dugo pamti. Parsons, meni relativno slabo poznata glumica, je također nezaboravna i gledajući kako je interpretirala Vincentovu sestru Idu, mogu reći da kao da gledam mlađu sestru Annie Wilkes iz "Misery". Jednu od manjih uloga igra i John Ratzenberg (Clif iz "Kafića Uzdravlje"), te imamo i cameo pojavu Wolfman Jacka ("American Graffiti") kao velečasnog Billyja (treća slika gore).
Primjetio sam i da je sam film, koji je kako sam rekao baziran na dva horor klasika (Hitchov "Psiho" i Hooperov "TCM") utjecao na neke druge filmove:

- "The Texas Chainsaw Massacre Part 2" - borba motornim pilama na kraju filmu između (čistokrvno kopiranje Connorova filma) Leftyja i Leatherfacea
- "Saw" - Jigsaw nosi masku u obliku svinjskog lica
- "Tucker & Dale vs Evil (2010) - kraj filma koji ima nekih sličnosti

Bez obzira na izraženu bizarnost (igranje i sprdanje sa groteskom) i pomalo spor i neuravnotežen ritam radnje ovo je vrlo važan film (neshvatljivo da je početkom 80-tih kad je pušten u britanska kina zaradio predikat X, koji ga je izjednačio sa pornografijom) za sve ljubitelje horor filmova i svakako bi ga trebali gledati, jer gledatelju nudi od svega po malo, humora, horora (ima čak i 5 minuta zombi elemenata...kad se žrtve oslobode i krenu u osvetnički pohod), jeze, dobru glumu i nezaboravne scene.

p.s. - MGM ga je stavio u svoj double featture tematski nazvan "Midnight Movies" zajedno sa ozbiljnijim, ali isto tako poprilično kvalitetnim "Deranged (1974); ja sam ga kupio u triple featture izdanju zajedno sa "Wrong Turn" i "Needful Things" za samo 4.99$


THE SCENA:
- borba motornim pilama dok Vincent nosi na glavi praseću glavu (slika dole)
- Vincentov 'tajni vrt'
- urnebesna scena sa sado mazo swinger parom
- "My... meat... I... I... used... preservatives!" scena