subota, 12.11.2011.
More Brains! A Return To The Living Dead (2011)

Još Mozgova! Povratak Živoj Smrti (2011)




Redatelj: Bill Philputt
Scenarij: Thommy Hutson, Christian Sellers i Gary Smart
Narator: Brian Peck
Gostuju: Don Calfa, Clu Gulager, James Karen, Thom Mathews, Linnea Quigley i mnogi drugi
Trajanje: 120 minuta
Dokumentarac je izašao 18. listopada, 2011 godine
Foršpan filma
Službena stranica filma


RECENZIJA:
Kako smo u zadnjem postu govorili o zombijima i dok čekamo petu epizodu druge sezone odlične zombi serije ''The Walking Dead'' mogli bi se još malo zadržati na živim mrtvacima. Nakon fenomenalnog 240 minutnog dokumentarca ''Never Sleep Again: The Elm Street Legacy'' (2010) ista se ekipa vratila sa još jednim prejebenim dokumentarnim izdanjem - More Brains A Return To The Living Dead (2011).

Ovaj put na meniju je ultimativni dokumentarac o Dan O'Bannonovom ''Return of the Living Dead'' u kojem saznajemo mnogo toga što se do sada nije znalo o samoj produkciji i glumcima. Režije se uhvatio Bill Philputt, dok su za scenarij bili zaslužni Gary Smart i Christian Sellers autori odlične knjige ''The Complete History of The Return of the Living Dead''.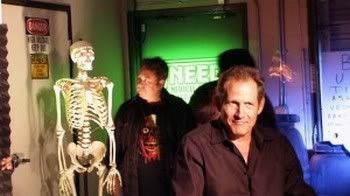 DVD Sadrži:
- The Won't Stay Dead: pogled The Return of the Living Dead II (29:41)
- Love Beyond The Grave: pogled na ''The Return of the Living Dead III'' (20:47)
- Razgovor sa Danom O'Bannonom: Posljednji Intervju (28:28)
- 14 izbrisanih scena iz dokumentarca
- Stacey Q Live! "Tonight" muzički video (03:31)
- Resurrect Settings: The Filming Locations Today (10:00)
- ''Return of the Living Dead'' u 3 minute
- Trailer (01:34)
- ''Never Sleep Again: The Elm Street Legacy'' Trailer (00:57)
- Limited edition premium collectible O-sleeve packaging featuring artwork created by original "Return of the Living Dead" poster artist Carl Ramsey


Kako sam veliki obožavatelj prvog filma iz serijala (u kojem vrijede još jedino drugi i treći dio) naravno da sam ga se čim prije dočepao i pogledao. Sa 120 minuta trajanja dokumentarac je pokrio sve male detalje i aspekte filma od početka produkcije sve do izlaska ovog zombi klasika u kina. Najbolji detalji se upravo vežu uz filmsku ekipu i to ne samo na onaj glumački dio.
Recimo imamo prilike čuti Stanzi Stokes (radila kasting za ''Terminatora'', ''Motel Hell'' i ''Silent Night, Deadly Night'') koja je bila zadužena za kasting kako su se birali glumci, te kako je Linnea Quigley (Trash) dobila ulogu jer je originalna glumica bila trudna. Također saznajemo da je Miguel A. Núńez Jr. koji glumi Spidera u to vrijeme bio beskučnik, a Jewel Shepard (Casey) striptiz plesačica.
Tenzija i svađa je bilo na svakom koraku i to između Clu Gulagera (Burt) i O' Bannona, dok je Dan dobrano izmučio u nekim scenama Beverly Randolph (Tina). Za ljubitelje specijalnih efekata saznajemo što se stvarno događalo sa ogavno lošim izrađenim bezglavim truplom Williama Munnsa.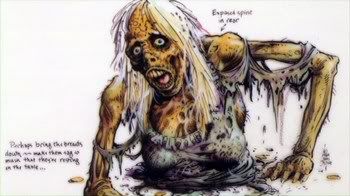 Svi su u intervjuima opušteni i uživljeni u pričanje, no najbolje baze i anegdote pričaju Don Calfa i James Karen, koji su i dan danas legende. Clu je bio malo suzdržan, no u tonu razgovora vidi se po izrazu njegovog lica da su svađe sa O'Bannonom bile velike (inače uloga Burta je bila ponuđena i Leslie Nielsenu). Lijepo je bilo vidjeti da saznamo neke stvari o prerano preminulom Marku Venturiniju (Suicide), te napokon otkrivamo kako se radio kostim Tarmana i lice glumca koji ga je glumio. Jedini koji mi nije posao u dokumntarcu je John Russo (napisao istoimeni roman, te je najpoznatiji po koscenarističkom radu na Romerovom ''Night of the Living Dead'', 1968), koji pokazuje da je folirant i čovjek bez ideja (O'Bannon je osim likova izmjenuo cijelu njegovu priču iz romana ''ROTLD'').
Mnogo je tu informacija (mnogo se priča o specijalnim efektima, pa O'Bannovoj detaljnosti u realizaciji samog filma, te naravno o Quigleyjinom gologuzom plesu na groblju...itd) i nikad objavljenih snimaka i fotki da bi se sve mogle spomenuti. Ja mogu samo reći da je ovo definitivno najbolji dokumentarac koji sam gledao ove godine što se tiče horor žanra. Preporučam gledanje svima a ne samo ljubiteljima samog filma ili inače zombi tematike, jer ovako bi se trebali snimati svi dokumentarci, jer kad su ovako dobro snimljeni 2 sata prođe za tren.