srijeda, 26.10.2011.
Sector 7 (2011)

7-gwang-goo (2011)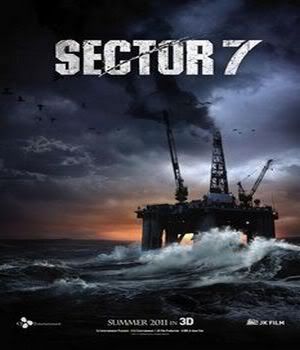 Redatelj: Ji-hun Kim
Scenarij: Je-gyun Yun

Uloge:
Ji-won Ha......................(Cha / Hae-jun )
Sung-kee Ahn...............(Jeong Man)
Ji-ho Oh........................(Kim / Dong-soo)

U kina je izašao 04. kolovoza, 2011 godine
Trajanje: 104 minute
Budžet: između 8,7 i 10 mlijuna $
Foršpan filma...




SADRŽAJ:
''- Zaposlenici jedne naftne platforme gube dane tražeći naftu u južnom predjelu otočja Jeju. Moral im je na vrlo niskom granama, jer svako malo im se događaju tehnički ili mehanički kvarovi, no nakon dolaska Jeong-mana stvari kreću nabolje, pa tako jednog dana bude otkrivena nafta.
No, uz naftu je došlo i malo morsko biće, koje vrlo brzo izraste u ogromno čudovište , te počne ubijati malobrojne radnike, koji su ostali raditi svoj posao. No, hoće li uopće netko od njih uspjeti pobjeći sa platforme i tako spasiti svoj goli život?''




RECENZIJA:
- Nema gore stvari nego kad vas film koji očekujete da bi mogao biti dobar totalno razočara. A eto danas se i to dogodilo. Za ovaj film mogu samo reći dvije riječi – totalno razočarenje. Sljedovanje dobro-loših strana kreće:


Što valja kod filma:
- početak priče
- početna karkaterizacija likova
- CGI izgled i sama kreacija čudovišta
- gluma Ji-won Ha
- inteligencija monstera
- kad čudovište polomi obje noge nakon pada sa ogormne visine


Što ne valja kod filma:
- CGI koji se ne tiče čudovišta
- ukupna karakterizacija likova
- radnja, režija i scenarij
- traje 15 min predugo
- dijalog i nejasno čudovište
- početak spor a kraj razvučen
- nema atmosferu i napetost
- ima vrlo malo horor elemenata, a mnogo neuspješno mješa humor, dramu, akciju, horor
- previše se fura na ''Gwoemul'' tj. ''The Host'' i ''Aliens''


Završna riječ:
- kako znamo ''Sector 7'' je monster movie nastao na slavi odličnog ''Domaćina''. No, ova bućkurišna mješavina ''Aliens''-a i ''Deep Star Six'' se ne može mjeriti sa Joon-ho Bongovim filmom u nikakvom pogledu bez obzira što u jednom i drugom ogromne beštije ganjaju ljudove sve u 16-est i što su oba filma iz J. Koreje.
Producenti su pogriješili što su ovako zanimljiv i svakako skup projekt (po svjetskim standardima a ne po američkim) dali neinspirativnom redatelju (koji snima skoro svake četvrte godine, a ovo mu je tek treći film u karijeri) i netalentiranom scenaristu (za ovakvu vrstu filmova).
Taj dvojac je potpuno unakazio film, a evo i najvažnijih dokaza tome: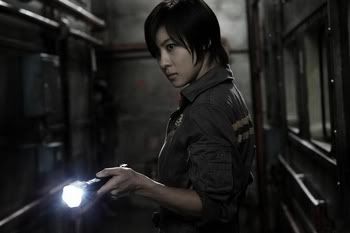 - logika i razum ne postoje ovdje, jer niti baš ne znamo kakvo je čudovište (u jednom dijelu se pokušava nešto objasniti), niti jel ono opće jede ljude (toga u filmu nema) ili ih čuva za svoje još neizlegle mladunce (ali dobro izlema žrtvu gore dole tamo vamo po palubi); ako je čudovište živjelo negdje na dubini od 8km...scenarist nije objasnio kako to da 98% vremena beštija provodi bez problema na suhom?
- u jednom trenutku sam mislio da je beštija više, ali na kraju saznam da je samo jedna
- čudovište sredi svu posadu u 40 minuta, a onda se zajebava sa glavnom glumicom jebenih 25 minuta
- u tih 25 minuta ima više prevrata nego u svim epizodama ''Santa Barbare'', pa tako imamo smrti i oživljavanja glavnih junaka, da bi opet glupo umrli...totalno ludilo
- a naša junakinja vam je azijska verzija Ellen Ripley (je ona šta ubiva Xenomorfe tj. Aliene) pa tako imamo treš elemente koji bi trebali biti uber napete akcijsko andrenalinske sekvence u kojima ona skače na motoru (nešto ala Benelli 354) u anima điru sa kontejnera na tlo sa jedno 15 metara visine, u zadnjem letu motorom leti sa goruće naftne platforme u more
- naša junakinja lomi ruku u jednoj sceni, a već malo kasnije ruka joj je kao nova....isto tako uspjeva išćašiti nogu, no odmah kasnije šeta kao da se nije ništa dogodilo (da nema i ona moć samoozdravljenja kao Wolverine?)...dok samo čudovište koje je palo sa iste visine polomilo sve svoje noge i jedva se kretalo
- u jednoj sceni uspjeva ogromnu ničim sputanu beštiju 4 puta mlatnuti krvnički po glavi francuskim ključem...a takvu bedastoču nisam vidio još od kada je Van Damme bio namlaćen grifom u ''Death Warrant'' od strane legendarnog Patricka Kilpatricka
- da li sam rekao da se naša junakinja i monster obračunavaju na doku (kopiranje scene Ripley vs. Alien Queen)
- nisam dugo vidio da je neko čudovište u filmu umiralo više puta, pa se vraćalo...još ako se dobro sjećam od monstera u ''Resident Evil: Degeneration'' (2008)
- a imamo i jako sličan obračun čovjek vs. čudovišna kreatura kao u ''The Host''




Najgora stvar scenarija osim bljutavog dijaloga je to što uopće nije objasnilo čudovište, nego se ono samo odjednom pojavilo.
Ako je ovo trebao biti tipični monster movie onda su i likovi trebali biti takvi, no scenarist je to sve skupusao, tako da neki od stereotipnih likova koji u drugim filmovima obično prežive ovdje budu bez veze likvidirani i to na način da se oteže njihova smrt. Ali ovdje nije samo problem u nemaštovitom scenariju nego i u dosadnoj režiji, koja rasteže početak i kraj dok je sredina maksimalno ubrzana (to je dio u kojem umire većina likova).
Većina filma je otišla na borbu između naše heroine i čudovišta, ali brate što je previše previše je...prokletih 25 minuta jedno drugo ganjaju, mlate se i preseravaju.
I samo čudovište je prerano ubačeno u film, te nema niti malo napetosti i atmosfere koje bi takva vrsta filma trebala sigurno imati. Gluma je solidna, no ovaj put ništa više od toga.
Ah da dobra strana filma je početnih 10 minuta nakon intra u kojima upoznajemo likove (šteta što se nije nastavilo u takvom smjeru), te što monster (neka mješavina morske stonoge i morskog slona) u većini scena izgleda jako dobro u CGI izdanju (efekte radili Korejci, što je za mene velika greška, jer su kao i tvorci ''Domaćina'' trebali angažirati strance) i što su odlično prikazali njegovu inteligenciju.




Moja krajnja presuda je da slobodno preskočite ovu nezanimljivu azijsku verziju ''Dubinske Zvijezde 6'', jer ovo će ionako možda uspjeti pogledati samo okorijeli ljubitelji strave i užasa. Ja jedino znam da sam sada dobio želju pogledati uber niskobudžetni ''The Rig'' (2010), a vi koji volite ovakve filmove preporučam bolji i zabavniji ''Deep Rising'' (1998).