srijeda, 28.09.2011.
Shadow Zone: The Undead Express (1996)

Zona Sjena: Vlak Mrtvih (1996)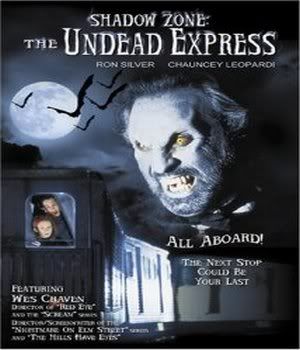 Produkcija: Hallmark Entertainment / Lynch Entertainment / Showtime Networks
Redatelj: Stephen Williams
Scenarij: Roy Sallows
Prema istoimenoj knjizi grupe autora koji koriste ime J.R. Black (tu petu priču je napisao Roy Sallows)
Šminka: Sean Sansom

Uloge:
Ron Silver.............................Valentine
Chauncey Leopardi...............Zach
Natanya Ross.......................Gabe
Tony T. Johnson...................J. T

Film je imao premijeru 27. listopada 1996 godine
Trajanje: 95 minuta
Foršpan filma...
Nagrade:
1997 godina - nominacija za nagradu "Daytime Emmy" za najbolju režiju

SADRŽAJ:
"- U New Yorku, dječak Zach, postao je kompulzivni lažljivac od kada su mu se roditelji razveli i zbog toga mora ići na redovite seanse kod dječjeg psihologa.
Njegovi najbolji prijatelji su djevojčica Gabe i dječak J.T., koji baš i ne ljube previše Zachovu ljubav prema filmovima strave i užasa. Kad se Zach jednom prilikom izgubi u starom dijelu podzemne željeznice upozna misterioznog vampira Valentinea, koji ga zaštiti od ostalih krvoločnih vampira koji žive tu. Nakon što se vrati kući živ i zdrav, sve ispriča svojim prijateljima koji ne povjeruju u njegovu priču smatrajući je još jednom Zachovom izmišljotinom i fantazijom, te se zbog toga vrati nazad da im dokaže da vampiri stvarno postoje..."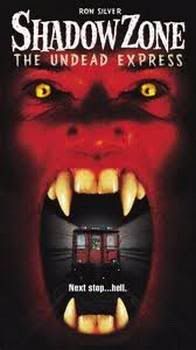 Alternativni cover filma

RECENZIJA:
- Dječiji filmovi strave užasa nikad nisu imali kvalitetnih predstavnika, te bi se svakih par godina dogodio neki odličan uradak (zadnji je bio "The Hole 3D"), no sve skupa to je vrlo mršavo. Jedan od žalosnijih primjeraka i velikih razočarenja je i današnji film kojeg recenziram. Dakle let's go...:


Što valja kod filma:
- Ron Silver kao glavni vampir
- šminka vampira
- ugođaj u nekim djelovima filma


Što ne valja kod filma:
- scenarij i režija
- priča i dijalozi, te karakterizacija likova
- gluma svih ostalih glumaca osim Rona
- spora radnja
- glup uvod sa domaćinom koji glumi dječiju verziju The Creepera iz "Tales From the Crypt"
- maska Grim Reapera i njegove šale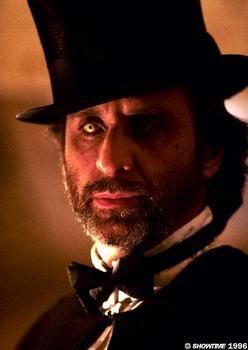 Završna riječ:
- Sam film sam kupio jedino što je imao odličan cover (za razliku od ovog drugog jako žalosnog...vidi fotka br. 2) te što iznimno cijenim glumu preranog preminulog Rona Silvera ("Blue Steel", "Time Cop"), a bogme i cijena od 1.05$ je također igrala ulogu. Blaženi SecondSpin...
Dakle film je jedva gledljiv i jedino zbog čega bi ga se vrijedilo gledati jest upravo Silver, kojem je ovo solidno glumačko ostvarenje, no njegova glumačka karizma film spašava od toga da ga ipak ne prekinete gledati.

Ostali glumci su skroz neuvjerljivi (dječiji junaci) ili se prepuštaju u preglumljivanju (svi sporedni vampiri). Nije zgorega spomenuti da cameo ulogu igra i Wes Craven, što je lijepa trivija, no ništa više od toga. Karakterizacija likova je tanašna, te se bojim i na samu pomisao kakva je knjiga kad je film ovakav, a to kažem jer neki koji su čitali knjigu kažu da je film vjeran cijelom sadržaju.
Inače, sama knjiga prema kojoj je ovaj film rađen je jedna od 13 za sada napisanih i to iz serijala pod imenom "Shadow Zone", gdje se pod istim imenom izmjenjuju različiti autori, a sve je zamišljeno kao set strašnih priča za djecu i mlađe tinejđere. Film je trebao biti samo početak, a sve je trebalo izgledati kao dječija verzija "Tales From the Crypt" i to sa domaćinom nalik legendi The Creeperu.
No, taj pokušaj je strava i užas u negativnom smislu i najgori je dio samog filma, jer domaćin zvan The Grim Reaper ne samo da ima lošu masku (vidi se da je tip pod maskom, koja je prekruta) nego i valja jadne baze i pošalice u kojem ismijava smrt i život.

Još jedna i na žalost posljednja pozitivnost filma je solidan izgled vampira koji pomalo bacaju na mješavinu old skul vampira (onih iz Hammerovog doba) sa štihom istočnoeuropske vampirske mitologije.
Kako je scenarij loše napisan, događaji nezanimljivi i šturi u ritmu, a samo odvijanje radnje jako sporo i dosadno mogu reći da slobodno možete ovaj dječiji hororac preskočiti (stoga nije ni čudo da je ovo bio jedini film rađen prema književnom serijalu) jer nije nimalo zabavan poput pravih dječijih horor filmova - "The Monster Squad" i "The Gate".
Šteta prava, jer je cover obećavao...