četvrtak, 22.09.2011.
Prince of Darkness (1987)

Knez Tame (1987)




Produkcija: Alive Films / Larry Franco Productions
Redatelj i scenarist: John Carpenter
Muzika: John Carpenter i Alan Howarth
Šminka: Francisco X. Pérez

Uloge:
Donald Pleasence............otac Loomis
Jameson Parker...............Brian Marsh
Victor Wong......................Prof. Howard Birack
Lisa Blount........................Catherine Danforth
Dennis Dun.......................Walter

Film je izašao u kina 23. listopada, 1987 godine
Trajanje: 102 minute
Budžet: oko 3 milijuna $
Zarada u prvom vikendu u SAD: 4 657 401$ (u 1239 kina)
Zarada u SAD: 14 182 492 $
Foršpan filma...
Nagrade:
1988 godina - osvojio nagradu žirija na festivalu fantastičnog filma u Avoriazu i zaradio nominaciju nagrade Saturn za najbolju glazbu




SADRŽAJ:
"- Na poziv oca Loomisa (D. Pleasence) profesor Birack (V. Wong) dovodi svoje učenike u crkvu u Los Angelesu u kojoj je otkrio predmet koji ga ispunjava radoznalošću i strahom. Ti će osjećaji ubrzo obuzeti i sve ostale, osobito kad se počnu događati stvari koje nitko nije mogao ni naslutiti - događaji drevnog podrijetla, ali kobnih posljedica u današnjem vremenu..."




RECENZIJA:
Spadam u velike ljubitelje filmova Johna Carpentera, pa sam odlučio danas recenzirati jedan malo zapostavljeniji njegov film, kojeg ni sam nisam baš za razliku od drugih njegovih uradaka mnogo puta pogledao. No, da ne duljim kao prvo pogledajmo što kod ovog filma valja a što ne:



Što valja kod filma:
- glumci veterani (Pleasence, Wong) + Dennis Dun
- osnovica priče
- znanost vs. religija element
- odličan početak (koji obećava)
- scena sa ogledalom i Anti-Bogom
- mjuza i ugođaj, atmosfera
- poruka iz budućnosti


Što ne valja kod filma:
- scenarij i 90% dijaloga
- drugi dio filma (razvodnjava sve i film i samu priču)
- nezanimljiva ekipa sporednih glumaca + glavni glumački par Parker/Blount
- scena ubojstva prvog studenta
- trash element
- prespor i ima mnogo jeftinih horor elemenata (bu scene) i klišeja




Završna riječ:
- Moram reći da mi je ovaj film uvijek bio na dnu Carpenterovih ostvarenja i da se nikako ne može mjeriti sa ''The Thing'' ili ''They Live'', te da je ''In the Mouth of Madness" mnogo kvalitetniji kao film ali i kao ispričana priča.
Ono što mogu pohvaliti jest da je Carpenter jedini mogao nešto ovako snimiti, jer iako je ovo niskobuđetni horor film sa 3 milje $ on izgleda kao 5 puta skuplje ostvarenje (prvi nakon "Bijega iz New Yorka" gdje Carpenter ne ovisi o nekom studiju), te je fenomenalno uklopio trash elemente (Sotona kao zelena misteriozna tekućina) u jedan ozbiljan i zanimljiv film (religija vs. znanost, teorije koje navode na razmišljanje).

Dakako film ima jeben ugođaj i atmosferu, te odličnu mjuzu, no problem samog filma je slabo napisan scenarij (Carpenter je ovdje koristio pseudonim Martin Quatermass, što je posveta glavnom liku filma ''The Quatermass Experiment''), jer kad izbacimo nekoliko lijepih dijaloga (većinom između oca Loomisa i prof. Biracka) sve ostalo je napisano ispod nivoa na koji nas je Carpenter sam naivikao.
Druga loša stvar je drvena gluma glumaca koji glume studente (osim D. Duna) zbog kojih film jako pati, jer se gledatelj ne može poistovjetiti sa solidno napisanim likovima. Stvar spašavaju veterani Donald Pleasence.("Halloween", "Watch Out, We're Mad", "The Eagle Has Landed") i Victor Wong ("Tremors", "Big Trouble in Little China"), te jedino pravo ugodno lice od mlađe generacije Dennis Dun ("Big Trouble in Little China"). Spomenuti ću dojmljivu, ali po ničemu specijalnu epizodnu ulogu Alice Coopera (njegovo drugo filmsko pojavljivanje) u kojoj glumi vođu skitnica koje kontrolira Anti-Bog, te da je otac Loomis posveta Pleasenceovm Samu Loomisu iz ''Noći Vještica".




Ovo je svakako film sa Carpenterovim potpisom, no iako nije razočarenje (slobodno kažimo i flop) kao recimo ovogodišnji ''The Ward" jedan je od lošijih njegovih uradaka zbog toga što film počne zanimljivo i tako dobro da prikuje gledatelja za sjedalo kako pričom tako i atmosferom, te napetošću.
Sam problem nastaje negdje oko sredine kad se film razvodni i postane neka čudna i slabija verzija ''The Puppet Masters'' (1994) sa elementima religijskog horora na tragu ''The Omen".
Mogu reći da unatoč svemu tome film ima stvarno nekoliko impresivnih scena od kojih mi je najdraža ona sa ogledalom i dolaskom Anti-Boga, te su mi se svidjele teorije o drugim dimenzijama i ogledalu, te naravno znanost vs. religija, no to nikako film ne spašava da ga proglasim najslabijim od Carpenterove ''apokalipsa trilogije'' (druga dva su ''Stvor'' i ''U raljama Ludila''). Kako sam rekao ima poprilično zgodnih stvari u njemu i jači je od mnogo sličnih filmova, no meni nakon 5 gledanja još nije sjeo kako treba, ali bez obzira na to film ipak preporučam da se što prije pogleda, jer sam siguran da će se mnogima više svidjeti nego meni.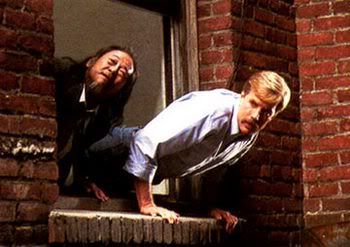 THE SCENA:
- ogledalo + druga dimenzija = dolazak Anti-Boga