nedjelja, 07.08.2011.
The Reptile (1966)

Reptil (1966)




Produkcija: Hammer Film Productions / Seven Arts Productions
Režija: John Gilling
Scenarij: Anthony Hinds

Uloge:
Michael Ripper (Tom Bailey)............. Ray Barrett (Harry George Spalding)
Noel Willman (Dr. Franklyn).............. Jennifer Daniel (Valerie Spalding)
Jacqueline Pearce (Anna Franklyn)............John Laurie (Mad Peter)

Film je izašao u kina 6. ožujka, 1966 godine.
Trajanje: 86 minuta
Foršpan filma...




SADRŽAJ:
''- Kada Charles Spalding umre misterioznom smrću, kao još jedna u nizu žrtava tajanstvene 'bolesti', njegov brat Harry sa ženom Valerie naslijedi njegovu kuću. Kada dođu živjeti tamo, seljani iz okolice ih hladno dočekuju. Jedini koji im je poželio dobrodošlicu je simpatični gostioničar Tom Bailey.
Bračni par Spalding također upoznaje čudnog Dr. Franklyna i njegovu lijepu kćer Annu. Ali sam Harry ne osjeća se baš ugodno u tom okružju, pogotovo što ne zna razlog smrti svog brata, a kad i sam bude svjedokom smrti jednog od seljana zajedno sa Tomom odluči uzeti stvar u svoje ruke i riješiti misteriju tko ili što se krije iza misterioznih smrti, a otkrivanje tajne donosi smrtonosne posljedice za zantiželjnike...jer u mraku čeka Reptil.''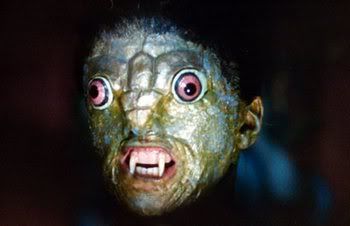 RECENZIJA:
- Redatelj John Gilling je ovaj film snimao usporedno sa ''The Plague of the Zombies'' tako da oba filma dijele istu lokaciju i set na kojima su snimani (to se najviše primjećuje po groblju i ulazu u selo), te glumce Jacqueline Pearce i Michaela Rippera. No, za razliku od o ''Pošasti...'' ovaj film nije toliko besprijekorno napravljen. Ipak, moramo prvo vidjeti njegove dobre i loše strane:


Što valja kod filma:
- sporedni glumci Laurie i Ripper
- jedan dio atmosfere
- osnovni dio priče
- puno bolji od ''Sssssss'' (1973)

Što ne valja kod filma:
- neujednačena prva i druga polovica filma
- rastezanje nekih djelova radnje
- scenarij Anthonyja Hindsa škrt i nedovoljno razvijen
- dio maske Žene Zmije
- fali prave Hammer atmosfere
- previše slična radnja ''Pošasti Zombija''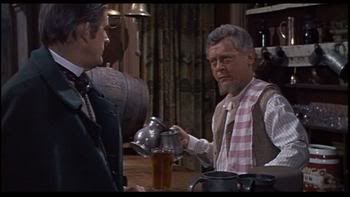 Završna riječ:
- John Laurie kao Mad Peter (preteča Crazy Ralpha iz ''Petka 13-tog'') jako dobro odigrava ulogu lokalnog luđaka, koji donekle daje natuknice našim junacima o neobjašnjivim smrtima koja se svako malo događaju, no zvijezda ovog old skul horora je karakterni glumac Michael Ripper (standardan glumački inventar u čak 25 Hammerovih ostvarenja kroz 25 godina, što mu daje epitet glumca koji se najviše puta pojavljivao u njhovim filmovima...da čak više nego dvojac Christopher Lee i Peter Cushing) koji glumi vlasnika gostionice.
Ripperov Tom Bailey je pravi primjer kako bi sporedna gluma trebala izgledati u svakom filmu. Iako, je očigledno da je Barettov Spalding glavni junak priče, pravi junak je upravo gostioničar Tom jer ima sve odlike junaka, no glumac Ripper se ne nameće nego profinjeno i toplo odrađuje svoju sporednu ulogu.

Ostatak glumačke postave odrađuje svoj posao vrlo ugodno za gledatelja, pa tu neću izreći nikakvu zamjerku, jer je uvijek dobro kad glumci ne idu na živce ili nisu uvjerljivi. Spomenut ću da od poznatih lica osim Rippera glumi i Marne Maitland, kojeg filmofili najviše prepoznaju po ulozi u bond-filmu ''The Man with the Golden Gun'' gdje je glumio Lazara (ja ga pak više pamtim po ulozi u ''March or Die'' (1977), gdje je odglumio ljigavog trgovca Leona, te preslatka Jacqueline Pearce (serije ''The Young Indiana Jones Chronicles'', ''Blake's 7''...).
Radnja je već viđena u mnogo filmova (sad vidim odakle je nastala jedna od Zagorovih najboljih epizoda koja se tiče *čovjeka-tigra ), no poprilično fino funkcionira, iako se to dalo ljepše ispolirati da bude misterioznije (opet aludiram na strip) i užasnije, a to je ono najviše što fali filmu...Hammerova gotička atmosfera i osjećaj jeze, koja je ovdje podosta razblažena.

Gledajući da u njemu glumi samo osam glumaca i da je potpuno ograničenog i mizernog budžeta, film je na kraju poprilično dobar unatoč tome što mu je recimo i to drugi dio usporeniji od prvog i što priča nije dovoljno razrađena (kako sam već rekao previše je slična onoj u ''Pošasti Zombija'').
Meni je samo jedna strvar stvarno smetala a to je dio maske Žene Zmije i to što se tiče njenih očiju, jer joj buljavice izgledaju kao da joj je netko nabacio dva jaja na lice i na njih zalijepio oči od plišanog medvjedića (jedno gori izgled očiju sam vidio kod vudu zombija u ''I Eat Your Skin'', 1964, gdje su im oči izgledale doslovce kao dva jaja na oko).
Mislim film se itekako da pogledati, ali za razliku od ostalih Hammerovih uspješnica ovo je samo za jedanput i više nikad, ali kao i slabi Hammerov film superiorniji je od recimo ''Sssssss'' (1973) i ''Hisss'' (2010), sličnih filmova po tematici. Ono zbog čega bih prvenstveno preporučio film je upravo legenda Michael Ripper.

p.s. – ako vam se kojim slučajem svidi ovakava tematika onda vam preporučujem i mini seriju ''Dr. Terrible's House of Horrible'' (2001) i to treću epizodu pod nazivom ''Curse of the Blood of the Lizard of Doom''.




*epizode: ''Bijeli Tigar'' (ZG Ludens Extra br. 143), "Vještica Dharma" (ZG Ludens Extra br. 144) i "Magija Užasa"
(ZG Ludens Extra br. 145)