nedjelja, 10.07.2011.
The Boy Who Cried Werewolf (2010)

Dječak Koji je Povikao Vukodlak (2010) TV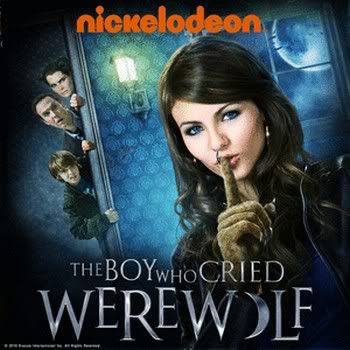 Produkcija: Nickelodeon Studios / Pacific Bay Entertainment Canada
Redatelj: Eric Bross
Scenarij: Art Edler Brown i Douglas Sloan
Maska: Charles Porlier (uz pomoć Howarda Bergera i Gregoryja Nicoteroa)

Uloge:
Victoria Justice (Jordan Sands)..........Chase Ellison (Hunter Sand)
Matt Winston (David Sands)..............Brooke Shields (gospođa Varcolac)

Film je imao TV premijeru 22. listopada, 2010 godine
Trajanje: 90 minuta
Foršpan filma..
Foršpan filma br. 2




SADRŽAJ:
''- Jedna kalifornijska obitelj kao rodbinsko nasljedstvo dobije ogroman dvorac u Rumunjskoj. Svježi udovac David odlazi sa svoje dvoje djece 17-godišnjom Jordan i par godina mlađim sinom Hunterom u Europu da vidi što je dobio u nasljedstvo kako bi prodajom raskošnog zdanja riješio sve svoje financijske probleme.
Dvoje djece su oduševljeni ne samo dvorcem nego i samim krajolikom rumunjskog okoliša, te njihovim ljubaznim stanovnicima. No, mladu Victoriju i nestašnog Huntera očekuje brdo problema kad na njihov dvorac baci oko grupa vampira, koja ga već stoljećima želi u svom posjedu. A kad se u cijelu priču uvuče i krvno proklestvo koje se tiče pretvaranja naših junaka u vukodlake....onda će avantura poprimiti skoro pa epske proporcije.''




RECENZIJA:
- Prije par dana sam slučajno vidio reklamu za ovaj TV film pa pošto me baš uhvatila neka želja da pogledam nešto dječije a da se opet tiče horora (koliko toliko) odlučio sam ovom djelcu dati šanse. I znate što...nisam pogriješio. Dakle:


Što valja kod filma:
- glumačka postava
- priča i spec. efekti
- odjavna špica
- ima par dobrih fora
- Brooke Shields
- bolji od Disney Channel filmića


Što ne valja u filmu:
- scenarij labav
- banda vampira glavne vampirice
- izgleda kao pilot-epizoda za neku seriju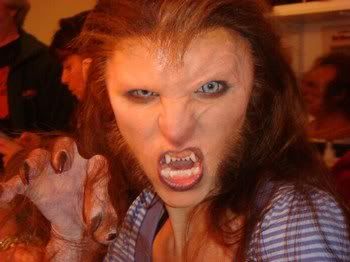 Završna riječ:
- Gledajući da je ovo TV film rađen za dječiji kanal Nickelodeon moram reći da je stvarno lijepo snimljen. Ovo vam je tipični ''vukodlaci versus vampiri'' tip dječijeg horora koji je rađen za premijeru pred samu Noć Vještica prošle godine.
Ali ono što je mene privuklo k ovom filmu, jer ovo nije jedini dječiji film strave užasa koji se nudi u ponudi, su specijalni efekti koji se mogu na trenutak vidjeti u foršpanu. Tu mi je bilo nešto vrlo poznato i bogme nakon pogledanog vukodlaci izgledaju prejebeno (k vragu bolje nego u Cravenovu jadnom ''Cursed''), za što je zaslužan Charles Porlier (''Bad Moon'', ''Thir13en Ghosts'' i ''X-Man 2'') ali uz dobranu pomoć (najvjerojatnije) svoja dva prijatelja a naša stara znanca Howarda Bergera i Gregoryja Nicoteroa (tj. 2/3 KNB Effects ekipe koja je radila Raimijev ''Evil Dead 2'' uz mnoštvo drugih poznatih horor i SF filmova). Pogledajte gornju fotku pa se uvijerite sami.

Dobri efekti i make –up su upravo zbog toga prvi razlog zbog čega bi trebali pogledati ovaj film, koji bih vam opisao kao mješavinu ''Teen Wolfa'', ''The Lost Boysa'' (zbog glavne junakinje...znači ovaj put imamo više ženski ton u priči) sa daškom ''Buffy'' i pomalo mini gotičkim dodirima (dvorac, puni mjesec i vukodlak, domaćica čudakinja) u kojoj je atmosfera pomalo nalik onoj u ''High Spirits'' (1988) u kojem je jednu od svojih prvih uloga imao Liam Nesson.




Glumačka ekipa je odradila posao tako ugodno da im ne mogu naći zamjerke, a mlada Victoria Justice samopouzdano nosi film na leđima, no ipak moram reći da ju je veteranka Brooke Shields (Alice Sweet Alice) potpuno zasjenila u svojoj nimalo tipičnoj ulozi gospođe Varcolac (valjda bi ovako izgledala Wednesday Addams Christine Ricci da ju vidimo odraslu).
Neopisiv je gušt gledati kad se glumac ili glumica totalno užive u ulogu (bez obzira jel to ide za namjeru osvojiti Oskara ili samo onako) kao što je to recimo Shields , tako da sam ja uživao u svakoj sekundi kad se ona pojavi...a tek kad na kraju zapjeva karaoke ''Hit Me Baby One More Time'' rasplakao sam se od smija... Iako, vjerujem da nekima to neće biti smješno...ja sam se zabavio.
Moram reći da je scenarij previše labav i u nekim djelovima fali magije, izgled vampira je loš, te se pri kraju malo gluma spušta nivo niže nego na početku, ali gledajući da je ovo ipak dječiji film kojem se takve stvari ipak mogu progledati kroz prste ovo je svakako zabavan uradak (čak ima nekoliko dobrih humornih scena)...koji možda jednog dana bude izrastao u seriju. Uglavnom film je sasvim dobar za gledanje, no preporučam ga prvo mlađim horor ljubcima, pa tek onda iskušnjarama kojima nije strano malo zaroniti i na ovaj dio filmova strave i užasa rađenih za najmlađe, pa iako film nije kao recimo legendarni ''Monster Squad''...




THE SCENA:
- ''Hit Me Baby One More Time'' pjev glumačke postave iz filma
- kad se se Jordan počne pretvarati u vukodlaka (koji izgleda odlično, pa unatoč ženskastim plavim očima lol)
- kad Jordan uklanja dlake sa noge a dlake opet narastu u trenu...a ona kaže u šoku i nevjerici: ''- Ma daj..!!''