ponedjeljak, 27.06.2011.
Hybrid (2010)

Hibrid (2010)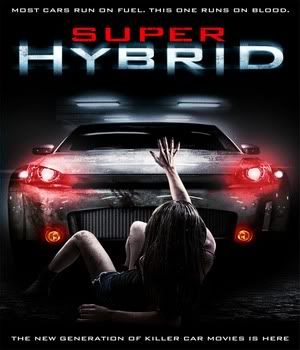 Produkcija: Stallion Media / Studio 407 / TADORA Filmproduktions
Redatelj: Eric Valette
Scenarij: Neal Marshall Stevens
Spec. efekti: Footage / Trixter Film (3-D verziju)

Uloge:
Shannon Beckner...........Tilda
Oded Fehr......................Ray
Ryan Kennedy ...............Bobby
Melanie Papalia............. Maria

Film je se pojavio u kinima 22. kolovoza, 2010 godine (Berlin Fantasy Filmfest)
Izlazi na DVD-u i Blu Ray-u: 23. kolovoza, 2011 godine
Trajanje: 95 minuta
Budžet: oko 13 milijuna $
Foršpan filma...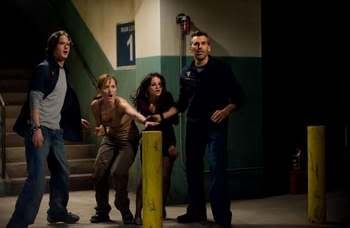 SADRŽAJ:
''- Nakon strašne saobračajne nesreće misteriozni automobil bez vozača svog u kršu odvode u garažu za zaplijenite automobile lokalne policijske stanice grada Chichaga.
Uskoro malobrojni preostali zaposlenici garaže otkrivaju da je automobil živo biće koje ima samo jedan cilj hraniti svoju 'unutarnju zvijer' mesom i krvlju živih bića.''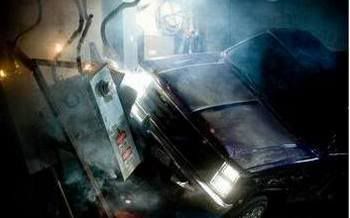 RECENZIJA:
- Kako volim ovakve filmove. A još ako su dobro sninmljeni...ma divota. ''Hibridu'' je trebalo punih tri godine da izađe na DVD i Blu Ray tržište, jer je do sada moga biti viđe jedino na kojem horor festivalu. Sada imamo prilike i osobno da se uvijerimo o kakvom djelcu se radi.


Što valja kod filma:
- gluma i režija
- karakterizacija likova i CGI
- neke scenarističke finese kod pojedinih likova (recimo kod Marie)
- priča i sam negativac
- uvodna špica i početak filma


Što ne valja kod filma: <
- ponekad scenarij sa svojim tu i tamo čudnim dijalogom
- CGI malo na kraju
- otvoreni kraj




Završna riječ:
- Film je jako dobar to vam mogu odmah reći, jer stvarno nisam očekivao neko baš bajno ostvarenje, ali ovo što sam odgledao je baš bilo ugodno za moje umorne buljavice.
I još kad vidimo da je redatelj Eric Valette čiji je najpoznatiji film nesretni rimejk ''One Missed Call'' i da je scenaristu Neal Marshallu Stevensu (znan i kao Benjamin Carr) najbolje scenarističko ostvarenje bio također nesretni rimejk ''Thir13en Ghosts'' onda možemo biti zadovoljni što su obojica položili ispit i snimili kvalitetan film.
Možda on nije originalan po svojoj radnji, ali je barem uhvatio dušu filmova na koje se fura, pa tako ovdje imamo mješavinu tri filma – ''The Car'' (1977) od kojeg je preuzeo atmosferu i ugođaj, ''Christine'' (1983) od kojeg je preuzeo ljepotu, napetost i smisao za misteriozno i ''Maximum Overdrive'' (1986) od kojeg je uzeo sirovinu i smisao za krvoproliće.
Ali mislili ste da je to sve...prevarili ste se, jer za razliku od gornjih filmova u kojima su automobili bili ukleti, opsjednuti ili da je na njih djelovala neka kosmička sila ovaj automobil je živo biće u doslovnom smislu riječi. Sad će neki od vas reći WTF??!?
Znam... ali ovaj automobil je u stvari neko predpovijesno biće (mješavina hobotnice, kornjače i amebe) metamorf tj. mjenjolik više u srodstvu sa Odom iz ST serije ''Deep Space Nine'' i one svemirske parazitske beštije iz Rodriguezova ''The Faculty'' nego da je obični ukleti/opsjednuti auto.
Uz to je jednako opak kao Carpenterov ''Stvor'', te obavijeno misterijom poput parazitske crne tvari iz ''Splintera'' (2008).

Film odmah dobro počinje jer iako mislite da cijelo vrijeme gledate nešto nalik na Carpnterovu ''Christinu'', kad naš oktanski negativac doslovce pojede svoje dvije žrtve poput Venerine muholovke onda znaš da gledaš nešto novo i originalno.
Mogu reći da me je taj auto podsjetio i na crnog simbiota od kojeg je nastao Venom u ''Spidermanu 3'', te način na koji se hrani je krvavo sličan onom kako se hrani Hooperov ''The Blob''.




Dobro kad smo to pojasnili krenimo na ostale detalje. Glumci, koje predvodi simpatični Oded Fehr, su odradili svoj dio posla korektno i zbog toga gledatelju odmah u početku sjednu kako treba. Režija je jako dobra, CGI efekti su pristojni a na trenutke čak i odlični (ovo se najviše vidi u početku kad se pojavi tu i tamo koja metarmorfoza), dok su na kraju malo podbacili iako čudovište izgleda sasvim solidno.
Ima akcije, napet je i bez obzira što je kraj već viđen najviše mi je ipak zasmetala ta otvorena solucija za nastavak koja je ispala premlaka. Po meni je bolje da je film završio kao recimo Spielbergov ''Duel'' i to kad krene odjavna špica. Ovo je svakako jedan od dobrih filmića koji su izašli direkt na DVD, te će se sigurno naći negdje na mojoj listi najboljih hororaca izašlih ove godine. Kako god bilo ovaj hororac je svakako moja topla preporuka za gledanje...iako radnja o autu koje jede ljude izgleda pomalo šašava.


THE SCENA:
- kad auto popapa svoje prve dvije žrtve
- kad auto prevari naše glavne junake i smaže jednog od njih