četvrtak, 23.06.2011.
The Last Lovecraft: Relic of Cthulhu (2009)

Posljednji Lovecraft: Cthulhuova Relikvija (2009)




Produkcija: Outlaw FIlms
Redatelj: Henry Saine
Scenarij: Devin McGinn
Konzultant na scenariju: Tom Konkle

Uloge:
Kyle Davis....................Jeff
Devin McGinn..............Charlie
Barak Hardley..............Paul
Ethan Wilde.................Starspawn

Film je imao kino premijeru 03. listopada, 2009 godine (H.P. Lovecraft Film Festival)
Trajanje: 78 minuta
Službeni trailer...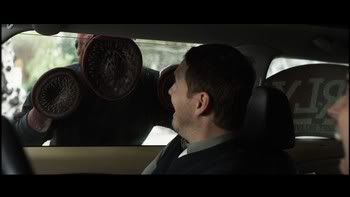 SADRŽAJ:
"- Jeff je običan momak koji radi posao koji ne želi i vodi jako dosadan život. No, kad mu jedan čudni starac da drevnu relikviju i saopći mu da je posljednji krvni potomak H. P. Lovecrafta Jeff sa svojim prijateljem Charlijem će morati spriječiti da relikvija padne u ruke demona Starspawna i njegovih čudovišta, koji žele vratiti drevnog Cthulhua natrag u naš svijet.''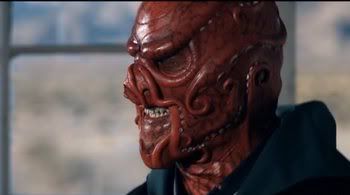 RECENZIJA:
- Evo još jedne od horor komedija koje su se pojavile ove godine, a kao i sve ostale i ova ima vrlo ograničeni (rekao bih mizerni) budžet. Koliko je sam film dobar prosudit ćete sami iz sljedećeg teksta, no prvo vidimo što valja što ne valja kod njega:


Što valja kod filma:
- glavni glumci i osnova priče
- traje 74 minute
- maska glavnog negativca
- ima dva smješna dijaloga i ''fish-raping'' scena
- animirana sekvenca dolaska Cthulhua na Zemlju
- cameo pojava Richarda Riehlea kao gospodina Snodgrassa


Što ne valja kod filma:
- scenarij i razvoj radnje
- karakterizacija likova
- CGI efekti
- ima dosadnih dijelova
- u razini ''Infestation'' (2009)




Završna riječ:
- za razliku od drugih ljudi koji su pričali o ovom filmu da ima jako dobrih prvih pola sata, a da u drugoj polovici naglo pada u intezitetu priče i događaja ja sam potpuno obrnutog mišljenja da je ''The Last Lovecraft'' mnogo bolji u svojoj drugoj (kad krenu u potragu za kapetanom Olafom) polovici nego u tih početnih 30 minuta.
Najveći problem kod ovakvih filmova sa ograničenim budžetom je to što imaju neujednačen protok radnje, pa tako kao cijelina ne funkcioniraju podjednako u svim svojim djelovima (slični problem mori i odlični ''Tucker & Dale vs. Evil'', kojem je prva polovica mnogo bolja od druge).
A ovo se događa ponajviše slabo napisanog scenarija zbog čega film nema toliko duhovitog dijaloga i scena koliko je trebalo biti, a o kojem neki govore da ga ima. Isto tako nisam primjetio mnogo asocijacija na druge filmove.

Ono što je dobro u filmu su glavni glumci koji su jako samouvijereni i nose cijeli film na svojim plećima bez obzira što im scenarij ne dopušta baš da se dijaloški razmašu (falilo im je nekoliko sočnih onlinera). Lijepo je vidjeti uhodanost i kemiju među tri glavna lika tj. Jeffa, Paula i Charlia.
Od recimo poznatih glumačkih imena izdvajam jedino Kylea Davisa kojeg smo vidjeli u rimejku ''Petka 13-tog''. Moram reći da mi se svidjela i animirana kolažna sekvenca koja nam objašnjava dolazak Cthulhua na naš planet. Neću zaboraviti spomenuti ni epizodnu pojavu lika kapetana Olafa, koji malo podiže humor kad on posustane. Olaf ima i tu čast da ima najbolju scenu u cijelom filmu a to je kad priča o 'fish-raping' događaju (slično onoj scenu u ''One Eyed Monster'' kad Charles Napier priča kako je oživljeli penis pobio cijeli njego vod u Vietnamu) što je svakako posveta Shawovom kapetanu Quintu iz Spilbergovih ''Ralja''.




Unatoč kratkom trajanju od samo 74 minuta ''Posljednji Lovecraft'' ima dosadnih momenata gdje se vidi scenaristička nesnalažljivost u osmišljavanju dobrih zapleta i same akcije, tako da uradak redatelja Henryja Sainea funkcionira više kao skup skečeva nego kao pravi igrani film.
Štoviše kad bolje razmislim ova horor komedija izgleda više kao pilot epizoda za neku seriju.
Sam film, kojeg bih opisao kao mješavinu ''Shaun of the Dead'' (zbog kemije Charlia i Jeffa), serije ''Buffy'' (priča i gl. negativac, plus FX maske) i ''Hangover'' (zbog lika Paula, kojeg glumi Barak Hardley, a koji je pljunuta kopija Zacha Galifianakisa i njegova Alana) spada u skupinu filmova poput ''Jack Brooks: Monster Slayer'' i ''My name is Bruce'', ali je gledajući humor daleko od ta dva filma.
Efekti koji se tiču FX maski i šminke su sasvim pristojni i jedina zamjerka sa moje strane ide na loše CGI efekte, koje vidimo u samoj završnici filma, ali iako izgledaju kao oni iz SyFy i The Asylum produkcije ipak su mnogo bolje odrađeni od onih u filmovima iz dotičnih studija.

Moram reći da uopće nisam očaran viđenim, ali bih svakako volio vidjeti nastavak (kako nam otvoreni kraj za nastavak pokazuje naši junaci će se naći ni više ni manje na ''Planini Ludila'') pod uvijetom da filmaši dobiju veći budžet. Kako god bilo i ovako ovaj film izgleda bolje od nedavno recenziranog ''Orcs!''.
Nezahtijevnim horor fanovima i ljubiteljima stripa bi se ''The Last Lovecraft'' mogao donekle svidjeti, ako je uz gledanje ovog 73 minute dugog filma prisutna jedna lijepa hladna baksa piva i ugodno društvo uz koje se sve viđeno da fino komentirati. Ostali oprez...


THE SCENA: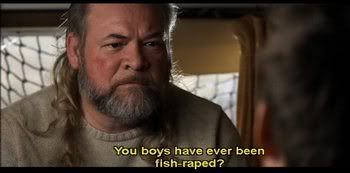 (Charlie upravo daje 'liz' svojoj kolegici sa posla u svojoj sobi)
Nicole: ''- O, moj Bože tako sam blizu!! Blizu sam!!!''
(sa ormara joj padne horor figura)
Nicole:"- Auuu!''
Charlie:"- Dušo pazi. To je kolekcionarsko izdanje.''
Nicole:"- A što je sa mojim okom?''
Charlie:"- Prvo izdanje...''
Nicole:"- Šališ se? Onda idi pa jebi svoju igračku seronjo.''