ponedjeljak, 09.05.2011.
Film Dana: "Pin" (1988)

Pin (1988)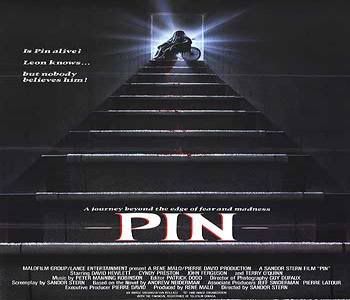 Produkcija: Lance Entertainment / Malofilm Communications Inc. / Malofilm Group
Redatelj i scenarist: Sandor Stern
Film je rađen prema istoimenom romanu Andrewa Neidermana

Uloge:
David Hewlett (Leon Linden), Cynthia Preston (Ursula Linden), Terry O'Quinn (Dr. Linden), Bronwen Mantel (Mrs. Linden)

Film je izašao u kina 31. svibnja, 1988 godine
Trajanje: 103 minute
Foršpan filma...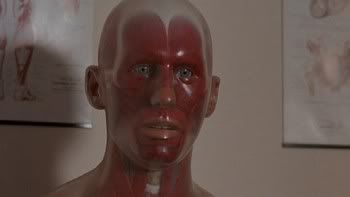 SADRŽAJ:
''- Dr. Linden u svojoj ordinaciji ima medicinsku lutku koju je nazvao Pin a preko koje svojom trbuhozborskom vještinom svojoj maloljetnoj djeci objašnjava tjelesne funkcije na način kako bi to djeca shvatila. Kad doktor sa ženom pogine u automobilskoj nesreći djeca Leon i Ursula ostaju u kući i u njoj odrastaju.
Psihički labilna osoba Leon kao već odrasla osoba i dalje vjeruje da je Pin živ, a kad se počnu dešavati ubojstva vezana uz njegovu sestru Ursulu...Pin je prvi osumnjičeni.''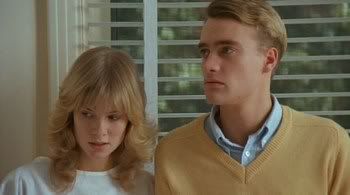 RECENZIJA:
- Evo još jednog filma koji pleše na rubu horor žanra, iako je stvarno više jaka psihološka drama/triler u kojoj se horor element prikaže s vremena na vrijeme (većinom vezana uz Pina). Što je dobro a što loše vidjet ćemo u dobro nam znanim plusevima i minusima filma:


Što ne valja kod filma:
- nije čistokrvni horor
- usporen ritam
- traje 13 minuta previše
- scenarij u nekim djelovima nije do kraja uvijerljiv
- ponekad prevelika upotreba psihologije


Što valja kod filma:
- jedan od dramskih filmova koji se opako približio horor žanru
- medicinska lutka Pin i svaka njegova pojava
- Leonova karakterizacija i njegov sklop u glavi
- Terry O'Quinn i ostatak glumačke postave
- kraj filma
- priča i atmosfera, sa velikom dozom depresije i ludila
- na momente stvarno jeziv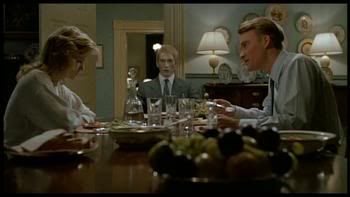 Završna riječ:
- Iako, je film pomalo usporen i sa podužim trajanjem od čak 103 minute i iako ima par omanjih minusa mogu reći da je ne samo zanimljiv nego i jako dobar film. Neki bi rekli tipična kanadska škola (ovdje mislim na uvrnute horor filmove ili one blizu Cronenbergovim filmovima), a ja bi dodao film kao da je snimio David Cronenberg u tinejđerskim danima (priča je taman po njegovom guštu).
Redatelj Sandor Stern je najpoznatiji po svom scenariju za tri filma o Amityvilleu (tj. prva tri filma u serijalu), dok je filmofilima poznatiji kao TV redatelj i dosta solidan filmski scenarist. Ja sam ga pamtim najviše po ovom filmu za koji je sam napisao i scenarij prema knjizi Andrewa Neidermana (autor knjige ''The Devil's Advocate'' iz 1990-te prema kojoj je snimljen istoimeni film iz 1997 sa Al Pacinom u jednoj od glavnih uloga).

Stern se odlično snašao u redateljskom stolcu, te osim par omanjih grešaka uspijeva snimiti zanimljiv i u nekim trenucima stvarno jeziv film. Sama priča je intrigantna, dok je glumačka postava koju predvodi odlični Terry O'Quinn (''Stepfather I i II'', serija ''Lost'') odradila lijep posao.
Mogu reći da se David Hewlett kao Leon sasvim fino snašao u toj ulozi i da je poprilično uvjerljiv u svojoj glumi.
Što se tiče scenarija on ima lijepih trenutaka kako u dijalozima tako u nekim dobro osmišljenim scenama. Manji minusi nisu vrijedni tolikog spomena.
Ono najzanimljivije u svemu tome je psihološka karakterizacija glavnog lika filma a to je Leona i odnos prema Pinu. Uz to film ima jedan od najboljih filmskih krajeva koje sam vidio, pa iako je on sam iskusnim filmofilima dosta predvidljiv...bez obzira nitko neće reći da on nije stvarno jeziv (vidi vidi to sam već par puta spomenuo).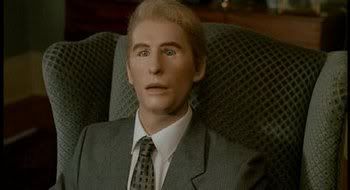 Malo je ljudi gledalo ovaj film, koji se po svemu (priča-psiho element) najviše da usporediti sa sličnim filmom ''Magic'' iz 1978 godine sa legendom Anthony Hopkinsom, no ova konstatacija je vrijedila i u godini kad se on pojavio u kinima.
Razlog tome je da su ga 'pojeli' mnogo konkretnij (bilo sadržajno bilo dasu žanrovski čistokrvniji) horor filmovi u kojima su naravno prednjačili oni iz domene slasher podžanra i filmova o vampirima, demonima i zombijima. Šeta jer ovo je film koji zavrijeđuje biti pogledan...a to nadam se da ćete zbog moje preporuke i u doglednoj budućnosti i učiniti.


THE SCENA:
- Kraj filma (vidi dijalog ispod)
PIN: ''- Have you heard from Leon?''
Ursula Linden: ''- No.''
PIN: ''- I miss him a great deal. ''
Ursula Linden: ''- So do I.''

- svaka u kojoj Leon i Pin 'pričaju'