četvrtak, 21.04.2011.
Phantasm (1979)

Sablast (1979)




Produkcija: New Breed Productions Inc.
Redatelj i scenarist: Don Coscarelli
Muzika: Fred Myrow i Malcolm Seagrove

Uloge:
A. Michael Baldwin.............Michael 'Mike' Pearson
Bill Thornbury.....................Jody Pearson
Reggie Bannister................Reggie
Angus Scrimm.....................The Tall Man

Film je izašao u kina 28. ožujka, 1979 godine
Trajanje: 88 minuta
Budžet: oko 300 000$
Zarada u SAD-u: 11 988 469 $
Službena stranica filma
Foršpan filma
Nagrade:
1979 godina – osvojio specijalnu nagradu žirija na Avoriaz Fantastic Film Festival-u
1980 godina – zaradio nominaciju nagrade Saturn u kategoriji najboljeg horor filma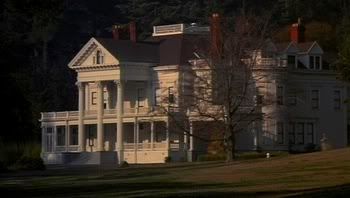 SADRŽAJ:
''- Mike je mladić koji je upravo izgubio svoje roditelje, te se boji da izgubi i brata. Taj strah uzrokuje to da krišom prati brata na sprovod njihovog zajedničkog prijatelja Tommyja, gdje na kraju primjeti jezivog grobara znanog samo kao ''Tall Man'' koji ima neverojatnu snagu pomoću koje može dignuti lijes kojeg jedva dignu četvorica odraslih ljudi.
Mike odluči istražiti stvar te otkriva strašnu istinu o Tall Manu, koji je vanzemaljac koji krade leševe koje potom oživljava i koristi kao robove za prodaju u drugim dimenzijama i galaksijama. Sada je sve na Mikeu, njegovom starijem bratu Jodyju i njihovom prijatelju Reggieu da stvar zaustave čim prije...no Tall Man se ne želi predati bez bezpoštedne borbe u kojoj koristi svoje vanzemaljsko znanje i tehnologiju protiv naših junaka.''




RECENZIJA:
- Evo filma kojeg neki ili jako mrze ili ga stvarno obožavaju. Ja mogu reći da više naginjem drugom nego prvom, pa iako ovo nije totalno savršen film, no svakako spada među najbolja Sci-Fi/horor ostvarenja. Minusi i plusevi slijede:


Što valja kod filma:
- priča i sama mitologija filma
- muzika i sneni elementi
- ugođaj i atmosfera
- tehnologija i pojava Tall Mana
- gluma Angusa Scrimma i Reggiea Bannistera


Što ne valja kod filma:
- nedorečen scenarij
- većina važnijih dijaloga
- poneki dijalozi i radnja pomalo konfuzna
- karakterizacija likova (osim Tall Mana)




Završna riječ:
- ''Phantasm'' je film koji izgleda kao da je snimljen negdje polovicom 80-tih, a ne u završnom periodu 70-tih. Redatelju Donu Coscarelliju (Bubba Ho-Tep, Beastmater) je ovo bio tek treći film no već je ovim uratkom iskazao stanovitu darovitost za horor žanr.
Ono najbolje kod ovog filma je to što ne šljivi ni 5% logiku nego se više odaje eksperimentiranju sa snovima i svako malo se otvoreno ruga realnosti., baš kao što će to za pet godina do savršenstva odraditi Cravenova ''A Nightmare on Elm Street'' .
Za film koji je imao budžet od samo oko 300 000$ izgleda predivno, te mogu pohvaliti odličnu muziku dvojca Myrow i Seagrove zbog koje atmosfera u filmu izgleda fantastično, dok je sama režija jako dobra. Ovaj SF/hororac se može pohvaliti da ima jednog od najupečatljivijih negativaca a to je Tall Man kojeg perfektno glumi Angus Scrimm, a čija mitologija koja se provlači cijelim filmom mami gledatelja da se se sve više udubi u događaje u filmu.

Iako nije dao tko zna kakvo glumačko ostvarenje Reggie Bannister je fino i doista simpatično odglumio svoj lik Reggiea. Ono što je najveći minus jeste scenarij koji je slab u nekim svojim dionicama (recimo kad Jody drpa žensku na groblju), te je svakako najslabiji baš na kraju filma (usudio bih se reći i pomalo zbrkan) jer mnogo stvari ostavlja nedovršeno kako u priči tako u razvoju radnje (koliko sam shvatio to je i bila redateljeva namjera), a neću zaboraviti spomenuti ni da povremeno ima scena koje zbunjuju gledatelja jer se u njima prebrzo izmjenjuju relanost i nerelanost.
Zbog Coscarellijeva poigravanja javom i snom razumljivo je zbog čega ga neki filmofili ne vole. ''Phantasm'' je po ugođaju i sličnoj radnji najbliži dosta dobrom filmu ''One Dark Night'' (1983) što je svakako dobra vijest, također ima onaj štih hororaca 80-tih, dok uz horor elemente koji nisu baš toliko naglašeni nego samo naznačeni u pojedinim scenama film bi se trebao prije svega smatrati pripadnikom znanstvene fatastike nego u čistokrvne filmove strave i užasa.



Što se tiče ovog filma za mene je svakako jedan od najboljih ostvarenja nastalih tijekom 70-tih godina, no kako sam rekao šteta da scenarij nije razrađeniji u nekim od banalnih dijaloga, te konkretniji u svom pomalo predvidljivom kraju koji je ostavio dovoljno mjesta za nastavak.
''Phantasm'' Dona Coscarellija je istinski klasik i film kojeg bi ste trebali pogledati, ako već niste naravno...pa bez obzira ako vam ovaj put film ne bude sjeo kako treba zbog čudne radnje i same atmosfere i ugođaja.



THE SCENA:
- kad se Tall Man hladu hladnoćom hladnjaka u kojem su sladoledi i ona gdje vikne ''Boy!!!"
- prva scena sa letećom kuglom