srijeda, 23.03.2011.
TERRORDROME: Rise of the Boogeyman



Sigurni su se mnogo od vas koji prate horor žanr uhvatili u razmišljanju tko je od ikona filmova strave i užasa najjači. E, ovaj put možda dobijete malu zadovoljštinu koju vam omogućava jedna lijepa i besplatna videoigra pod naslovom:

TerrorDrome: Rise Of The Boogeymen




Ovo je borilačka versus stil arkadna 2D horor igra u kojoj u maniri "Mortal Combata" (više) i "Street Fightera" (manje) možete voditi jednog od poznatih likova iz najpoznatijih horor serijala poput :
Asha iz ''Evil Dead''-a, Jasona iz ''Friday the 13th'' (ovdje imamo čak dvojicu i to iz trećeg i osmog dijela), M. Myersa iz ''Halloweena'', Matta Cordella iz ''Maniac Cop'', Chuckya iz ''Child's Play'', TallMana iz ''Phantasm'', Ghostfacea iz ''Scream'', Freddy Kruegera iz ''Nightmare on Elm Street'', Letherfacea iz ''TCM''-a. A uskoro smo trebali dobiti i Candymana, Pinheada i Herberta Westa...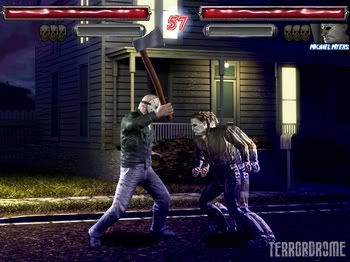 Ono što je najbolje kod svega jest to da je ovo produkt amatera koji su igru sklepali samo svojim znanjem i umjećem/radišnošću svojih ruku.
Sama igra izgleda predobro kako grafički tako i u drugim pogledima...posebice animaciji likova, pa bih se usudio reći ravna Mortal Kombat trojki i četvorki. Dakako igra je još nedovršena i neispolirana, no izgleda fenomenalno bez obzira na sve njene vidljive nedostatke. Svaki od likova ima svoj način borbe i posebne poteze, koji su preuzeti iz filmova, pa tako spomenimo samo neke kao recimo specijalni potez Letherface korsti svoj malj sa kojim žrtvu mlati po glavi, Myers nadgrobnu pločom klepa neprijatelja po ćiverici, a najdomljiviji su svakako Ash kad priziva mnogobrojnu vojsku kostura pomoću Necronomicona i Freddy koji se pretvori u zmijolikog monstruma iz NOES trojke.

Okoliš je prepoznatljiv, jer smo ga mnogo puta viđali u hororcima, a svaki od likova ima svoj lokalitet na kojem se može ali i ne mora boriti, pa tako imamo prilike vidjeti Mayersovu i Leatherfaceovu kuću, Crystal Lake, kotlovnicu, a u najnovijoj verziji igre 2.7 možete se boriti u scenografiji ''Re-Animatora''.
Zvuk je također na nivou iako je odrađeno koliko mi se čini 50% onog što su kreatori zamislili, ali ipak imamo mnogo legendarnih citata iz nama dragih filmova (''What's your favorite scary movie?'') u kojima čujemo nama poznate glasove (Brad Dourif, Bruce Campbell...), koje prati ništa manje zanimljiva glazbena tema od koje svakako moram izdvojiti onu iz ''Noći Vještica''.
Potezi u borbi nisu teški ali ni prelagani, a ima ih sasvim dosta da potrošte određeno vrijeme na učenje.
Od likova najopakiji i najjači je Leatherface, a najslabiji Chucky, no ako demonski lutak bude pravi u pravo vrijeme zna biti odličan borac u rukama onoga tko ima godine iskustva u sličnim tabačinama.




Meni osobno najdetalji igre:
- Fajt Myersa i Maniac Copa – početak igre u kojoj se kad se oglasi ''Fight'' Myers se spušta sa stropa (H20), dok Cordell prilazi Michaelu vrteći svoju palicu u ruci kao u prvom dijelu, pa kad Myers bude ošamućen radi isto ono što je radio na kraju 2 dijela kad je bio upucan u oči od strane Laurie Strode (drži se jednom rukom za oči dok drugom ispred sebe omamljeno maše svojim kuhinjskim nožem)...

Na, žalost dok ovo čitate prije jedno pola godine igra je skinuta tj. ukinuta i njeno razvijanje je ugašeno, jer su se studiji pobunili zbog prava na likove. Šteta...ugasiti tako dobru igru sa odličnim i originalnim idejama....no ako se malo potrudite možete naći verziju na netu. Svakako ju odigrajte jer kako sam već spomenuo igra je bez obzira na neke mane i manje bugove zarazna, ugodna oku i uhu, a što je najvažnije radili su je horor fanovi za horor fanove...a to se svakako vidi u svim onim mnogobrojnim detaljima koje smo viđali u filmovima likova sa kojima mlatite.