nedjelja, 27.02.2011.
Burke and Hare (2010)



Produkcija: Aegis Film Fund / Ealing Studios / Fragile Films / Prescience
Režija: John Landis
Scenarij: Piers Ashworth i Nick Moorcroft

Uloge:
Simon Pegg (William Burke)...................Andy Serkis (William Hare)
Jessica Hynes (Lucky)............................Isla Fisher (Ginny Hawkins)
Tom Wilkinson (Dr. Robert Knox)...........Tim Curry (Prof. Alexander Monro)

Film je izašao u ograničenim kinima u V. Britaniji 29. Listopada, 2010 godine
Trajanje: 91 minuta
Zarada u prvom vikendu u UK: 942 894Ł (u 390 kina)
Foršpan filma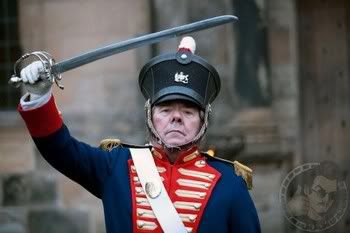 SADRŽAJ:
''- Ova crna komedija se bazira na istinitim događajima koji su se dogodili u 19. stoljeću, kad su dva prijatelja William Burke i William Hare odlučili ubijati ljude kako bi zaradili prodavajući njihove leševe uglednom doktoru Roberu Knoxu za njegove 'medicinske' potrebe...''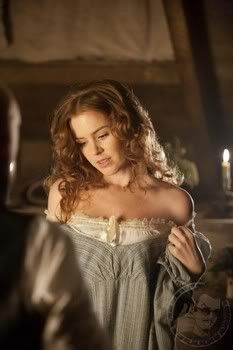 RECENZIJA:
- Iako, ne tako poznati kao neke druge serijske ubojice dvojac Hare i Burke su svakako poznata imena 19. stoljeća u Velikoj Britaniji. No, koliko god bio zanimljiv njihov slučaj dobili su samo dva filma i to onaj redatelja Vernona Sewella iz 1972 godine, koji se također zove ''Burke & Hare'' i ''The Flesh and the Fiends'' iz 1960-te godine, gdje su glumili Peter Cushing i Donald Pleasence.

Današnji film je sam po sebi u par stvari poseban, a prva stvar u tom pogledu je ta da se redatelj John Landis, koji je poduže izbivao sa velikog ekrana, vratio svom poslu.
Druga stvar je ta da je uspio okupiti odličnu glumačku ekipu – Pegg, Serkis, Wilkinson, Curry...
Landis stvarno ima osjećaj za detalje, te što se tiče same scenografije i kostimografije, te kamere film izgleda predivno.
Drago mi je što je uhvatio onaj ugođaj Viktorijanske engleske koje često viđamo samo u filmovima o Jacku Trbosjeku (TV serija ''Jack the Ripper'' i ''From Hell'' mi prvi padaju na pamet) ili tu i tamo u filmskim ekranizacijama Dickensovih djela (kao lijepa trivija i sam Dickens se pojavljuje kao jedan od likova).




Još jedna prelijepa stvar samog filma su cameo i epizodne pojave poznatih glumaca britanskog glumišta kojih ima mnogo. Recimo da su mi najdraže od svih bile one pojave Jenny Agutter, Davida Schofielda (''From Hell'') i Johna Woodvinea koji su zadnji put glumili u Landisovom ''Američkom Vukodlaku u Londonu'', prije ravno trideset godina, te ovdje prejebeno odličnog Christophera Leeja gdje je odglumio starog Josepha.
Tako smo imali prilike vidjeti čak i Roberta Payntera, te legendarnog Rayja Harryhausena.
Naslovne uloge zasluženo igraju Simon Pegg (''Shaun of the Dead'', ''Hot Fuzz'') i Andy Serkis (Gollum iz ''LOTR'' serijala, ''The Cottage''), dva odlična glumca, te mogu reći da mi je drago što umjesto njih nisu te uloge igrali John Cleese i Dan Aykroyd, ma koliko god ovu potonju dvojicu volio. Jednostavno, Simon i Andy (uletio umjesto Davida Tennanta, kojem je prvotno dodjeljena uloga) su odglumili svoje uloge od gušta te se vidi da su se svi dobro zabavljali snimajući film.
Njima dvojici podršku davaju veterani koje je uvijek lijepo vidjeti u bilo kojem filmu – Tom Wilkinson (''Batman Begins'', ''The Full Monty'') i Tim Curry (''IT'', ''Legend''), te darovite i slatke glumice koje ćemo sve češće viđati na kino platnu Jessica Hynes (''Wedding Crashers'') i Isla Fisher (Yvonne iz ''Shaun of the Dead''). Svi oni fino odrađuju svoj glumački posao, tako da gledatelj može samo sjesti i uživati.




Mogu reći da je Landis snimio zabavnu crnu komediju u kojoj imamo pregršt živopisnih likova, smiješnih situacija i par odličnih scena (dio sa starim Josephom, pa kad pijanac bude gurnut niz stube...), solidan dijalog te umnoge podsjeća na crne komedije poput ''The Ladykillers'' (1955) ali u štihu humora koje smo gledali i voljeli u 80-tima.
Na kraju mogu reći da iako scenarij nije nešto najbolje napisano, te je Johnov uradak nekako u zadnjih 20 minuta malo nedorečen ''Burke and Hare'' je svakako uspio film u kojem će većina vas uživati, jer je stvarno zabavan i za razliku od današnjih filmova sa isforsiranim zahodskim humorom podsjeća na neka dobra stara vremena kad su komedije bile komedije...
Stoga bih rekao da Landis još ima onaj dar sa kojim snima dobre filmove, baš kao što to ima i Joe Dante, njegov žanrovski kolega sa kojim ima dosta toga zajedničkoga, te kamo sreće da možemo vidjeti više ovakvih uživancija u obliku dobro ugođenog humora...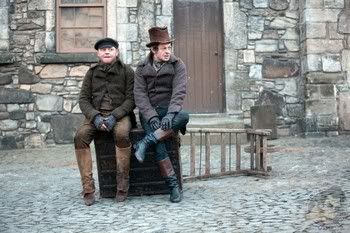 THE SCENA:
- Christopher Lee nam pokazuje zašto ga mi svi smatramo legendom, jer njegov Old Joseph spada u još jednu od njegovih predivnih glumačkih minijatura
- Paul Whitehouse kao pijanac kojeg gurnu niz stube...ta se scena treba vidjeti jer ju je teško opisati
- Andy Serkis ševi i razgovara o poslu sa svojom ženom, koja samo što nije svršila
- naracija na početku i kraju filma, odjavna špica sa odličnom mjuzom
- na kraju imamo prilike vidjeti pravog Williama Burkea u skeletnom izdanju u muzeju Edinburgškog medicinskog sveučilišta