utorak, 15.02.2011.
The Breed (2001)

Ukleta Vrsta (2001)




Produkcija: Motion Picture Corporation of America
Redatelj: Michael Oblowitz
Scenarij: Christos N. Gage i Ruth Fletcher
Spec. efekti: Catalyst FX

Uloge:
Adrian Paul.......................Aaron Gray
Bokeem Woodbine...........Steve Grant
Ling Bai.............................Lucy Westenra

Film je imao DVD premijeru 19. Srpnja, 2001 godine
Trajanje: 91 minuta
Budžet: oko 4 milijuna $
Foršpan filma...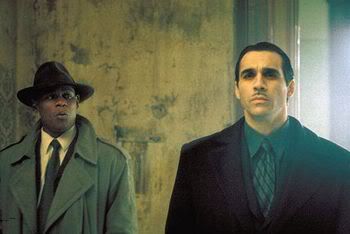 SADRŽAJ:
''- FBI agent Steve Grant (B. Woodbine) nevoljko pristaje na zadatak praćenja odmetnutog vampira koji ima namjeru razotkriti vladin plan da se vampiri integriraju u društvo. Zajedno sa svojim partnerom, "dobrim" vampirom Aronom (Adrian Paul), prati tragove i leševe do jazbine zavodljive Lucy (Ling Bai). Grantu je teško vjerovati bilo kojem vampiru, ali kada se zaljubi u Lucy, granica između dobrog i lošeg se gubi a njegov sljedeći potez može biti i njegov posljednji.''




RECENZIJA:
- Mnogi horor ljubci baš i ne vole vampirske filmove (osim naravno nekolicne kultnih i besmrtnih klasika) a to je podatak kojem se nimalo ne čudim, jer upravo taj žanr ima mnogo kukolja u svom žitu. Današnji film levitira između one razmeđe loših i dobrih vamp filmova. No, dobro...evo što moja malenkost misli o ovom filmiću...

Što valja kod filma:
- okosnica priče
- nacisti vs. povampireni Aaron Gray
- glumačka postava (Bai, Paul i Woodbine)
- neke scene i (samo) ponekad ugođaj
- miješanje žanrova (noir+vampirski film+SF)


Što ne valja kod filma:
- scenarij i poneki dijalozi
- gluma sporednih glumaca
- specijalni efekti
- scena obračuna vojske i vampira ala Matrix đir
- brčići Adriana Paula




Završna riječ:
- Nemojte da vas ime filma zavara pa da ga zamijenite sa istoimenim animal attack filmom iz 2006 godine u kojem je Michelle Rodriguez tumačila glavnu ulogu (upravo sam zbog takve zabune na SecondSpinu umjesto tog hororca sa pobješnjelim psima dobio ovaj filmić snimljen 2001 godine).
Prvo što sam primjetio kod ''Uklete Vrste'' je da miješa tri jako zanimljiva (pod)žanra – noir, vampirski film i SF sa tim da je najveći naglasak filma upravo na noiru.
Po radnji bih ga mogao opisati kao mješavinu ''Brazila'' Terryja Gilliama i ''Daybreakersa''. Baš se vidi da je Gilliamovo kultno ostvarenje izvršilo najveći utjecaj na sam izgled filma zbog tog sadržajnog dijela u kojem imamo prikaz neodređene ali najvjerojatnije daleke distopijske budućnosti u kojoj vlada totalitarni režim, a gdje sve izgleda kao da je zaglavilo u 50-tim godinama prošlosg stoljeća.
To je miks koji mi se uvijek sviđao.
Glavna glumačka postava doista dobro odrađuje svoj posao (posebice Ling Bai) što je za ovakvu vrstu filma možda i najpresudnije. Spomenuo bih da je ''The Breed'' redatelja Michaela Oblowitza sniman u čudnom ali meni zanimljivom art spotovskom điru. I to je sve što bih mogao reći o pozitivnim stvarima samog filma.

Od par negativnih stvari izdvojio bih te brčiće Adriana Paula (Duncan MacLeod iz serije ''Gorštak''), koji su me najviše iritirali kroz cijeli film. Pa, onda imamo prerastegnutu scenu obračuna vojske sa vampirima koja je očigledno inspirirana ''Matrixom'', gdje imamo mnogo kadrova u kojima likovi lete po zraku pucaju i pune oružje u slow motionu, ali zbog ograničenog budžeta i nemaštovitosti redatelja i njegove filmske ekipe sve to izgleda ne samo smiješno nego prejeftino.
Mislim da se moglo i bez takvih ''Matrix'' preseravanja. Sama priča nije nešto posebno, te je scenarij nedorečen i sadrži mnogo dijaloga koji nisu baš tako bajni, a bogme ni radnja nam ne otkriva mnogo o toj budućnosti, pa tako ne znamo tko vlada i šta se uopće stvarno događa u tom svijetu.
Specijalni efekti su jako loši, te ako izuzmemo par prerezanih vratova i koji ugriz u žilu kucavicu film ne sadrži neke scene vrijedne pamćenja. Akcije ima svako malo, ali ona je bezandrenalinska. Osim troje glavnih glumaca svi ostali bilo sporedni bilo epizodni glumci daju jako loša glumačka ostvarenja.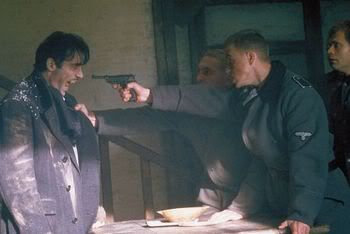 Iako će mi ovaj film za kojih par dana izblijediti iz pamćenja i bez obzira što će se naći na mojoj listi filmova jednom ih pogledati zaboraviti ih ne mogu reći da je ovo govno od filma.
Gledao sam mnogo gore i manje zabavne filmove o vampirima koji su imali mnogostruko veće budžeta a izgledali su lošije od ''Uklete Vrste''.
Ja sam na njega gledam kao na simpatični i skromni TV hororac iz C produkcije koji me je donekle zabavio, pa ga neću prepručiti svima nego samo onim najhrabrijima...a oni koji su obožavatelji filmova o vampirima će ga ionako kad tad pogledati, no njima mogu samo reći da film odgledaju rasterećeno i bez ikakvih predrasuda.