subota, 05.02.2011.
The Blackout (2009)

Zamračenje (2009)




Produkcija: Starway Pictures
Redatelj: Robert David Sanders
Scenarij: Jim Beck

Uloge:
Barbara Streifel Sanders (Elizabeth Pierce)
Abigail Droeger (Ashley Pierce)
Ian Malcolm (Dylan Pierce)
Anthony Tedesco (Freddy Appleton)


Film je izašao 2009 godine
Trajanje: 80 minuta
Službena stranica filma
Foršpan filma...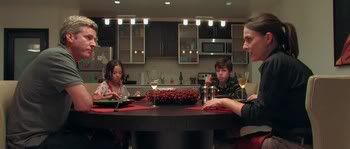 SADRŽAJ:
"- Na Badnjak u Los Angelesu počnu se dešavati sve češći potresi, koji na kraju uzrokuju nestanak struje u cijelom gradu. Odmah nakon zamračenja uslijed nestanka struje prestrašene i nespremne stanare u jednoj od zgrada u ulici Ravenwood počinju napadati čudovišta koje su izašla iz rupa u zemlji, a to je samo početak nevolja..."




RECENZIJA:
- Evo još jednog lošeg niskobudžetnog filma kojeg sam ipak odlučio pogledati, pa kud puklo da puklo. Što reći nego da sam grdno pogriješio. No, sam sam si kriv, pa umjesto da slušate moje žalopojke o tome zašto sam išao gledati ovako ultraloš film...stoga evo nama dobrih i loših strana, a pa onda par rečenica u završnoj riječi :


Što valja kod filma:
- osnovni dio priče
- FX čudovišta
- mala Abigail Droeger kao Ashley Pierce
- traje samo 80 min. i ima odličan drugi plakat


Što ne valja kod filma:
- scenarij i dijalozi
- režija (redatelju Sandersu je ovo prvi film koji režira)
- gluma i karakterizacija likova
- CGI efekti i prvi plakat sa kojim se reklamirao film (krađa plakata "Feast", te gledatelju daje krivu predođbu o filmu ali i o samim čudovištima)
- ugođaj, osvjetljenje i ponekad kamera
- većina scena u filmu, te sam kraj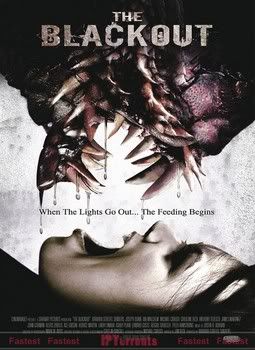 Završna riječ:
- ''Zamračenje'' je jedan od onih horora kod kojih kad krene akcija kažete ''- jebem te glupava što si išao to gledati...'', no kako ja volim gledati ovakve creature featture filmove nisam mogao odoljeti.
U ostvarenju redatelja Sandersa (mislim da mu je glavna glumica žena, koja je ujedno i glavni producent filma) malo toga funkcionira, pa tako imam vrlo malo pozitivnoga za reći. Glumci amateri glume amaterski pa ih ni ne krivim, scenarij je ne samo loše napisan nego ima još lošije i zamorne dijaloge (od kojih su neki čistokrvni debilizam) koji filmu vrlo brzo donose dosadu i nezanimljivost, režija je još gora od scenarija i glume, a još gore od režije su nevjerojatno dječije napravljeni CGI efekti (čak više puta gori nego oni u ''Dark Lurking''), koji kao da su rađeni na Gameboyju Color-u.

Nadalje montaža nije baš bajna, dok trešnja kamere u dosta akcijskih scena može izazvati mučninu kod gledatelja. Sam razvoj priče je jako slab, nema napetosti, likovi su nezanimljivi i bez ikakve minimalne osobnosti (veću osobnost imaju tri dana mrtve ribe na lokalnoj ribarnici) pa ih čak ne možemo ni poklopiti onom čestom izricanom rečenicom da su jednodimenzijalni, a da ne govorim kako film obiluje amaterskim pogreškama/glupostima (nisam znao da lift kad padne sa najvišeg kata zgrade u podrum da može onako eksplodirati kao da je pun TNT-a i C4 eksploziva ili kad jedan od tipova vadi pištolje kao Sport Billy sportske rekvizite iz svoje čarobne i nepresušne sportske torbe...) i da kraj filma je totalna glupost...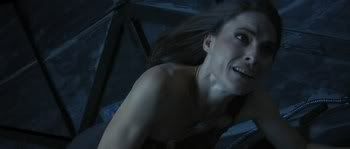 One malobrojne pozitivne strane se tiču toga da ovaj hororac traje samo 80 minuta, da ima jako dobru Abigail Droeger koja iako najmlađa pokazuje najveći glumački talent (nadam se da ćemo ju vidjeti u mnogo boljim projektima) i da film ima iznenađujuće solidna čudovišta.
Baš zbog tih antagonista tj. čudovišta film bi trebali pogledati (bacite oko gore na plakat ispod naslova filma na kojem možete vidjeti jednu od beštija iz filma) oni najizdrživljiji horor obožavatelji, jer kako je ovo uradak sa ultra malim budžetom ti su mi se monsteri svidjeli i to najviše zbog dobrog dizajna (čak u nekoliko navrata žmirkaju no bez CGI efekata) što znači da su meštri šminke i maske odlično odradili svoj posao te unatoč lošoj kvaliteti filma izdigli FX element kao ogroman plus.
Šteta, jer je film obećavao u početku i to prvih par minuta, no redatelj i scenarist su uz svesrdnu pomoć jedne polovine filmske ekipe snimili čistokrvno sranje koje bi ako nemate čvrstu volju i jak želudac slobodno trebali preskočiti i tako si uštedjeti 80 minuta uzaludnog trošenja vremena.