subota, 11.12.2010.
The Dark Lurking (2010)

Vrebanje iz Mraka (2010)




Produkcija: Filmwerx77
Redatelj i scenarist: Gregory Connors

Uloge:
Tonia Renee...................(Lena)
Bret Kennedy................(Michaels)
Ozzie Devrish................(Kirkland)
Roslyn van Doorn..........(Yutani)

Film je imao DVD premijeru 24. rujna, 2010 godine
Trajanje: 97 minuta
Budžet: oko 1 milijun $
Službena Stranica filma
Foršpan filma...




SADRŽAJ:
''- Godina je 2017. Kada se u tajnom vojnom kompleksu znanom kao ''Istraživačka Stanica 320'', koja se nalazi jednu milju pod zemljom, prekinu sve radio veze. Službene osobe potom šalju tim specijalaca da bi vidjeli što se događa i zbog čega više nitko ne odgovara na njihove pozive. Vrlo brzo pronalaze nekolicnu preživjelih od kojih saznaju da je cijeli kompleks napučen mutantima željnih ljudskog mesa i krvi. Situacija je zamršena a izlaza skoro da ni nema nema...no preživjeli zajedno sa dobro izvježbanim vojnicima daju sve od sebe da se iz svega izađu živi.''




RECENZIJA:
- Činjenica je da većinom padam na ovakve trashersko niskobudžetne filmove, a još kad vidiš doista zadovoljavajući foršpan onda stvarno ne možeš odoljeti a da ga ne pogledaš. I da. Jesam ga pogledao, malo kasnije nego sam mislio, no obavio sam i taj posao. No, vas zanima - samo da li je film dobar ili loš?
Na vama je da procijenite iz sljedećih rečenica dolje, no kako bilo prvo kratki osvrt na dobre i loše strane ovog SF djelca:


Što valja kod filma:
- podsjeća na B znanstveno fantastične filmove iz 80-tih
- ima ugođaj filmova Rogera Cormana
- povremena akcija koji se tiču okršaja sa mutantima
- mutanti u filmu podsjećaju na deformiranu verziju Srama iz SF lutkarske serije ''TerraHawks''
- šminka i maske mutanata, te CGI efekti svemirskog broda
- podsjeća na mnogo Sci-Fi hitova: ''Aliens'', ''Predator''...
- Dr. Mason Wren tipični 'ludi znanstvenik' daje filmu posebni štih


Što ne valja kod filma:
- scenarij i djalozi, te gluma više od polovine glumaca
- nestabilna kamera u nekim trenucima (najviše primjetljivo u početku tj. kad počne prvi sukob specijalaca sa mutantima)
- svi ostali CGI efekti
- Jen (Cassia Rosenstraus) je najiritirajući lik filma
- loša karakterizacija likova




Završna riječ:
- Ovako, ovaj australski film počinje kao miks ''Aliensa'' (1987) i ''Dooma'' (2005), da bi potom pomalo podsjetio u jednom manjem djelu na ''Predatora'' (1987). Za malo bolje poznavatelje B ZF filmova iz 80 –tih film mi baca na moderniziranu verziju meni nezaboravnog ''The Terror Within'' (1989) sa legendarnim Georgeom Kennedyjem, gdje ovdje umjesto jednog čudovišnog mutanta imate hrpu njih, a svi liče u licu i pustim oštrim zubima na one beštije iz ''Feasta'' (2005) samo što ovdje nisu tako 'zgodni' kao monsteri iz Gulagerovog filma.

Vidi se da je ''The Dark Lurking'' ipak najveću inspiraciju crpio upravo iz sljedećih filmova, a evo i obrazloženja:
- ''Aliens'' (marinci spašavaju, ekipa preživjelih, horde mutanta naviru sa svih strana, tip puca iz oružja nalik smartgunu, glavni junak Michaels mnogo baca po ponašanju na vojnika Hicksa, jedan od likova se zove Yutani)
- ''Alien: Resurrection'' (jedan od likova po pokvarenom ponašanju je skoro pa isti Dr. Mason Wren, glavna junakinja je genetički modificirana osoba baš kao i klon Ellen Ripley)
- ''Predator'' (kratki fajt u džungli između Michaelsa i uber mutanta čiju čunku vidimo u gornjem posteru, a gdje više liči na Xenomorfa tj. Aliena...dok od sličnosti koja bi se mogla primjetiti u filmu nema ni s)
- ''Doom'' (marinci + znanstveni kompleks + mutanti koji se ponašaju kao zombiji iz ''DOTD'' 04' + posuđeni element iz videoigre a ne filma – mutanti imaju veze i sa Luciferom)
- ''The Thing'' (jedan od tri plakata je 'posuđen' od plakata ovog filma, dok je radnja na nekim mjestima opisana kao da se sve događa na Antartici tj. ispod nje)




U neki minijaturama vidio sam čak utjecaj filmova poput ''Event Horizont'' (1997) i ''REC'' (2007). Dobro mislim da ste ovaj dio shvatili o čemu se radi, te ću tako preći na ostale bitne stvari. Ovo je tipični ultra niskobudžetni SF film čiji se budžet vrti oko jednog milijunčeka dolara i sve je lijepo napravljeno samo da nije ogavnog CGI-a kad se prikazuje vatra iz strojnica, koji izgleda kao da su ga radili na Atari 2006 konzolama (neki amaterski filmići iz dvorišta imaju bolje vatrene efekte dok oružje puca nego ovaj film). Koliko su loši kompjuterski efekti toliko su mnogo bolji šminka i maske samih mutanata.
Izgledaju vrlo groteskno i uvjerljivo. Scenarij i dijalog je prepun klišeja pa tako imamo one tipične trash izjave kad pričaju o stanju u kojem se nalaze (čovječe klišej do klišeja pokupljen iz brdo filmova) ili kad 'ludi zanstvenik' objašnjava porijeklo eksperimenata i nastanak mutanta (još klišeja no zabavno upakiranih). Većina glumaca se preglumljuje (debelo prednjači upravo Cassia Rosenstraus) i vidi se da su neki od njih u svojim prvim ulogama, te da nemaju nikakvog glumačkog iskustva.

Mislim da je redatelj Connors trebao neke scene bolje odraditi, smanjiti pretjerano preglumljivanje u par scena, izbjeći onaj loši CGI, ne dopustiti trešnju kamere u nekim scenama akcije, a pošto je on i scenarist ne prepusiti se jednostavnom kopiranju Sci Fi klasika. Ovo je lako mogao biti mali dijamant C produkcije, no iako je ova priča već viđena nebrojeno puta sa jednodimenzijalnim likovima i primamljivom akcijom najviše što je filmu zasmetalo na tom putu jeste što je radnja pomalo konfuzna i slaba. Šta je je film ima dovoljno horor ugođaja, par gore scena i svako malo akcije gdje se naši junaci obračunavaju sa nadolazećim grupama mutiranih kanibala pa ponekad stekneš dojam da gledaš igranu verziju neke osrednje video igrice.
Film vrijedi pogledati jer ovo nije uobičajeno trash ŽNJ smeće na koje tu i tamo naletim ili koje većinom viđamo u SyFy i The Global Asylum produkcijama. Iako ćete ga sigurno vrlo brzo zaboraviti one mane koje sam vam gore spomenuo ne bi trebala biti neka velika prepreka za njegovo gledanje...samo pripremite mnogo kokica i nekoliko piva ili sokića i dajte mozak na pašu i pokušajte uživati.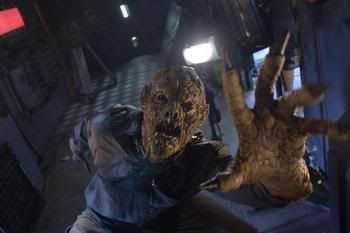 THE SCENA:
- Michaels vs. Uber Mutant (loše, ali ipak u jednu ruku simpatično kopiranje fajta između Dutcha i Predatora na kraju ''Predatora'')