četvrtak, 02.12.2010.
25 naj scena sa školjkom i pisoarom – dio prvi



Jedan od najboljih i sigurno najvažnijih (za Al Bundyja i njegove pobornike bez premca najvažniji) čovjekovih izuma jest WC školjka. Taj predivni keramčki predmet pomaže čovječanstvu već duže vrijeme da se što ugodnije olakša u velikoj i maloj nuždi.

Svaka čast seksu i drugim jako ugodnim stvarima poput jela i pića, no najbolji osjećaj na svijetu jest upravo taj trenutak kad se čovjek olakša i izbaci te nečistoće iz sebe. Neki od tog nazovimo to tako svakodnevnog 'posla i obaveze' naprave pravi mali ritual – dok čekaju da sve bude gotovo pročitaju sportsku stranicu ili par stranica nekog dobrog i zanimljivog stripa, neki čak jedu, dok drugi opet krate vrijeme igrajući PSP ili Nintendo DC, ali svi se oni nakon obavljenog posla osjećaju odlično i fizički i psihički. Vjerujem da dobro poznajete taj osjećaj ugode….zar ne?

No, zahod i sama školjka mogu biti jako opasno mjesto za dotičnog seratora, jer ponekad opasnost vreba baš iz te nevine tehnološke 'skulpture' prema kojoj i carevi idu pješke.

Ako je školjka ili njena okolina neodržavana postoji mogućnost da sa na nju ili pod nju nastani najčešće kućni pauk znanstvenog imena Pholcus phalangioides, no problem nastaje ako je stanovnik vaše školjke Latrodectus tredecimguttatus tj. njeno veličanstvo Crna Udovica, najotrovniji paučnjak na tlu Europe. Još gora je stvar ako živite u Australiji, jer tad možete naići na pauka Latrodectus hasselti koji je jako nalik Crnoj Udovici, ali koji je ujedno i jedan od najopasnijih paukova na svijetu. Svi govore o tome kao nekoj urbanoj legendi, no stvar je jednostavna i činjenica je da zbog tog sanitranog neodržavanja i nehigijene školjke ona privlači nametnike i muhe, glavni plijen paukova.

Druga opasnost može zaprijetiti i od školjkine daske, pa ako ste tek dječak i ta se daska spusti na pišulinca…pa vrlo lako postoji mogućnost da postanete Farinelli i da pjevate kao on divni sopran.

Treća ne i najmanje opasna stvar je ta da ponekad iz školjke zna izroniti štakor, koji se neće libiti zariti svoje sjekutiće u guz ili još primamljvijie 'obiteljske dragulje' bezbrišnog kenjatora.

Ne znam jeste li znali ali je popriličan broj poznatih osoba je umrlo na školjki – Katarina II., carica Rusije, pa Đuro II., kralj V. Britanije, Elvis Presley, a glumac Robert Pastorelli, producent Don Simpson i stand-up komičar Lenny Bruce su umrli zbog predoziranja.

Ali najgora stvar koja vam se može dogoditi dok spokojno serete jest ta da vam ogavni politički protivnici bezdušno izvrše atentat na vašu osobu u tom vama najranjivijem trenutku. Takvu vrstu kukavičkog napada su osjetili i engleski kralj, Edmund II. Željeznoboki, te vrhovni vojni zapovjednik japanske provincije Echigo Uesugi Kenshin, kojeg je smaknuo ni više ni manje nego ninja i to pravi, a ne M. Dudikoff ili D. Bradley.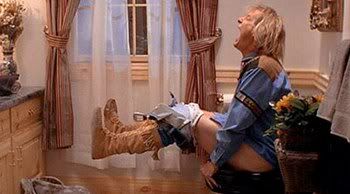 Što se tiče sedme umjetnosti zahod i školjka su imali svojih nezaboravnih trenutaka. Iako komedije debelo prednjače u iskorištavanju školjke za smijeh:

- "Dumb & Dumber" – proljev J. Danielsa, te kad J. Carreya tip skoro poševi u zahodu
– "Along Came Polly" – Ben Stiller i njegovi problemi sa začepljenom školjkom
– "The Party" – P. Sellers prvi ima istih problema kao B. Stiller
– "Friday serijal" – Mr. Jones (dok kenja) i njegova legendarna sinu Craigu: "- Boy, get your ass in here. I smelled your shit for… 22 years. Now you can smell mine for five minutes…"
– "American Pie" – Finch i prvi put obavljanje nužde br. 2 u školi
– "Police Academy 43 – Proctor na zahodu na prepunom stadionu ustaje kad počne himna
– "Jackass" – 'olakšavanje' u školjku sa izloga uživo u jednoj trgovini
– "Austin Powers 13 – u prvom dijelu naš omiljen agent udavi svog atentatora u školjki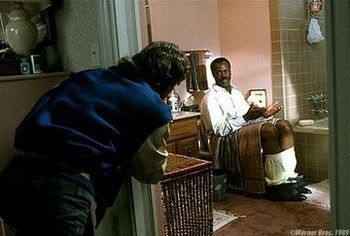 Vestern je imao svog predstavnika u "Nepomirljivima" (Schofield Kid upuca kauboja u poljskom zahodu), drama također svog dragulja "Trainspotting" (Renton i zaron u školjku), dok je ipak najbolja ona scena iz "Smrtonosnog Oružja 23, gdje Roger Murtaugh sjedne na miniranu školjku ("- Tell me I'm not fucked."). Ali što je sa našim omiljenim žanrovima? E, pa i oni se ne daju. I oni imaju dobrih scena i to kakvih… Dakle, slijedi odbrojavanje:

25) "Split Second" (1992) – plavuša piški
Zašto ona – pa najlakše je započeti nečim lakim ali dosta pamtljivim. Iako nije ni približno jedna od najboljih scena u filmu vrijedi je spomenuti. Inače u toj sceni jednoj plavuši dok mokri vanzemaljac, kojeg hvata R. Hauer, izvadi srce i pojede ga.

24) "Scream" (1996) – scena u zahodu
Zašto ona – Tko može zaboraviti da se ubojice uvijek pripomognu školjkom, kad žrtve čuju neki šum pa idu provjeriti jel ima koga. I kad se sagnu i pogledaju, naravno da ne ugledaju ničije noge. No, pitanje je dali je pravi Ghostface napao Sidney ili je to bio neki šaljivdžija?

23) "Demolition Man" (1993) – problemi sa futurističkim školjkama
Zašto ona – zato jer je detalj koji se provlači kroz cijeli film. A i volio bih znati kako te školjke zapravo funkcioniraju bez tariguza?

22) "The Thing" (2002) VG – pisoar iznenađenja
Zašto ona – ne samo da ljudska glava u pisaoaru izgleda jezivo i održava atmosferu, nego se napeto pitaš tko je tu nesretnu glavu otkinuo? A onda i na to pitanje dobiješ konkretan odgovor…i ako si nespretan ode i tebi vrlo brzo glava.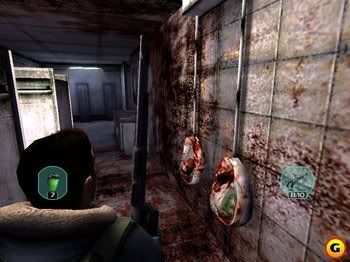 21) "Night of the Creeps" (1986) – J.C.-evo zadnje sranje u životu
Zašto ona – ne samo da je J.C. jedan od tipičnih horor likova koji uvijek preživljavaju sve nedaće, te većinom dočekaju kraj filma živi, nego je karakterizacija njegovog lika za ovakvu vrst filma jedna od boljih koje imamo prilike vidjeti.

A onda dođe taj trenutak kad se pojave svemirski puževi golaći nalik pijavicama, koje nemaju milosti prema našem mladom junaku. To što je hendikepirana osoba mu nimalo filmski ne pomaže, a zbog tih parazita čovjek nije ni obavio posao do kraja.




20) "Dog Soldiers" (2002) – posljednja odbrana
Zašto ona – ne samo da je ovo jedan od najboljih vukodlak filmova svih vremena, nego se zadnja odbrana od vukodlaka dešava upravo na zahodu, gdje narednik Harry G. Wells sjedi na školjki i jedva odoljeva napadu vukolikih stvorenja i viče: "- I'M IN THE KHAZI!!".

19) "Poultrygeist: Night of the Chicken Dead" (2006) – scena mršavljenja
Zašto ona – jedna od najboljih scena filma. Za ljubitelje trasha i gore kadrova dušu dalo. Ogromni tip po imenu Jared odlazi na zahod jer ga je uhvatio jaki proljev, pošto se najeo čudne piletine. I nakon što se baš ono muški olakša započne ga boljeti trbuh. Sljedeći kadrovi uključuju prđenje, proljev, pa opet malo prđenja i proljeva,te na kraju iz debelog Jareda izađe krvavi i mršavi Jared i počne vikati:
"- I 'm skinny." Urnebesno…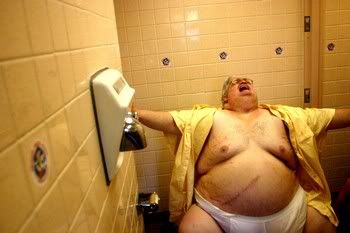 18) "Sleepaway Camp II: Unhappy Campers" (1988) – smrt u poljskom zahodu
Zašto ona – zato jer je to jedna od najsmješnijih i najmorbidnijih, te sigurno jedna od najoriginalnijih smrti u slasher podžanra. Angela ugura Ally u poljski zahod, gdje se potonja udavi u fekalijama.
"- Koji usrani način da se umre…": kaže jedan tip na youtube stranici…konstatacija na mjestu.


17) "Sin City" (2005) – Jackie Boy i školjka
Zašto ona – pitam se kakve to školjke imaju u Americi kad cijela ljudska glava može stati u onu rupu. Hej, barem se Benicio Del Toro uspio umiti ako ništa drugo…hehehe

16) "Bernard and the Genie" (1991) – Lenny Henry ispire kosu
Zašto ona – kao djetetu od 12 godina to je bila najbolja scena u cijelom filmu. Lenny Henry kao duh iz lampe Josip ispire svoju dugu kosu u školjki i to u slow motionu…smješna scena, smješna fantastična komedija i uz sve to ovo je jedan od najboljih Božićnih filmova ikad.


Nastavak slijedi…