subota, 27.11.2010.
Cult Classics Series 5: Medieval Ash (NECA)

Kultni Klasici Serija 5: Srednjovjekovni Ash (NECA)

Ime proizvoda: Cult Classics Series 5
Proizvođač: NECA
Pušteno u prodaju: Rujan, 2006 godine
Cijena: 16$ -75$
Visina figure: 17.78 cm (7 inča)
Težina: 0,5 kg (1,1 funti)
Figura: rađena prema liku Asha iz filma "Army of Darkness" (1993)
Za djecu od 4 godine naviše
*napomena – proizvod predstavlja opasnost od gušenja (zbog malih djelova koji se mogu odvojiti)


RECENZIJA:
- Kao jedan od velikih ljubitelja Evil Dead serijala i glavnog lika Asha, kojeg glumi danas kultni horor glumac Bruce Campbell, odlučio sam da prva od mojih pomno izabranih figura koje sam nabavio u svojoj kolekciji bude upravo Ash.
Dakako proveo sam određeno vrijeme u traženju adekvatne figure, te nakon mnogo odlgedanih fotografija odlučio sam se za onu koja mi je izgledala najbolje, a to je NECA-in Medieval Ash.
Kupio sam ga na e-bayu za samo 13$ i to sa besplatnom poštarinom (pomilovala me Fortuna) preko jednog sigurnog (spada u top sellere) dućana koji se bavi prodajom figura i igračaka.
Nisam se nimalo razčarao kad je Ash stigao, jer nakon što sam ga raspakirao izgledao je i bolje nego na fotografijama. Evo što možete očekivati i što ćete dobiti ako se odlučite na kupovinu figure:

- izrada detaljna (lice, roba, ozljede, frizura i popratni sadržaj)
- postolje vizualno pristaje uz figuru te je odvojiva od figure
- uz figuru dobijate: alternativnu glavu, sačmarku i Necronomcon




NECA je jedan od najpoznatijih tvrtki za proizvodnju igračaka, no njene igračke mnogo variraju od loših (Sin Cityev Yellow Bastard ili Hellraiserov CD) do fenomalnih (Hellraiser Pinhead 2 ili Cult Classics - Terminator 2 Series 2 Assortment 7'') pa se morate dobro potruditi da nabavite one fenomenalne. Na moju ogromnu sreću ova figura Asha je predivna, te sa pravom spada u ove potonje.
Detaljnost figure je u svim segmentima totalno pogođena i to od odjeće (plavi džemper koji je na nekim mjestima poderan, iza je sivi ogrtač ispod kojeg je futrola za sačmarku, te jeans hlače i cipele) pa do držanja (desna metalna ruka koja ima položaj za držanje Necronomicona i lijeva u koju kao saliveno upada pripadajuća sačmarka na čijem orozu slobodno upada kažiprst), pa sve do lica.
Lice je ovdje najveći plus figure, jer umjetnik koji se pozabavio facijalnim detaljom je uspio prekopirati lice Brucea Campbella na nju. Kad gledate figuri u lice možete slobodno reći da gledate Asha (ugodan je i detalj da je izraz na licu istovjetan Ashovoj u onoj sceni kad su nadgrobne ploče počele letjeti na sve strane a on napravio onaj ustrašeno zbunjeni WTF izgled), a da se stvarno išlo u detalje vidimo i po tome što Ash ima i ožiljke po usnama. Još jedna slatka stvar je da su mu čak pogodili i frizuru. Kako sam gore nahvalio ovu običnu glavu, tako istovjetne riječi pohvale mogu iskazati i za onu izduženu (alternativnu) glavu koja je također izrađena sa velikom ljubavlju (to je iz one scene kad se Ash uspije izvući iz usisvajućeg bunara, te kad mu je lice svo izduženo).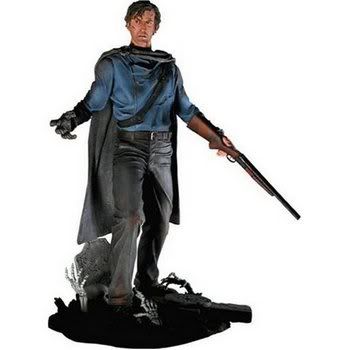 Na detaljima za Necronomicon se također nije štedjelo (ne izgleda kao četvrtasti komadić plastike nego baš kao minijaturna replika knjige iz filma, sa svim onim zubićima i demonskim licem....), te i knjiga fino izgleda.
Veliki problem kod samih figura je taj da su neke lijepo izrađene no kad budu obojane izgledaju nakaradno, sva sreća da ovdje to nije slučaj. Svaka boja pripada svom polju i upravo taj dobro pogođen kolorit je zaslužan za finalni vizualni odličan dojam koji figura ostavlja na svog vlasnika.
Donji dio figure je nepokretan, za razliku od gornjeg gdje se figuri mogu pomicati šake, ruke u laktu i ramenima, te glava, koja se također može zamjeniti alternativnom.
Kako sam već spomenuo figura ima od popratnog sadržaja sačmarku i knjigu Necronomicon.
Jedino žalim što od tog popratnog sadržaja nije uvrštena i motorna pila koja bi se mogla ugraditi u desnu ruku, no nećemo sad cijepidlačiti...ali svakako bi još bolje sve izgledalo zar ne?. Što se tiče postolja koje se da odvojiti ako želimo figuru bez nje ono izgleda u skladu i sa kvalitetom figure (lijepo izrađen i obojan travnati pod sa dvije nadgrobne ploče, jednom lubanjom i tri kosturske ruke koje pokušavaju dohvatiti našeg lika). Figura ima jednu od najboljih ambalaža (popračeno sa odličnim fotografijama vezanih uz figuru i film naljepljenim na prednji dio nje, te reklamom na poleđini za ostale figure iz serije 5) koje sam imao prilike vidjeti, jer figura je vidljiva kupcu te je može bez problema dobro razgledati nego se odluči na kupnju.

Što reći ljudi moji nego da je ovo jedna od najbolje izrađenih i najdetaljnijih figura u rangu figura od 7 inča, te ujedno i najbolja figura što se tiče Asha iz Evil Dead serijala (uz bok su joj jedino 300 eura ili 250$ skupa ''10th Anniversary Ash Statue'' proizvođača Diamond Selected Toys i ''S-Mart Ash'' iz Cult Classics, Series 6 također od NECA-e).
Mislim da bi ovu figuru (cijena joj se danas kreće od 16$ pa sve do nevjerojatnih 75$) trebali imati svi pravi ljubitelji Evil Dead filmova i igrica, jer sigurno nećete zažaliti što ste to napravili. Ja znam da ja nisam...