ponedjeljak, 22.11.2010.
One-Eyed Monster (2008)

Jednooko čudovište (2008)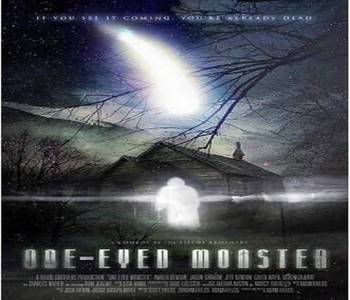 Produkcija: Liberation Entertainment
Redatelj: Adam Fields
Scenarij: Adam Fields, Jordan Fields i Scott Fields
Spec. Efekti: Monster FX i VFX Collective

Uloge:
Amber Benson (Laura).............Jason Graham (Jonah)
Charles Napier (Mohtz)...........Jeff Denton (Jim)
Ron Jeremy (Ron)....................Veronica Hart (Veronica)

Film je imao DVD premijeru 28. travnja, 2008 godine
Trajanje: 84 minute
Foršpan filma...




SADRŽAJ:
''- Grupica od deset ljudi odlazi u jednu brvnaru koja se nalazi na planinskom predjelu Sjeverne Karoline kako bi u njoj, okruženi mirnoćom prirode, snimila pornić.
Tijekom male pauze između snimanja seks scena legendarnog porno glumca Rona Jeremyja u šumi dok je mokrio napadane nepoznata vanzemaljska sila, te mu uđe u penis, koji se tijekom snimanja sljedeće scene odvoji od svog vlasnika i krene u ubojiti pohod čineći masakr na svakom koraku.
Tko će od filmske ekipe preživjeti seksualnu glad koju ima opasni vanzemaljac, čija je namjera da se što prije razmnoži na našoj planeti, a tko će pasti kao još jedna žrtva 24.75 cm dugog penisa najvećeg američkog ševca Rona Jeremyja?''




RECENZIJA:
- Vrlo brzo sam nabavio ovaj film, no nekako i neoprostivo sam ga uspio zaboraviti pogledati, te mi je dvije godine stajao u ladici...no sada sam ispravio tu grešku, jer dok se moj DVD još nije ohladio vi dobivate najnoviju i jednu od najluđih recenzija. Oki doki let's go...


Što valja kod filma:
- orginalna priča
- scenarij i dijalozi bogati humorom
- film podsjeća (bilo scenama bilo razgovorom) na par filmova - ''The Thing'', ''Evil Dead'', ''Dreamcatcher'', ''Jaws''
- sadrži mnogo samoparodije, satire i nostalgije prema starim pornićima
- nekoliko jako smješnih scena i trajanje od samo 84 minute
- Ron Jeremy , Veronica Hart i Charles Napier
- scena u 52 minuti kad Mohtz priča o svom iskustvu i Vijetnamu
* u filmu se spominje film ''Woman in Love: A Story of Madame Bovary'' (1978) u kojem su po prvi put glumili zajedno Ron Jeremy i Veronica Hart, što je istinit podatak (svakako ga porno ljubcima preporučam, jer je jedan od najboljih koje sam gledao iz tog vremena...a nije na odmet spomenuti da u njemu ulogu ima i prsata seks bomba 80-tih Samantha Fox)



Što ne valja kod filma:
- skoro sva ubojstva su off screen
- osim što jednom vidimo jedan par ženskih dojki golotinje u filmu nema
- nema krvavih prizora
- prokleta kamera je u nekim scenama drhtava ala serija ''24'' način
- CGI efekti na kraju filma
- ponegdje se osjeća scenaristička slabost u pisanju scena (kao ona gdje pokušavaju srediti penis pomoću jedne seks naprave, ali dok dvojica se žrtvuju u jednoj sobi drugi čekaju u drugoj sa zabravljenim vratima.... ili ona scena kad Jim bježi u motornim sanjakama te ga penis sustigne, kokne i uspije se vratiti natrag za tili čas, iako je ovaj odmaglio već dobrano od kolibe)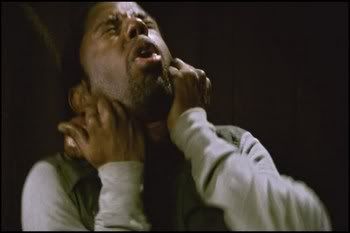 Završna riječ:
- Nakon svakakojakih ludosti što sam ih pogledao tijekom života, evo jedne koja mi se u svakom pogledu svidjela (bez obzira na gornje minuse...tako je, bez obzira na njih).
Znamo da je film ultraniskobudžetan (mislim da je najveći dio budžeta otišao upravo na glumce veterane tj. na veterane porna Jeremyja i Hart, te odličnog glumca velikih i malih ekrana Napiera).
Kad vidite sadržaj i reklamu samog filma o tome kako je glavni negativac tj. čudovište ubojiti kurac...ops..penis, a ljubitelj ste svih vrsta hororaca onda se nema što čekati nego ga što prije pogledati .

Iskreno, na početku sam mislio da ću zažaliti i da ću se razočarati, te da će ovo biti još jedan ogavni trash filmić, kojih filmska horor industrija izbacuje na desetke. Kako sam se prevario.
Ovo je bilo iznenađenje večeri i moram reći da sam uživao u cijeloj minutaži filma. Ne samo da je scenarij lijepo napisan (ipak ima par mini mrlja), nego je dijalog duhovit i uspijeva nasmijati mene osobno, kojeg je malo teže vidjeti u tom elementu kad su u pitanju komedije, i to u više navrata.
Glumačka postava je fenomenalna gledajući da su to skoro glumci amateri i gledatelj se brzo uživi u likove koje glume.
Od mlađih glumaca izdvajam Jasona Grahama kao Jonaha koji svojom sigurnom glumom daje filmu posebnu čar. Tip zrači jedinstvenom horor karizom i svakako bih ga volio vidjeti u nekom ozbiljnijem horor filmu.

Što se tiče veterana Rona Jeremyja i Veronice Hart, te meni uvijek dragog filmskog glumca Charlesa Napiera oni su odlični. Scena gdje Ron i Veronica pričaju o prošlim vremenima kad je pornografija bila profinjenija od ove danas sirove i većinom nezanimljive, te kako ih je gledajući u porno mjerilima vrijeme pregazilo je ujedno dirljiva, ali i odličan uvid u jedno sjajno doba koje je najbolje prikazano u ''Boogie Nights''. No, evo mali djelić dijalog da se i sami uvjerite:

Ron: ''- How you feel, that's what matters. Look at me. I don't look like a porn star, except for my cock. But I play the fool, and I get the joke. I'm in on it, and that makes it kind of hip. And I try to bring a different character into every role that I play. And that gives me confidence. But I can't suck my own dick any more.''
Veronica: ''- Awww, sweetie, I'm sorry.''
Ron: ''- With the added weight and the back pains, all I can do is kiss the tip.''




Jeremy, iako ima skoro pa epizodnu ulogu glumački je prirodan i vrlo ugodan (recimo scena kad se iskrcaju iz autobusa pa kad popriča sa vozačem, pa kasnije i sa šminkericom ili prije nego umre kaže: ''- Hey, Jonah remember when I fuck that girl that time.. ''), te mi je žao što nije imao veću minutažu. V. Hart je doduše slabija od Rona, no na kraju filma ima svoj momenat (iako mi je draži onaj gdje poševi redatelja).
Napier (skoro je i sam jednom postao porno glumac), iako je imao mnogo epizodnih uloga (nekih lošijih nekih odličnih) ova mu je svakako među najboljima, a po meni i najbolja. Prejebeno je odglumio lulavog 'Nam veterana, a ona scena kad sa ozbiljnim i ustrašenim licem priča kako je nedaleko od Da Nanga cijeli njegov vod pobio pomahnitali kurac je ravna onoj sceni kad Shawov kapetan Quint priča svoju priču o USS Indianapolis u ''Raljama'', ali sa prikrivenim humornim tonom kakav smo vidjeli u slično ispričanoj sceni kad je Frost Freda Williamsa pričao o svojim dogodovštinama u jebenom 'Namu u ''From Dusk Till Dawn''. Scena za Oskara kažem vam.

Eto, u filmu nema krvavih scena, pa iako je ekipa u njemu snimala pornić, nema niti malo golotinje (osim već spomenutog para ženskih grudiju koje vidimo na 3-4 sekunde).
Većini će to smetati, meni nije. Ja sam se dobro nasmijao i film je ispao po pričanju priče mnogo ozbiljniji (bogme i napetiji i zanimljiviji...a ipak je ovo film o penisu ubojici) nego su to neki drugi creature feature filmovi koji se diče sa ogromnim budžetima i boljim monsterima.
Ovo je već drugi film nakon ''Bad Biology'' u kojem muška kita radi nerede...ali po meni je ovaj daleko zabavniji. Dakako...s moje strane topla preporuka ako volite gledati ovako niskobudžetne filmiće. Ako ništa drugo ovo je svakako film za ekipu...kako bi rekao HorrorHR na svom sajtu.


THE SCENA:

Wanda: [runs into a cabin] ''- Someone help me! Angel's got a dick in her mouth!"
[everyone looks at her with indifference]
Rock: [shrugs] ''- And...?''
Wanda: "It's not attached to anything!"

Mohtz priča o svojoj dogodovštini u 'Namu kad je njegov vod pobio pohmanitali penis (nešto kasnije i sam postane žrtva kad mu Ronova kita slomije vrat)



Mohtz: "- Hmm. Mine here is the 405th Infantry. Outside of Da Nang, South Vietnam, 1968. Whole platoon got wiped out, but it wasn't Charlie."

Jonah: "- You're shitting me. Friendly fire killed your whole platoon?"

Mohtz: "- No, no, not exactly. One night, me and the C.O. were pulling guard duty, and we're sharing a joint... Thai Stick. I'm really stoned. And all of a sudden, we see this streak of light across the sky. Zoom! Waaa! And it looks like it lands about two klicks northeast of camp. So the C.O. says, "I'm gonna check it out." I said, "go ahead, cap man". More doobie for me, you know. So off he goes and uh... it could have been 10 minutes or two hours. I don't know. I was stoned. But he comes back and I notice that he's acting weird. But now, oh... now, no problem, it's just the Thai Stick kicking in. Well man, pretty soon he starts jumping around like his pants are on fire. I'm not shittin' you. And he... off comes his pants. He rips them off. Rips his skivvies off. Now I got my C.O. standing there in front of me, buck naked from the waist down. And then something happened, man, that... uh... boot camp did not prepare me for. This guy's pecker... his dick, ripped itself off his body and slithered towards the tent. So, the C.O.'s screaming like hell before he expires. Pretty soon, I can't hear him because dozens of screams are coming from the tents where all the platoon was. Want to know what the hell it sounded like? I think it sounded like... 30 men getting massacred by a dick as it shoved itself through them in rapid speed. So, I went over and hid behind a rock for about an hour and had to listen to my whole platoon being murdered. I think I heard one guy getting a shot or two off, but he then screamed as he got killed too. So, after it stopped... I very cautiously, believe me, crept into the officers tent to get a radio to get some air support and... I see the dick lying there on a sleeping bag and it looks like it's looking right back at me. But it looked, you know, fucking weak, man. And it was like in this, you know, shriveled... what kind of period do you call it?

T.J.: "- A refractory period. Happens just after sex."

Mohtz: "- Yeah, yeah, you know, I could have killed it right then, but I was so stoned I was afraid that I'd miss. And on the other hand, I knew it was only a matter of time before... you know, it would be back in action again. So, without taking my eyes off it, I get on the radio and have them chopper in two Saigon whores. So, for the next half-hour, I'm holding my weapon on this dick lying on a sleeping back in the blood-splattered tent. Now, I figured it won't know I'm stoned, so he won't jump me, you know? So, the chopper arrived just in time, thank God, because now the dick was getting big and hard. So, I tell the two whores when they showed up in the tent, "look, hey, I'll do anything, man. I'll take you to the States, anything, if you just lie down there and spread your legs for me." Well, I guess "states" was the magic word because I never two Vietnamese whores taking off their panties and clothes so quickly in all your life. Now, the dick must have smelled dinner because... choo! It makes a beeline for the whores. So I watch, and I wait, and watch. Finally, finally it blows it's load, I grabbed it, and ran it outside the tent. I threw it in a bunker. God... Jesus Christ man! About 10 seconds later, out runs about 15 gooks. And I could have nailed any one of them but no, I made a priority decision. Threw in a grenade. Yelled, "fire in the hole!" Fa-foom! Well, guess what. Now it's raining dick. Yeah, raining dick! I crawled into a whisky bottle. I got back to the States and I've been in there ever since."