nedjelja, 14.11.2010.
Superman/Doomsday (2007)



Produkcija: Warner Bros. Animation
Redatelj: Lauren Montgomery, Bruce W. Timm i Brandon Vietti
Scenarij: Duane Capizzi i Bruce W. Timm

Glasove posudili:
Adam Baldwin (Clark Kent / Superman)
Anne Heche (Lois Lane)
James Marsters (Lex Luthor)
Ray Wise (Perry White)

Animirani film je imao premijeru na DVD-u 09. rujna, 2007 godine
Trajanje: 78 minuta
Budžet: oko 3,5 milijuna $
Zarada: 9 419 402 $
Foršpan crtića...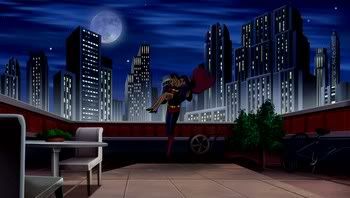 SADRŽAJ:
''- Inspirirano DC-jevim bestselerom Supermanova smrt, animirani igrani film prikazuje borbu na život i smrt između Čovjeka od Čelika i intergalaktičkog serijskog ubojice po imenu Doomsday. Nikad dosad nisu se dva rivala jednake snage našla u borbi na smrt koja može odrediti sudbinu cijeloga planeta.''




RECENZIJA:
- Iako, sam veliki obožavatelj Marvela, ne mogu reći da ne volim i DC superjunake. Svakako Superman i Batman su na prvom mjestu, a odmah iza njih Wonder Woman i The Flash (ostali mi baš nisu toliko napeti). Tako sam se danas odlučio odgledati (napokon jeben mu) jedan od najočekivanijih crtića o superjunacima. Kako je sve ispalo i da li sam sasvim zadovoljan možete vidjeti iz priloženog...dakle krenimo po već ustaljenoj kronologiji:


Što valja kod crtića:
- brutalan i nasilan, ljudi u ovdje umiru, a bogme ima seksualnih konotacija (Čovjek od Čelika spava sa svojom Lois)
- fajt između Doomsdaya i Supermana (naj detalj kad Doomsday uhvati Supermana i otrlja mu glavu o vlak koji prolazi kraj njih), a kasnije i borba Superman klona i originala
- ima emocionalnih trenutaka
- cameo pojava Kevina Smitha
- kad Supermanov klon ubije Toymana, jer je ubio malu curicu
- tužna scena pogreba, kao i razgovor između Marthe Kent i Lois Lane
- dijalog prije fajta između pravog Supermana i njegovog klona
- glasovi Supermana, Perryja Whitea, te Marthe Kent vrlo dobri
- ima PG-13 predikat
- animacija pozadine i scenografije više nego dobra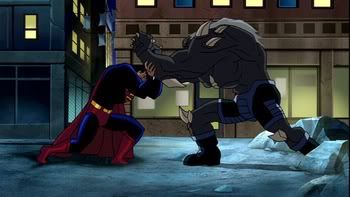 Što ne valja kod crtića:
- ne prati kronoliški događaje iz stripova i ima izmjena kako likova (Doomsday je ovdje robot, a i karakterizacija lika Lexa Luthora je drugačija nego smo navikli) tako i samih događaja (odnos Superman/Lois Lane, te povratak Supermana je drugačiji nego je to u stripu prikazano)
- većina brutalnih ubojstava se događa off screen
- nema borbe JLA sa Doomsdayom, nego se Superman sam bori sa njim
- nema objašnjenja Doomsdayovog porijekla i ovdje je on neka vrst robota, a ne vanzemaljca
- nema četiri lažna Supermana iz stripova (Superboy, The Eradicator, Cyborg Superman i The Steel), koji su se pojavili nakon smrti Kal-Ela
- nema superheroja iz JLA na Supermanovom sprovodu
- 78 minuta je premalo za ovaku priči koju nudi strip saga
- crtež likova nije na nivou


Završna riječ:
- vidimo da crtić ima mnogo mana unatoč nekim odličnim stvarima koje možemo u njemu vidjeti (ljudi umiru, ima tužnih scena). Čim se odvrtjela odjavna špica rekao sam si da se radnja ovog animiranog filma prebrzo odvila, jer su ekipa iz Warner Bros. Animation studija napravili preslobodnu adaptaciju tri najbolje Supermanove sage – ''DOOMSDAY'' (znana i kao ''The Death of Superman''), ''FUNERAL FOR A FRIEND'' (znana i kao ''World Without a Superman'') i ''REGIN OF SUPERMAN'' (znana i kao ''The Return of Superman'') i sve skupusali u nedovoljnih 78 minuta.
Toliko toga se događalo u tim trima sagama da se nije trebalo izostaviti neke od najvažnijih stvari koje se događaju u tim stripovima (prvenstveno fajt između Doomsdaya i JLA ekipe, pojave 4 lažna Supermana i porijeklo Doomsdaya).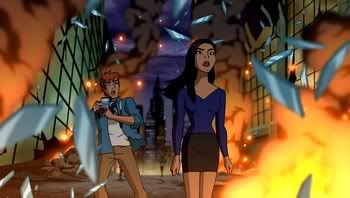 Dobra stvar je da je ovo prvi crtić o Supermanu koji je dobio PG-13 predikat, no loša je da iako je crtić brutalan (Doomsday ubija sve što miče) sva ubojstva se događaju off screen (recimo ona najdomljivija kad Doomsday slomi vrat vojniku) i da u njemu nema mnogo krvi (lijepa je scena vidjeti kako Superman pljuca velike količine krvi nakon što ga je Doomsday dobro namlatio po rebrima). Jedna od najboljih (no svakako bespotrebnih i besmislenih) brutalnih scena u ovom animiranom filmu jeste kad Luthor upuca svoju pomoćnicu Mercy.
Borba između Supermana i Doomsdaya nije epska poput recimo onih u Mrvelovim crtićima (recimo u ''Hulk vs.'' ili ''Planet Hulk''), ali je svakako dinamična i brutalna, sa mnogo razbijanja (sigurno su razbili pa skoro pola Metropolisa) i divljeg mlaćenja na obje strane (osobno mislim da je Doomsday ovdje Čovjeku od Čelika dobro razbio p*čku) sve do klimaksa kad se na jedvite jade naš heroj uspio izvući kao pobjednik u toj smrtonosnoj borbi, da bi odmah nakon toga oba borca 'umrla'.

Gledajući film kao cjelinu onda bih rekao da se prvi dio sastoji od neprestane akcije, dok se drugi bavi manje akcijom a više emocijama i prispitivanju vlastite duše (originalni Superman se bori protiv svog klona, koji misli da bi zločinci trebali ispaštati životom za svoja nedjela, što bi mogli okarakterizirati kao da se Kal-El bori protv svoje mračne strane...baš kao što smo to mogli vidjeti u ''Supermanu III''...što je ujedno i najbolja scena najslabijeg filma u serijalu ).
Karakterizacija likova je solidna (Superman i Lois Lane standardni likovi) sa ponekim bljeskom (recimo kako se svi nose sa Supermanovom smrću...kao recimo Perry White) i velikim minusom što se tiče Lexa Luthora, kojeg su scenaristi pretvorili u blijedu i prljavu kopiju Jokera. Ovdje nisam vidio ni trunku onog Lexa kojeg ja znam.
Što se tiče Doomsdaya on je prikazan odlično kao pojava, jer od kada se pojavi sije krvoproliće (odlična je scena kad vidi jelena i krene za njim te mu slomi vrat samo zato jer je živo biće a on je programiran da ubija sve što živi). Crtež je svakako trebao biti bolji, jer Superman izgleda prestaro sa tim borama na licu i četvrtastim licem, koje kao da je crtao neki crtać iz 50-tih godina prošlog stoljeća. Lois Lane je preegzotična u licu i nekako izgleda premlado, dok Luthor izgleda premršavo, a od svih likova Toyman izgleda najčudnije (izgleda kao jedan od likova iz crtića ''Bubimir'')Mjuza je dobra, a vokalne izvedbe glumaca koji su posudili glasove likovima solidno odrađuju posao (eto jedino me je malo smetala Anne Heche koja je dala glas Lois Lane...no dobro neću sad cjepidlačiti).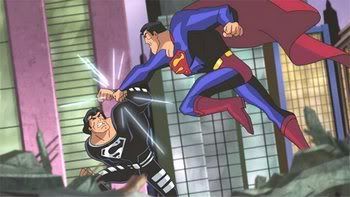 Ovo je mogao biti fenomenalan crtani film, no ima previše mana da bih ga takvim okarakterizirao. Ali zahvaljujući onim plusevima koje sam gore spomenuo mogu reći da je ovo ipak solidno ostvarenje i stvarno mi je žao što se nitko od scenarista i redatelja nije potrudio napraviti malo bolju i zanimljiviju priču (trebali bi se ugledati na Marvelovce, jer oni svoje priče odlično scenaristički zamisle i odrade...i to bez obzira na minutažu)


THE SCENA:
- Doomsday lomi jelenu vrat, pa onda i vojniku
- fajt Doomsdaya i Supermana
- odavanje počasti od svih građana preminulom Supermanu
- susret Lois Lane i Marthe Kent nakon sprovoda
- cameo pojava Kevina Smitha
- kad saznamo da je Toyman ubio malu curicu
- Luthor zažvali Lois Lane
- Supermanov klon obavlja operaciju na samom sebi
- Supermanov klon ubija Toymana
- Supermanov klon uništava druge klonove u inkubaciji (slika dolje) kao Ripley svoje u ''Alien: Resurrection''
- borba originalnog Supermana i njegovog klona i njihov dijalog