utorak, 09.11.2010.
Galaxy of Terror (1981)

Galaksija Užasa (1981)




Produkcija: New World Pictures
Redatelj: Bruce D. Clark
Scenarij: Marc Siegler i Bruce D. Clark
Pomoćnik redatelja i scenograf: James Cameron

Uloge:
Edward Albert (Cabren)...............Erin Moran (Alluma)
Ray Walston (Kore)......................Robert Englund(Ranger)
Grace Zabriskie (Tranto)..............Sid Haig (Quuhod)


Film je izašao u kina u listopadu, 1981 godine
Trajanje: 81 minuta
Budžet: oko 700 000$
Foršpan filma...




SADRŽAJ:
''- Mješana posada svemirskog broda ''Quest'' odlazi na slabo istraženu planetu Morganthu kako bi u spasilačkoj misiji saznala što se dogodilo sa jednim od njihovih brodova, koji se zbog nepoznatog razloga srušio na njeno tlo. Kad se nakon izlaza iz hiper svemira približe planeti otkazuju im skoro svi navigacijski sustavi i jedino uz malu dozu sreće uspijevaju sletjeti bez većih kvarova.
Ubrzo otkriju ostatke srušenog broda, no svi putnici i posada su nađeni mrtvi. Nedaleko od udesa naiđu na čudnovatu planinu piramidnog oblika, a kad krenu u razgledavanje i istraživanje čudnog i ogromnog zdanja bivaju napadnuti jedan po jedan od neke zastrašujuće neprijateljske sile.''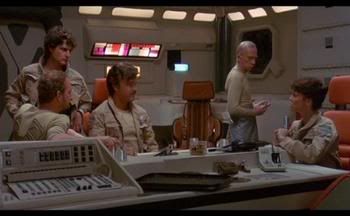 RECENZIJA:
- Evo jednog od najpoznatijih ZF klasika iz 80-tih za koji je čula samo ona tvrdokorna SF publika. Zašto baš klasika? Pa, pričekajte nekoliko sljedećih redaka da nabrojim pozitivne i negativne strane filma, pa ćemo se vratiti na tu temu. Dakle evo ukratko:


Što valja kod filma:
- atmosferični ugođaj i odlična kamera Jacquesa Haitkina
- poznata glumačka ekipa (Sid Haig iz ''The Devil's Rejects'', Robert ''Freddy Krueger'' Englund, Erin Moran tj. Joanie iz ''Happy Days'', Grace Zabriskie iz "Twin Peaksa", Ray Walston ''ujak Martin" iz serije ''My Favorite Martian'', te poznato TV lice Edward Albert, kojeg smo vidjeli u seriji "Beauty and the Beast" sa Ronom Perlmanom i Lindom Hamilton)
- scenaografija i specijalni efekti (Cameron i ekipa su napravili čuda sa mizernim budžetom), te pogotovo uporaba minijatura
- dio priče; podsjeća na neke kultne Sci-FI filmove
- možda i najbolji ''Alien'' rip off
- ima jako dobrih scena i prikaz SF tehnologije
- gluma Englunda i Edwarda Alberta
- traje samo 80 minuta


Što ne valja kod filma:
- scenarij i dosta dijaloga, te mu fali osnovna logika u pričanju priče
- karakterizacija i kraj filma
- muzika u početnom djelu je na par mjesta neadekvatna i preizražena na iritirajući način dok traje napeta situacija
- slaba i nezanimljiva gluma nekolicne glumaca (posebice Raya Walstona i Grace Zabriskie)
- nedovoljno iskorišten Sid Haig




Završna riječ:
- Nakon odgledanog sa stopostotnom sigurnošću mogu reći da je ovo jedan od rijetkih filmova koji se može sa ponosom dičiti epitetom prvoklasnog ''Alien'' rip offa.
Iako neke elemente stvarno kopira od filma Ridleya Scotta, najveće ideje i sam atmosferični ugođaj posuđuje od dva SF klasika – ''Forbidden Planet'' (1956) i ''Planet of the Vampires'' (1965).
Zapravo film počinje slično kao oba gornja naslova (pogotovo se to odnosi na Bavino djelo), no kako radnja i minute odmiču sve se više prebacuje iz običnog creature feature podžanra (vanzemaljsko čudovište napada ljude) u domenu nadnaravnog ZF horora na tragu ''Event Horizon'' (1997) i ''Sphere'' (1998).

U nekim svojim momentima film je baš poseban i funkcionira više od samo običnog trash B Sci Fi filmića, jer vjerujem da je najbolji dio ipak ta okosnica priče tj. 'glavni negativac' koji napada posadu ''Quest'' ne viđa se baš u ovakvim ostvarenjima.
Druga je stvar što je izvedba odlično zamišljene radnje otišla u drugačijem smijeru nego je prvenstveno zamišljeno. U krivom smjeru da, no i ne u lošem, ali dovoljno slabom da posljednja dionica bude razvodnjenja, što sigurno kvari cijelokupan dojam.
Krivca za takav propust treba tražiti u Bruce D. Clarku koji ne samo da je bio redatelj filma (snimio samo četiri filma od kojih mu je baš ovaj bio zadnji) nego i jedan od scenarista (drugi je bio Marc Siegler).

Ruku na srce Clark je osrednji redatelj ograničenih mogućnosti i vjerujem da su mu puno pomogli savjeti i naputci Rogera Cormana i Jamesa Camerona (radio kao pomoćnik redatelja, ali i kao čovjek zadužen za scenografiju). Scenarij sadrži dosta klišeja (likovi su tipični po svojim predvidljivim karakteristikama) i slabo osmišljenu početnu bu scenu (čitaj previše otezanja), likovi nemaju osobnost niti su dobili onu minimalnu karakterizaciju koju neki drugi filmovi imaju, ali su čudom lošiji od ''Galaxy of Teror''. I baš zbog toga gledatelju se je teško uživiti u takve likove (nisu ni pomogli neki od glumaca svojom slabijom glumom). Recimo da lik kojeg glumi Sid Haig (već tada solidno poznat glumac) nije dobro ni kvalitetno iskorišten, nego je samo jedan od topovskog mesa (što smo vidjeli i u traileru)...stvarno šteta.
Još jedna stvar kod scenarija koja me je možda i najviše smetala je da on ne daje nikakva objašnjenja koja je po meni trebao dati o nekim detaljima u filmu, jer ne znamo ama baš ništa o posadi ili o njihovoj planeti Xerxes (ti detalji su važni da bi gledatelj lakše prihvatio likove zbog scenarija a ne zbog toga što su poznati glumci), pa to sve izgleda tako porazbacano i konfuzno da onaj i tko želi pratiti samu radnju brzo se izgubi u mnoštvu pitanja, te na kraju prekine razbijati glavu o tome i jednostavno se prepusti nizu odlično prezentiranih scena smrti većeg djela posade, atmosferi i specijalnim efektima (bez CGI gluparija) dobrih znanstveno fantastičnih B filmova iz 80-tih, te kako sam već rekao u par navrata lijepom pogledu na scenografiju.


Nekima se nisu sivdjele svijetiljke na njihovim ramenima, no meni su fenomenalne

Specijalni efekti su odlični za ovakvu vrstu filma (ima svega pomalo od čovjeka u gumenom odjelu do stop motion kadrova), a i oni koji su tu i tamo lošiji zbog malog budžeta više podsjećaju (svojevrsni homage) na zlatno razdoblje SF filmova 50-tih, nego da bi gledatelj mislio nešto loše o njima.
Ono što još bolje izgleda od efekata su predivne minijature i pozadina u scenografiji koje su ugodno usklađene sa glumcima (još jedna stvar koja me je jako podsjetila na ''Aliena'').
Sad vidim koliko je jako ovaj film utjecao na njegove ''Aliense'' koje je snimio šest godina kasnije, jer gledajući film prepoznao sam mnogo stvari koje sam vidio u fenomenalnom nastavku ''Aliena'' od kojih se najviše izdvaja okoliš koji je totalno isti (negostoljubiv planet, sa magluštinom i neprestanim vjetrom) pa imaš dojam da je posada ''Questa'' sletjela na LV-426, a ne na Morganthu.
Da...vidi se da je ovaj film bio samo priprema za ''Aliense''.
Za kraj bih rekao da je ovo zabavan SF B-film, na kojem se okupila odlična filmska i glumačka ekipa i koja je snimila jedan od najboljih filmova Rogera Cormana, no za samo stepenicu slabiji od recimo ''Pirana'', ''A Bucket of Blood'', ''The St. Valentine's Day Massacre'' ili ''The Little Shop of Horrors'', no svakako u rangu ''The Arena'' (1974) i "Chopping Mall" (1986).
Za sve koji vole Cameronove ''Aliense'' ovo bi trebao biti film koji bi ako već nisu što prije trebali pogledati...a vi ostali...pa jeben mu pogledajte ga već jednom, jer vjerujem da se ne bi trebali razočarati u ovakvom netipičnom klasiku iz radionice legendarnog Rogera Cormana...

p.s. – Bill Paxton je također bio jedan od ekipe koja je radila na scenografiji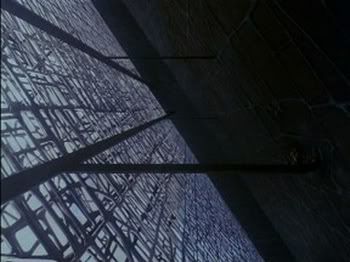 THE SCENA:
- scena kad ogromni crv siluje jednu od žena iz posade do njene smrti je jedan od najmorbidnijih scena ikad viđenih u znanstveno fantastičnim filmovima, ali bogami i u hororcima
- dobar Englund vs. loš Englund (ovdje se već vidi da je Robert i tad imao Freddyjeve manire ) *mini fajt u maniri ''Army of Darkness'' Evil Ash vs. Good Ash...samo naravno opakije i do kosti krvavo
- svaka smrt ostatka posade