nedjelja, 31.10.2010.
Monsters vs. Aliens: Mutant Pumpkins from Outer Space (2009)

Čudovišta protiv Vanzemaljaca: Bundeve Mutanti iz Svemira (2009)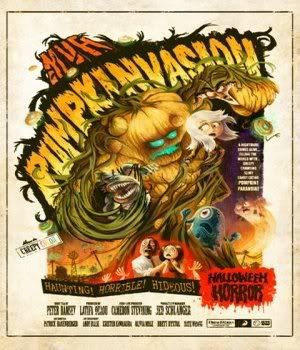 Produkcija: DreamWorks Animation
Redatelj: Peter Ramsey
Scenarij: Adam F. Goldberg

Glasove posuđuju:
Reese Witherspoon...............Susan Murphy / Ginormica
Seth Rogen............................B.O.B.
Hugh Laurie............................Dr. Cockroach Ph.D.
Will Arnett...............................Karika Koja Nedostaje
Kiefer Sutherland...................general W.R. Monger


Film je izašao 28. Listopada, 2009 godine
Trajanje: 22 minute
Isječak iz filma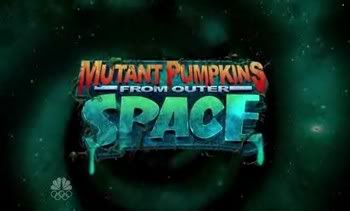 SADRŽAJ:
''- Suzan Murphy znana kao Ginormica i Čudovišta rade za američku vladu na specijalnim zadacima. Kad od generala Mongera dobiju informaciju da je u Suzanovom rodnom gradu Modestu u Kaliforniji primjećena vanzemaljska aktivnost odlaze izvidjeti situaciju. Ubrzo na Noć Vještica sve bundeve u gradu ožive zbog radioaktivne kemikalije koju je ispustio jedan vanzemaljski svemirski brod.
Sad je na Ginormici i njenim prijateljima dr. Žoharu, B.O.B.-u i Karici Koja Nedostaje da stanu na kraj kaosu koji rade poludjele i zle bundeve...''




RECENZIJA:
''- Dugo sam se mislio što bih mogao dobroga predstaviti za današnji dan i nakon što sam odbacio opciju da prestavim neki čistokrvan film strave i užasa u Halloween raspoloženju na pamet mi je palo da recenziram ovaj kratki animirani film. Dakle na redu su ''Čudovišta protiv Vanzemaljaca'' u specijalnoj Halloween epizodi – ''Bundeve Mutanti iz Svemira''.

Prvo što moram reći jeste da crtić totalno pogađa atmosferu tog sve omiljenijeg američkog praznika, no ujedno miješa mnogo horor i SF elemenata (razblaženih u onom obliku da ih mogu gledati i najmlađi) tako da sa tim redatelj upotpunjuje ugođaj.
Svi likovi od pozitivaca, sporednih likova pa do slatkih negativaca su ugodni i zabavni za gledanje, a najveća pozitivna stvar jest pametno osmišljen i napisan scenarij pa tako tu ima i nekih malih stvarčica za nas odrasle – recimo kad se čuje poznata melodija Carpenterove ''Noći Vještica'' da bi odmah potom saznali što ona radi u crtiću, pa onda imamo scenu gdje dr. Žohar izvali ''Say Hello to my Little Friend'' (također me podsjetila na ''Army of Darkness'') i onda raspali sa svojim preuređenim gatlingom koji ispucava slatkiše kao Mac minigun na prašumu u ''Predatoru''.
Lijepo je vidjeti da svatko od Čudovišta ima svoj trenutak sa briljantnim malim dijalozima koje možda djeca neće razumjeti koliko ljubitelji SF i horor žanra...no baš zbog toga ovo 22 minutno djelce preporučujem svima.

Neću zaboraviti spomenuti kako je početak najbolji dio i kako u tih minutu dvije vidimo odličnu posvetu onim starim crno bijelim ZF filmovima iz 50-tih godina prošlog stoljeća. Ujedno taj početni dio ima onaj pravi horor štih (scena kad farmer Jeb izađe vidjeti kakvo se to komešanje radi u njegovom polju bundeva, netom nakon što su vanzemaljci izbacili svoju radioaktivnu kemikaliju upravo po njegovom imanju) i mogu reći da me podsjetio upravo na slasher/creature featture hororce iz 80-tih.
Ovo je crtić (svojevrsno bih ga opisao kao Marvelovi ''Avengersi'' susreću ''Gremline'') koji vrijedi gledati i više puta tijekom godine.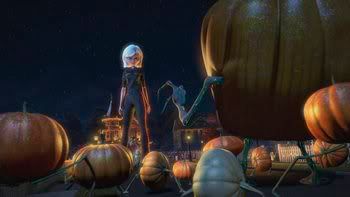 THE SCENA:
- kad čujemo ''Halloween'' melodiju
- kad farmer Jeb bude napadnut u polju
- dr. Žohar u elementu sa gatlingom i svojim pomoćnikom koji se luđački smije
- B.O.B. prežderan od slatkiša