subota, 23.10.2010.
Night of the Demons (2009)

Noć Demona (2009)




Produkcija: Cold Fusion Media Group / Parallel Media / Seven Arts Pictures / Voodoo Production Services
Redatelj: Adam Gierasch
Scenarij: Jace Anderson i Adam Gierasch (raniji scenarij napisao Joe Augustyn)

Uloge:
Monica Keena..........................Maddie
Edward Furlong.......................Colin
Shannon Elizabeth..................Angela Feld
John F. Beach.........................Jason


Film je izašao na Blu- Rayu i DVD-u 19. Listopada, 2010 godine
Trajanje: 93 minute
Budžet: oko 10 mlijuna $
Foršpan filma




SADRŽAJ:
''- Tri prijateljice Maddie Curtis, Lilly i Suzanne odlaze na raskošni ''Halloween'' tulum, koji je organizirala njihova poznanica Angela i to u ogromnoj kući Broussard u kojoj su se prije 150 godina dogodile mnoge neobjašnjive stvari, a koje su rezultirale nestankom šest osoba i samoubojstvom vlasnice kuće Evangeline Broussard.

Na zabavi Maddie i Lilly susretnu svoje bivše momke Colina i Dexa taman u vrijeme kad bane policija, prekida tulum i rastjera sve sudionike. No, Maddie i cure zajedno sa njhovim bivšima, te Dexovim prijateljem Jasonom zaglave u kući, te pošto je policija zapečatila ulazna vrata na imanje moraju čekati zoru da bi mogli izaći sa imanja. U to vrijeme u podrumu kuće na scenu stupaju mračne sile – Demoni, koje je i sam Sotona protjerao iz Pakla. Sad vražja bića žele poništiti kletvu koju je na njih bacio Sotona, tako što će opsjednuti sedam ljudskih bića...a Maddie i društvo su došli kao naručeni. Sada je na njima da prežive noć i dočekaju zoru, jer spodobama tmine vrijeme za poništenje kletve istječe sa prvim zrakama zore.''




RECENZIJA:
- Da evo nam još jedan rimejk klasika iz 80-tih. Olrajt let's go...

Što valja kod filma:
- bu scene na početku filma i crno bijeli prolog filma
- samoubojstvo Evangeline Broussard
- scena kad Jason nafiluje prijestupnika paint ball puškom
- u filmu glumi Shannon Elizabeth, a nakratko se pojavljuje i Tiffany Shepis
- soundtrack i pogled na grudi Bobbi Sue Luther koja glumi Suzanne
- Linnea Quigley ima cameo pojavu
- John F. Beach koji glumi Jasona jedini dobar
- ima dvije dobre FX maske koje su me jako podsjetile na efekte filmova ''Evil Dead'' i "Jack Brooks: Monster Slayer"
- nije dosadan i ima odličan plakat


Što ne valja kod filma:
- pretjerivanje sa bu scenam na početku filma
- priča i scenarij sa stupidnim dijalogom
- gluma i efekti (bpčji efekti i maske jedva da se vide)
- scena sa ružom za usne, te objašnjenje kako demone može samo rđavo željezo ozlijediti (?!?)
- akcija i napetost, ali i ugođaj...a bogme na par mjesta je montaža prebrza (recimo scena kidanja lica i sise)
- Shannon Elizabeth u svojoj najgoroj ulozi
- pretjerivanje sa seksualnošću (od toga ističem bespotrebnu scenu felacija)
- slabo iskorištena cameo pojava L. Quigley
- u filmu glume gl. uloge Edward Furlong i Monica Keena




Završna riječ:
- Kako vidimo i na kraju je i ovaj rimjek skoro pa potpuni promašaj (kako je većina nas nakon što smo dobili prve fotke sa snimanja filma i očekivala).
Kažem skoro jer on ipak ima tračak onoga što mu dopušta da ga zovemo zabavnim horor filmom. Kao rimjek je stvarno očajan (iako da budem iskren nije mi ni orginal toliko visoko na listi najboljih ostvarenja horora u 80-tima, no svakako je djelo koje se uvijek treba spomenuti kao jedno koje se pamti iz tog razdoblja) jer nema one finese koje su krasile orginal i to ne mislim samo na atmosferu nego i na efekte (koji bi barem u ovom novom ruhu trebali biti bolji, a vjerujte mi mnogo su lošiji od onih iz 80-tih).

Film ima sve one oznake lošeg ravno na DVD hororca. Previše seksulanog preseravanja (seksualne konotacije su uvijek prisutne, sporedne prsate glumice se razbacuju svojim oblinama ali ih rijetko kad stvarno pokažu), dijalog nenadahnut, a gluma jako loša (da čak i uvijek simpatična i za ovakve filmove ultra dobra Elizabeth).
M. Keena ("Freddy vs. Jason") je kao stvorena za ovakve uloge i to mislim u negativnom kontekstu, jer cura sa svojim glumačkim umjećem može dobiti ulogu samo za ovakvu vrstu filmova. Nekad nadareni Furlong (Mala Odessa, "Terminator 2") je druga priča, no sam si je kriv što je svoj talent odavno rasprodao glumeći u ovakvim hororčićima (što ćeš čovjek voli drogu...a to se bogme vidi na njegovom patničkom licu). Meni su bolja glumačka ostvarenja ostvarili sporedni glumci, pa čak i oni koji se pojave u epizodnoj ulozi.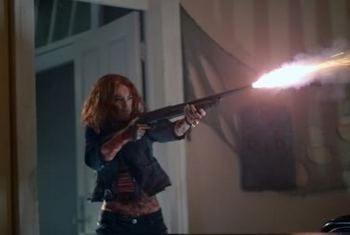 Da ne zaboravim spomenuti efekte, koji su ako se gleda da je na film utrošeno doista solidnih 10 milja dolara (ma da mi je samo znati gdje je ta lova otišla? Na šta molit ću vas lijepo?) i da film nosi 5-6 glumaca u jednom te istom okruženju (scenografija su prostorije jedne kuće u kojoj se cijela radnja i događa), prežalosni i izgledaju kao da su sve rekvizite kupili na nekoj lokalnoj rasprodaji gdje se kupuju one jeftine 20 dolarske FX maske.
Redatelj Adam Gierasch (Autopsy, 2008) je po meni kako sada stvari stoje bolji glumac nego redatelj, no mora mu se priznati da film ipak nije dosadan jer se u njemu stalno nešto događa. Dakako mora mu se priznati da tu i tamo režija izgleda zadovoljavajuće (također kao i nadahnuti glumački trenutak Furlonga i društva).

Što reći na kraju nego da je ovo ona vrsta filma koji možete pustiti u društvu (kako se to kod nask kaže film za ekipu) da ga svi zajedno uz pivo i grickalice pogledate uz raznolike komentare i zajebanciju bez bojazni da ćete nešto propustiti. Iako, je film loš (najviše su mi maske išle na živce) i jedan od najslabijih rimjekova (no ne i jedan od najgorih) ipak ima onu dozu zabave koja ga izdiže od onih ultra trash sranja koja svako malo osvanu u lijepo upakiranom DVD izdanju. Ovo vrijedi jednom pogledati i poslije zaboraviti...a oni koji ljubitelji horora koji teže nečemu ozbiljnijem i nemaju žeulca za ovakve filmiće...pa savjetujem vam da ga onda propusite, jer sigurno neće zadovoljiti vaše afirnitete.




THE SCENA:
- Kad neki tip od kojih 15-16 godina počne na ulici krasti djeci slatkiše (Noć je Vještica jel) a to Jason I Dex vide sa balkona (gdje su upravo pušili joint) i počnu vikati: ''- Koji gad. Koji kurvin sin...'' i izađu na ulicu i upucaju par puta tipa sa paint ball puškom te se ovaj prospe na pod i sa sobom slatkiše, a Jason viče: ''- Nema maske...nema slatkiša...nema maske...nema slatkiša.'' I dok djeca kradu slatkiše, atip se previja u bolovima Jason i dalje filuje tipa kuglicama...(istinski smiješna scena)

- samoubojstvo Evangeline Broussard
- propadanje Furlonga kroz trule drvene podove

*za ljubitelje gore scena – scena sa ružom, kidanje dojke i lica, analna scena