nedjelja, 17.10.2010.
The Hole 3D (2009)

Rupa 3D (2009)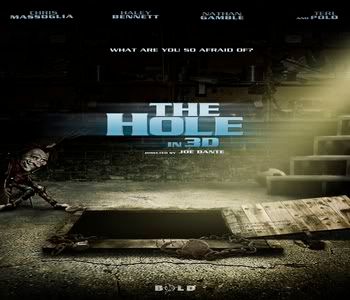 Produkcija: Bold Films / BenderSpink / The Hole
Redatelj: Joe Dante
Scenarij: Mark L. Smith i Guillermo Del Toro (nekreditiran)

Uloge:
Chris Massoglia............Dane Thompson
Nathan Gamble............Lucas Thompson
Haley Bennett...............Julie Campbell
Teri Polo.......................Susan Thompson


Film je izašao u kina 11. Rujna, 2010 godine (Venice Film Festival)
Trajanje: 98 minuta
Službena stranica + Trailer
Foršpan filma
Nagrade:
2010 – osvojio nagradu za najbolji 3D film na Venecijanskom Filmskom Festivalu




SADRŽAJ:
''- Obitelj Thompson se nakon mnogobrojnih bježanja od svoje neugodne prošlosti presele iz New Yorka u mali mirni grad Bensonville. Za 17-godišnjeg Dana preseljenje u novu kuću predstavlja pravu davež i dosadu, koja se naglo gubi kad upozna svoju zgodnu susjedu vršnjakinju Julie, dok je 10-godišnji Lucas očaran novim susjedstvom i novim okrićem u podrumu svoje kuće – Rupom.
Kad svoje otkriće pokaže bratu i Julie oni zajedno otkriju da rupa nema dna i da svjetlo ne može duboko prodrijeti u njenu tminu.
Vrlo brzo počnu se dešavati jako čudne i bizarne stvari, te naš trojac otkriva da i nije baš bila pametna ideja skidati poklopac sa rupe koji je bio zaključan mnogbrojnim lokotima, jer rupa u svojim dubinama skriva mnogbrojne strašne tajne, a jedna od njih glasi da su to sama...Vrata Pakla."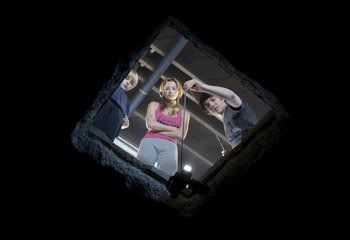 RECENZIJA:
- Nakon podužeg vremena Joe Dante nam se vratio u velikom stilu. Njegov pošteni uradak (ako ne računamo mnogobrojne TV projekte od koji se najviše ističu dvije epizode serijala ''Masters of Horror'' ) smo zadnji put gledali u omnibus filmu ''Trapped Ashes'' iz 2006 godine, a sad imamo pravi filmsku poslasticu – ''The Hole''.

Sigurno ste već gledali koji Danteov film – ''Matinee'' (1993), ''Innerspace'' (1987), ''The 'burbs'' (1989) i ''The Howling'' (1981), no svakako ste gledali ''Gremilne''. Onda već znate što očekivati od ovako klasnog i odličnog redatelja.

Današnje djelce je režirano u tipično Danteovskom stilu što znači da i ovdje imamo obiteljski film ugodno presvučen primjesom dva žanra – horora i fantazije, koji se neprekidno mijenjaju i nadopunjuju. Da, i ovdje se sve vriti oko obitelji kao u mnogim Danteovim filmovima (''Gremlini'', ''Mali Vojnici', ''Nepodnošljivi Susjedi''...) no ovdje je to pomalo i više naglašeno nego u ranije spomenutim filmovima. Ono što redatelj radi jest što daje naglasak na obitelj (malo po malo upoznajemo Thompsonove svakog ponaosob, te na kraju saznajemo zbog čega stalno mjenjaju mjesto boravišta) dok polako gradi atmosferu i ugođaj tako da prva polovica filma bude iznimno zanimljiva gledatelju iako se mnogo toga ne događa (neki hard core horor ljubci bi mogli reći i dosadnjikav dio ), no kad se napokon u drugoj polovici (nakon pojave Brucea Derna) dogodi promjena koji film nudi a gledatelj očekuje film se seli iz horor žanra i prelazi u Tim Burtonovsku fantaziju.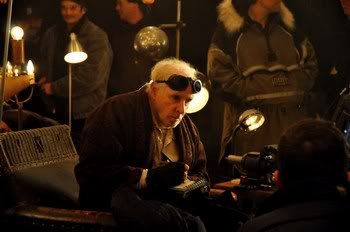 Kako vidimo Joe film nije režirao kao čistokrvni horor (kao što je to recimo napravio u ''Urlikanju'' ili ' ''Piranjama'') nego ga je razblažio na način ''Gremlina'' no bez onog nama dobro znanog crnog humora. Doduše nakon odgledanog film ima mnogo referenci iz horor domene (duhovi, žive demonske lutke...) što nimalo ne smeta priči iako pozamašan broj sekvenci i scena podsjećaja na mnoge odlične horor filmove – ''Ringu/The Ring'' serijal, ''Poltergeist'', ''Beetle Juice'', ''The Sixth Sense'', ''Dolly Dearest'' (može i ''Dolls'')...
Po okosnici radnje film je sličan filmu ''Darknes Falls'' (dakako ''Rupa'' je mnogo mnogo superiornije ostvarenje). Što se tiče glavnog nemesisa u filmu mogu samo reći da se sa istim bakćao i Zagor u jednoj od svojih najboljih epizoda (Dylan Dog ga svako malo sreće), dok je jedna epizoda druge sezone crtića ''Tales from the Cryptkeeper'' potpuno posvećena njemu.

Glumačka postava iako mršava (4 glavna lika + jedan epizodni) odlično obavlja svoj posao, a kad se vidi da cijeli film na svojim plećima iznose mladi glumci (tu i tamo potpognuti iskusnom i uvijek solidnom Teri Polo) onda film još više dobiva na vrijednosti. Nisam imao nikakve zamjerke na njihovu glumu i što je najvažnije vrlo brzo likovi budu prihvaćeni od strane gledatelja (iako ne odlična karakterizacija je ipak bolja nego u mnogim drugim sličnim fantazijskim/horor filmovima) što je za ovakvu vrstu filmova iznimno važno. Da ne zaboravim da se kao epizodist pojavljuje legendarni Bruce Dern Danteov kućni glumac, kao i još veća legenda Dick Miller (da stari prč je još živ) koji ima malu čudnu i pomalo smješnu cameo ulogu raznosača pizza (na žalost ovaj put je film prošao bez prezaposlenog Roberta Picarda.)

Režija je sigurna i nema grešaka u rtimu što se i očekivalo od Dantea (film je bazirao na građenju priče, atmosferi i ugođaju, a ne na razbacivanju specijalnih efekata i krvi). Specijalni efekti dobri i ne smetaju i ne nameču se u priči. Sve u svemu ovo je odličan film koji je napravljen za cijelu obitelj (nema krvi, nema nekih da ti srce stane scena...a po razblaženosti horor ugođaja film je ravan ''Gremlinima'') i svakako nije minus što se Joe odlučio za takav pristup. Gledajući film ne mogu se odati dojmu da gledam neku mješavinu ''Kronike Spiderwick'' (samo ugođaj...znači nema goblina) i ''The Gate'' (1987), a baš ovaj potonji film ima jako sličnu radnju kao i ''Rupa''.
Ako bih spomenuo kakvu zamjerku onda bih rekao da zadnja trećina nije toliko dimanična i atmosferična koliko prve dvije trećine i da nekako sve brzo završi, no svakako to nikako ne šteti dojmu samoj priči ili filmu (možda se jednom snimi i nastavak...tko zna).
Jedva čekam da počne igrati u našim kinima (za sada stoji datum 11. studenog) i to se nadam u 3D tehnici tako da mogu u potpunosti uživati u priči. Znači iako sam ga već gledao svakako ću ga ići opet pogledati...eto toliko je film zanimljiv i dobar.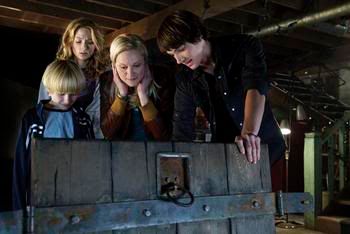 THE SCENA:
- Lucas vesrus demonski lutak-klaun
- scene sa mrtvom djevojčicom
- cameo scena Dicka Millera
- scena kad vidimo da je kamera snimila nešto u rupi