ponedjeljak, 04.10.2010.
Stuart Gordon's Castle Freak (1995)

Nakaza iz Dvorca (1995)




Produkcija: Full Moon Enterprises
Redatelj: Stuart Gordon
Scenarij: Stuart Gordon i Dennis Paoli
Slobodnije rađen prema priči H. P. Lovecrafta ''The Outsider"

Uloge:
Jeffrey Combs..........................John Reilly
Barbara Crampton ...................Susan Reilly
Jonathan Fuller..........................Giorgio
Jessica Dollarhide.....................Rebecca Reilly


Film je izašao u kina 14. Studenog, 1995 godine
Trajanje: 90 min / 95 minuta (američko uncut izdanje)
Foršpan filma...
Činjenica – film se nalazi na DVD-u filma ''Death Bed'' (2002) kao special feature




SADRŽAJ:
''- Bračni par Rilley John i Susan kao obiteljsko naslijeđe dobivaju srednjovjekovni dvorac D'Orsino u Italiji. Kad se sa svojom slijepom kćerkom Rebeccom na nekoliko dana usele u njega pokušaju uživati u ljepotama starog dvorca i njegovoj okolici.
Brak Rilleyevih je u velikoj krizi jer žena mužu, bivšem alkoholičaru, nije oprostila što je njegovom nepažnjom u automobilskoj nesreći stradao njihov šestogodišnji sin, a kćer Rebecca zbog zadobivenih ozlijeda ostala trajno slijepa. Johna kojeg izjeda krivnja počinje diljem dvorca čuti šaptaje i zvukove, a kad počnu nestajati prve žrtve spoznat će da je osim njegove obitelji u dvorcu još netko – Giorgio, nakazni sin vojvotkinje D'Orsino...
No, u tom ga trenutku policija okrivi za ubojstvo lokalne prostitutke koja je zadnji put viđena živa u njegovom društvu i koja je nađena mrtva u podrumu dvorca, te završi u policijskoj stanici. Tamo shvaća da mora nešto poduzeti jer je njegova obitelj u opasnosti...Nakaza je na slobodi, a sljedeća meta poremećenom ubojici su upravo Susan i Rebecca...''




RECENZIJA:
- Baš sam prije par dana dobio ovaj DVD koji sam naručio preko SecondSpina i tek sam ga jučer gledao. I? Jel valja šta? Sigurno se pitate...
E, ovaj vam put mogu reći da se nećete razočarati ako se odlučite pogledati ga jer je ovo jedan divan hororac koji kao da je zaglavio u krivom desetljeću, jer dok ga gledate više imate da gledate film iz sredine 80-tih nego 90-tih. To nije niti čudno kad je redatelj filma Stuart Gordon (H.P. Lovecraft's ''Dagon'', ''Dreams in the Witch-House'')...a mislim da većina vas zna ovo cijenjeno ime, a za one koji to slučajno ne znaju to je autor koji nam je donio kultnog ''Re-Animatora'' (1985).
Gordon je uspio i po treći put okupiti svoj omiljeni glumački par Combs-Crampton ("Re-Animator","From Beyond") koji u ovom filmu ovaj put glume bračni par.
Ah, da i ovaj put za razliku od prošla dva filma Jeffrey Combs glumi čistog pozitivca (Jupiiii...napkon).

Prvo što bi horor znalci mogli primjetiti jest to da je film u produkciji Full Moona (prvi pušten u opticaj izvan Paramounta), kompanije koja izbacuje ultraniskobudžetne filmove sumnjivog pedigrea (''Demonic Toys'' i ''Trancers'' serijal, ''Gingerdead Man''...), no koji znaju izbaciti i sasvim zanimljiva djelca poput – ''Puppet Master'' i ''Subspecies'' serijala. Taj podatak bi možda mogao i odbiti kojeg ozbiljnijeg ljubitelja filmova strave i užasa, no ''Castle Freak'' je iznimka od svih filmova i već ga sada mogu smatrati najboljim filmom koji je dotična kuća izbacila na tržište.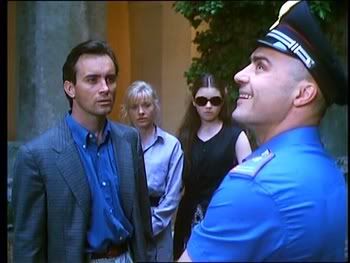 Iako je dobio u ruke mizeran budžet Stuart je snimio film po svom ukusu te nam podario jednostavnu no itekako zanimljivu priču sa uvjerljivim likovima, odličnom kamerom i kutovima snimanja (predivni close upovi), te što je najvažnije iznimno sigurnom režijom (jedino je glazba tek solidna).
Zbog dobro napisanog i osmišljenog scenarija film ima svoj početak i kraj bez ikakvih scenarističkih nebuloza ili rupa, a sama karakterizacija likova je za svaku pohvalu (pogotovo one Johna Rilleya i Nakaze). Redatelj polako gradi atmosferu i ugođaj (koji po prikazanoj scenografiji ima mnogo gotičkog u sebi) te nam ovaj put nudi umjesto crnog humora tragičnu dramu Lovecraftskog štiha sa šokantnim gore scenama (odgržena bradavica, jedenje žive mačke....i sl.) i jednom velikom erotskom scenom seksa između Johna i mlade prostitutke koja je na tragu ''Emanuelle'' serijala (cura koja glumi prostitutku ima predivne prirodne grudi).

Gluma je odlična i to ne samo kod glavnih glumaca nego i kod sporednih (npr. policijski inspektor). Crampton je kako smo navikli jako dobra (ovaj put se nije na našu žalost razgolitila, no to nije niti presudno kod ovako kvalitetne glumice), dok je Combs u jednoj od svojih najboljih uloga u karijeri (ravnoj onoj dr. Herberta Westa u ''Re-Animatoru''). Mlada Jessica Dollarhide koja glumi Rebeccu je fenomenalan glumački talent i tužna je činjenica da joj je to bio jedini film u kojem je glumila, jer se ostavila glume.
Kako bi sve nastavilo u odličnom tonu pobrinuo se je i glumac Jonathan Fuller koji glumi glavnog negativca Nakazu tj. Giorgija što je gledajući njegove pokrete i samu mimiku kretnji po meni jedna od najboljih ikad viđenih u hororu.




Sama karakterizacija ovog realističnog negativca je nešto što se u zadnje vrijeme teško može vidjeti u ovim novim horocima koji su većinom bez boje i mirisa. Iako, očigledno negativac on je ujedno i žrtva (njegova ga je majka mučila batinama i izgladnjivala 40 godina zbog toga što je rođen kao nakaza...a morate priznati da ne bi i Papillon izdržao takvu torturu toliko godina stoga ne ćudi zašto je emocionalno poremećen i što ubija uokolo koga stigne) baš poput Frankensteinovog čudovišta. Sad kad se na brzinu sjetim ne mogu da nađem veće patnje koje je doživio neki lik poput našeg Giorgija (kao primjer može poslužiti ultra blaža i vedrija verzija Chucka iz ''Gooniesa''). Legendarna je scena na koji se način oslobodi lanaca i okova, pa odmah nakon toga pojede živu mačku, te kad izađe iz tamnice sa lancima na rukama i počne urlikati...odmah znaš da tko god mu se nađe na putu da je najebao...

Za kraj bih rekao da film ne samo da ima predobru šminku i efekte, par predivnih scena nego čovjek može uživati tijekom cijelog gledanja (pogotovo druge polovice tj. od bijega Nakaze). Nemojte da vas prevari DVD cover, koji izgleda lijepo no koji isto tako govori da je to najbolje što film nudi (igrom slučaja Nakaza i jest naj dio filma), jer ovo je jedan od najboljih iz 90-tih, koji se može pohvaliti posebnim filingom horor filmova iz 80-tiha i koji po mnogo čemu viđenom jako baca na slasher podžanr. Ovo je predobro napravljen film strave i užasa čija je produkcija rađena iz ljubavi prema žanru. Jednostavno...ovo je prokleto dobar film (u rukama nekog drugog redatelja ovo bi sigurno ispalo jako loše)....


THE SCENA:




- kad Giorgio da se oslobodi okova otkine palac i ostane bez njega
- kad Giorgio pojede živu mačku (kao Vera Crosgrove psa u ''BrainDeadu'')
- scena seksa između Combsa i prostitutke
- kad prostitutki Giorgio odgrize bradavicu na dojci
- kad saznamo što je Gerogiju majka sve učinila (šifra: Farinelli...)
- Georgio lancima smrska glavu
- veliki obračun John Rilley protiv Giorgija na korvu dvorca dok kiša lije kao iz kabla (zajebi Matrix pizdarije...ovo je prava šora)