nedjelja, 26.09.2010.
30 Days of Night: Dark Days (2010)

30 Dana Noći: Mračni Dani (2010)




Produkcija: Dark Horse Entertainment / Ghost House Pictures / RCR Capital Partners I / Stage 6 Films
Redatelj: Ben Ketai
Scenarij: Steve Niles i Ben Ketai
Film je rađen prema strip serijalu ''30 Days of Night''

Uloge:
Kiele Sanchez .......................(Stella Oleson)
Rhys Coiro.............................(Paul)
Harold Perrineauas................(Todd)
Mia Kirshner...........................(Lilith)


Film izlazi na DVD-u 05. Listopada, 2010 godine
Trajanje: 92 minute
Foršpan filma


SADŽRAJ:
''- Stella, jedina osoba koja je preživjela masakr koju su vampiri učinili nad žiteljima gradića Barrowa na Aljasci, kreće u osvetu protiv krvopija. U Los Anglesu joj se pridružuje mala grupica loavaca na vampire sa kojima želi ostvariti glavni cilj – ubiti glavnu figuru svih vampira, kraljicu Lilith.''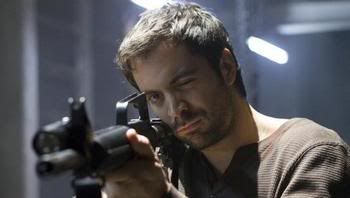 RECENZIJA:
- Nakon odličnog (po meni jednog od najboljih vampirskih filmova) ''30 Days of Night'' dolazi nam i njegov nastavak (nakon dvije TV miniserije), no ovaj put u jako skromnom budžetu i produkciji. Što očekivati od ovog ravno na video filma?


Što valja kod filma:
- vampiri i dalje odlični
- maska i šminka i dalje na nivou
- i dalje postoje krvave scene
- kamera
- 3-4 brutalne scene
- saznajemo jednu novost kod ovih vampira
- glavna vampirica Lilith
- mnogo bolji nego neki drugi niskobudžetni filmovi o vampirima (npr.''Vampires: Los Muertos'' ili ''Dracula 3000'')


Što ne valja kod filma:
- neuvjerljiva priča, scenarij (izdvajam prevelike scenarističke rupe u priči) i dijalozi
- karakterizacija likova i uništava onu tajanstvenost prvog filma
- u nekim djelovima izgleda previše niskobudžetno
- početak filma odaje kako je završio prvi dio
- film se reklamira sa glupim taglineom
- korica DVD-a pomalo podsjeća na ''The Descent''
- akcija i pametno razmišljanje svih vampira u filmu
- film nam daje jednu grupu od najgorih ubojica vampira koje sam do sada vidio
- kraj filma je viđen u mnogo filmova
- Stellu iz prvog dijela ne glumi Melissa George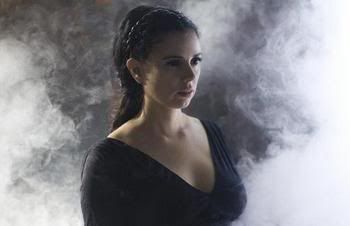 Završna riječ:
- Nisam čitao stripove pa sad ne mogu reći, no čini mi se da kako između filmova i stripa ima razlike. Dobro to i nije sad toliko važno koliko da problem ovog filma postoji u samo jednoj stvari, a to je scenarij.
Jeste film je totalno niskobudžetan što se vidi da u filmu imamo 7-8 glumaca i 2-3 scenografije koje se izmjenjuju, no redatelj je to uspio nekako održati na nivou i bez obzira na besparicu. Vampiri i dalje izgledaju kao u jedinici (no primjetno slabiji po ponašanju), te svaka pohvala ide na šminku i maske. Koljaže tu i tamo također imamo dovoljno i dovoljno je brutalna da uživaju gore fanovi.

Ali scenarij je stvarno loše napisan. Evo samo jedan od primjera koji se pojavljuju u filmu – naša grupa od četiri lovca na vampire ide pokokati grupu vampira po danu...ok...ali to ne rade onako stručno kao ubojice vampira Jacka Crowa u Carpenterovim ''Vampirima'', nego naoružani (samo njih četiri) odlaze duboko u neku vrst kanalizacijskog prolaza ispod zgrada u mrak (bez da su ponijeli sa sobom UV lampe)..WTF?
Neću niti govoriti kako je karakterizacija nikakva (niti što znamo niti kako film odmiče nešto saznamo o likovima), likovi se cijelo vrijeme glupavo ponašaju (a da ne govorim kako naoružani hodaju po gradu kao da idu kupiti novine, a bogme niti vampiri baš nisu tako pametna bića ovdje), a poneke scene poput one kad žena tipu bloketom smrska glavu iako lijepo izgledaju one su tu samo da nam dadu malo onog torture-porn štiha i nemaju efekta koji bi trebale imati (kao recimo u novovalnim francuskim hororcima), jer se vidi da su samo tako ubaćene da prikažu što krvaviji prizor bez da on ima imalo smisla.




Kiele Sanchez je zamijenila Melissu George u ulozi Stelle Oleson. Dok od poznatih imena imamo jedino Harolda Perrineauasa (serije ''Lost'' i ''Oz'', Fynn u ''28 Tjedana Kasnije'').
Gluma je solidna za ovakvu vrst filma (budimo realni glumci nisu ni imali sa čim da rade kad se gleda kakav je scenarij zapravo).
Oni koji su uživali poput mene u prvom djelu mogli bi se razočarati, a onima kojima ni prvi nije bio baš nešto savjetujem da onda definitivno preskoče ovo djelo. Da nije u mnogo stvari pomalo zbunjujuć, te da nema tako klišejiziranu i predvidljivu radnju imao bi neku prođu kod mene...ovako film preporučam samo za najhrabrije, jer je za mene ovo u domeni pogledati i odmah zaboraviti.


THE SCENA:
- kad jedan od glavnih vampira ostane kratak za glavu
- bloketa vs. vampirska glava
- B ševa u kupatilu (ovo je samo zbog toga što imamo lijep pogled na nago tijelo gl. glumice koja glumi našu heroinu)
- film nam daje primjer zašto nije pametno gledati kroz špijunku (šifra ''Saw II'' i Argentova ''Opera'')
- kad jednom vampiru (kretenu!!) izrešetaju glavu tri pištolja