ponedjeljak, 20.09.2010.
Mor - Croatian Werewolf (1992)

MOR (1992)




Produkcija: HTV
Režija: Snježana Tribuson
Scenario: Gordana Mrđen
Film je sniman po noveli Đure Sudete

Uloge:
Filip Šovagović...................Mor
Nadežda Perišić-Nola........Šu
Vanja Drach.......................Vlastelin


Film je izašao 1992 godine
Trajanje: 63 minute


SADRŽAJ:
''- Vlastelinova jedinica Šu, vraća se iz mondenog europskog ljetovališta u zavičaj. Arno, osiromašeni plemić, spretno ju osvaja i ubrzo se zaručuju. Ali, na imanju je Mor, upraviteljev sin, s kojim je Šu provela djetinjstvo, a njihov ponovni susret razbuktava staru emociju. Uskoro se počinju događati neobične stvari - kruže priče o vukodlaku...''




RECENZIJA:
- ''- Judo, plesaču!'' : sigurno bi uskliknuo Dylan Dog da je kojim slučajem gledao ovaj film. Da evo još jednog hrvatskog 'horor' filma. Da dobro ste čuli rekao sam horor filma. E, sad koliko tog horora u njemu stvarno ima to je već sasvim druga stvar. Ali, dao sam priliku ovom filmiću, te ću sad iscjediti svu svoju gorčinu na njega:


Dobre strane filma:
- traje samo 63 minute
- u filmu se pojavljuje vukodlak (majke mi! Istina je)
- gluma legende Vanje Dracha
- naracija na početku i kraju filma


Loše strane filma:
- ovo nije horor film
- vukodlaka vidimo točno 1 sekundu
- gluma, efekti, tu i tamo montaža, amaterske greške pri snimanju
- scenarij i priča, likovi
- žalosna cameo pojava Semke Sokolović (nije pisalo Bertok) koja je tako smiješno obučena da izgleda kao starija verzija Alke Vuice iz spota ''Laži me''
- transformacija vukodlaka
- nema golotinje ni krvi
- karakterizacija




Završna riječ:
- Ovo je ultra mega splačina koja se uopće nije smjela snimiti. Neki kažu da bi ovo trebalo da bude film o vukodlaku? Ma, dajte. Više je vukodlaka bilo u jednom mom snu jučer kojeg se ne sjećam nego u ovom filmu.
Ne samo da režija ne valja (primjetih mnogo grešaka tijekom snimanja, a najveća je ona kad Šu gleda kroz prozor, a kao trebalo bi da bude mrkla noć, a ono se vidi dan vani...a ovakvih amaterskih pogrešaka ima i previše za film koji traje 1 sat). E, moja Snježana nije za tebe režija (i to ne mislim samo za ovaj film). Možda mislite da sam prestrog?

Gledajte znam da je te 1992 godine bio rat i da se nije imalo love, ali jeben mu ako nemaš keša il film uopće ne ideš snimati ili daš mašti i improvizaciji na volju (tako svi pravi filmaši rade) te se barem potrudiš napraviti neku smislenu radnju sa barem solidnim likovima.
Ovako kad čovjek gleda ovu jad od filma pomisli što su ti ljudi radili dok su snimali ovo smeće? Jesu li uopće gledali kasnije što su snimili? Kako su nakon ovoga uopće našli posao na novom projektu (dobro ovdje ne mislim na glumce veterane)?
Što reći o redateljici kad joj inače uvijek odlična Semka Sokolović Bertok (U ''Krvopijcima'' je bila mnogo bolja) u svojoj maloj cameo ulozi gdje glumi ciganku se preglumljuje, čija je gluma u tih nekoliko sekundi ravna onoj kakvu viđamo u lošim trash filmovima.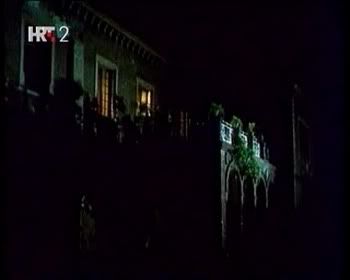 Nadalje scenarij je tako loše i šturo napisan (iako dijalozi tu i tamo zabljesnu) da je još i dobro ako kažem da je nezanimljiv. Jednostavno scenarij nema nikakve radnje, likovi nemaju niti mrvicu karakterizacije, a da ne govorim kako je prepun rupa (što je kasnije sa likom koji je glumio Ivo Gregurović?).
Iako, su ovo veliki minusi najveći je ipak što između gl. junaka tj. Šu i Mora (majko moja koja imena....ma odakle su ih iskopali?) nema ama baš ikakve kemije.
Glumci su ovdje samo nezanimljivo i po meni neozbiljno odradili svoj posao, a jedina prava iznimka je upravo legendarni (danas nažalost pokojni) Vanja Drach, čija je gluma i ovdje na visokom nivou.
Zanimljiv podatak je da u filmskoj ekipi imamo čak 4 Nole (Barbara, Filip, Nadežda Perišić i kao pomoćnik redateljice (tako se priča, a podataka ni za lijek...što mnogo govori o filmskoj dokumentaciji u našoj državi) se pojavljuje nitko drugi nego Lukas Nola, osrednji redatelj hrvatskih filmova (koji je ipak snimio odličnu ''Šumu Striborovu'', ako je to ona koju sam gledao kao 12-godišnjak)).

Kakav je ovo horor film (ili barem fantazija) bez da se vukodlak barem pokaže na jednu jebenu minutu?Jebem ti život, pa on se pojavi na jednu jedinu sekundu (druge 3 ga vidimo iza zavjese kako gleda). Da vam kažem nešto malo o maski tj. šminki samog čudovišta:
- kad ga ugledamo izgleda kao da je netko glumca namazao crnom pastom za cipele, te me više podsjetio na Ala Jolsona iz ''Pjevača Jazza'' nego na vukodlaka
- ovo je najgora maska vukodlaka koju sam u životu vidio (a gledao sam svakakva sranja i pizdarije sa dno dna trash (amaterske) filmoteke)
- kad se sjetim da je klasik ''WolfMan'' iz 1941 bio inspiracija za ovaj film (pojava ciganke na početku filma...a ovo je sigurno ideja Lukasa Nole mogu se kladiti), a da FX efekti i šminka ovog crnobijelog hororca od prije 51 godinu (ako brojimo samo do 92' kad je ovaj film sniman) izgleda mlijardu svjetlosnih godina bolje nago ova naša (ma sramota); mislim da bih i ja sad ovako bez ičega napravio bolju
- transformacija Šovagovića u vukodlaka tj. vuka je napravljena kao da su je radila djeca od 14 godina i to u svom dvorištu, a izgleda ovako – on trči šumom i skida robu sa sebe (ne nije gol) i skače u rijeku te pliva, da bi u sljedećem kadru vidjeli nekog mršavog vuka kako trčkara livadom (k vragu da je vuk bio mršaviji izgledao bi više kao čagalj nego kao vuk)...i to vam je sva transformacija (a onda mi netko govori da je ona odlično smišljena transformacija u ''Dog Soldiers'' govno...)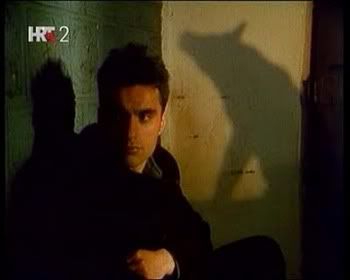 Film nema krvi, nema horor scena, nema niti jedno pravo ubojstvo koje je izvršio vukodlak, a što je najgore film nema niti zrnce golotinje (k vragu nije je bilo ni u ''Krvopijcima'' kad se sjetim). Da je bila koja sisa možda bih bio mrvicu blaži, ali ovako...film je FAIL.
Film je propao pokušaj da bude neki križanac ''WolfMana'' Georgea Waggnera i filmova Paula Naschyja, gdje se glavni junak pretvara u pravog vuka kao što ćemo vidjeti tri godine kasnije u odličnom ''Wolfu'' Mike Nicholsa. Žalosno je što mi Hrvati ne znamo snimati filmove (mislim na od 1990-te pa naovamo), a što je još gore ne znamo snimati horore... Stoga preskočite ovo govno od filma, jer jedino što ćete dobiti u ovoj hrvatskoj trasherskoj drami jest 63 minute ogavne dosade i ultra nezanimljivosti, a to što film spada kao u horor...jebeš ga ta 1 sekunda kad vidimo croatian werewolf ga na žalost svrstava u naš žanr...



THE SCENA:
- Uuuu...Jeboteeee!!!! Hrvatski vukodlak u sceni od 1 sekunde... vrh hrvatske filmske horor scene u posljednjih 30 jebenih godina (čak i ljudi štakori u ''Izbavitelju'' imaju bolju masku)