ponedjeljak, 06.09.2010.
TMNT: Turtles Forever (2009)

Kornjače Zauvijek (2009)




Produkcija: 4 Kids Entertainment / Dong Woo Animation Co. / Mirage Studios / Viacom International
Redatelj: Roy Burdine i Lloyd Goldfine
Kreatori: Kevin Eastman i Peter Laird

Glasove posudili:
Michael Sinterniklaas (Leonardo)...................Wayne Grayson (Michelangelo)
Sam Riegel (Donatello)...................................Gregory Abbey (Raphael)
Darren Dunstan (Splinter).............................. Scottie Ray (The Shredder / Ch'rell )
Dan Green (Leonardo 88')..............................Johnny Castro (Michelangelo 88' / Rocksteady)
Anthony Salerno (Donatello 88')....................Sebastian Arcelus (Raphael 88')
Veronica Taylor (April O'Neil).........................David Wills (Splinter 88' / Mirage Shredder)


Film je imao DVD premijeru 21. listopada, 2009 godine
Trajanje: 90 minuta
Foršpan filma...




SADRŽAJ:
''- Ninđa kornjače iz verzije 2003 godine pronađu zarobljene ninđa kornjače koje su verzija iz 1987 godine, koje je zarobio njihov mrski neprijatelj Hun. Nakon kratke borbe modernije verzije porazu Huna i osobode one iz 87'-me. Kod moderne verzije Splintera kornjače (jedne i druge) saznaju da su ove kornjače iz 87'-me došle iz druge dimenzije gdje su se upravo borili protiv svog vječnog neprijatelja Shreddera. Dok oni smišljaju što dalje i kako uspješno vratiti TMNT verziju iz 87' nazad u njihovu dimenziju u to vrijeme se pojavljuje i klasični Shredder sa svojim klasičnim pomagačima Bebopom, Rocksteadyjem i Krangom u Tehnodromu.
Nakon što ga sad osam ninđa kornjača vrlo lako pobjedi on bježi.

No, kad shvati svoju poziciju da ako u ovoj dimenziji postoji druga verzija ninđa kornjača onda mora postojati i druga verzija njega samog. Tako uz pomoć Kranga uspjeva vratiti Utrom Shreddera (znan pod pravim imenom Ch'rell) sa ledenog asteroida na kojem je završio u epizodi - '' Exodus''. Problem nastane kad Ch'rell želi unišiti cijeli univerzum ninđa kornjača tj. sve ninđa kornjače iz drugih dimenzija, tako što će ubiti originalne ninđa kornjače. Sad moderne i klasične ninđa kornjače uz pomoć crnobijelih originala, te uz svesrdnu pripomoć klasičnog Shreddera i njegove zle škvadre moraju zaustaviti ludog modernog Shreddera da ne uništi čitav svemir...no hoće li uspjeti u tom svom naumu?''




RECENZIJA:
- Ah, Ninđa Kornjače. Koje to uspomene budi (prošlo je 26 godina od prvog pojavljivanja). Uz He – Mana i njegove Gospodare Svemira to mi je u mladosti bio najdraži animirani serijal (a bogme u to doba je bilo opake konkurencije W. I. L. D. Cats, Thunder Cats...) kojeg na žalost nisam gledao na TV-u nego sam ih iznajmljivao na ondašnjim ofucanim VHS kazetama. K vragu nisam propustio niti jednu epizodu, a čak kad je izašao kratkoizlazeći strip i popularni album samoljepljivih sličica...sve sam kupio naravno. Danas na 25 godišnjicu od prve pojave dobijamo nešto što nas ugodno vraća u naše mlade dane.

Mogu reći da sam u par navrata pokušao pogledati par epizoda ovih novih kornjača, ali mogu vam reći da to nije to. No, kod ovog filma i ovi moderni Turtlesi izgledaju odlično. Činjenica da je najbolji dio filma upravo priča, koja je sigurno komplicirana za mališane (pogledajte gore kakav je sadržaj radnje, pa ćete znati što očekivati), pa iako je ovo ipak crtić.
Najveći problem kod novih kornjača jest to što su mnogo ozbiljnije od svojih klasičnih verzija, ali ipak veća negativnost je animacija koja se oslanja na kompjuterizaciju, te crtež koji je vrlo jednostavan i u svakom pogledu škrt (pogotovo ako se gleda scenografija, ali i cijelokupni okoliš).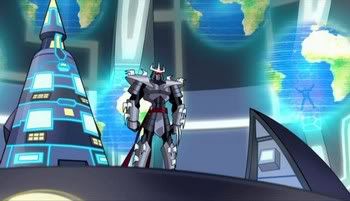 Utrom Shredder

Dobra strana ovog animiranog filma jeste što su redatelji uspjeli napraviti pravu posvetu jednom od najpopularnijih animiranih junaka. Tako imamo cameo pojave April O'Neil, Caseyja Jonesa i još nekih likova iz serijala iz 87', dok što se tiče upravo tog klasično serijala imamo na sekundu dvije vidjeti Rocksteadyja i Bebopa u svom ljudskom izgledu.
Bilo je gušt gledati svu tu neozbiljnost klasičnih Turtlesa i prisjetiti se kako su crtići u 80-tima jebeno dobro izgledali (favorit mi je scena kad se u jednom trenutku klasični Rafael okrene prema publici i počne objašnjavati kako stvari stoje, a negativac Hun se okrene zabezeknut pa kaže: ''- Who are you talking to? There is nobody there!" ili kad klasične kornjače idu spašavati April, te Donatelo pri tome kaže: ''- We save April at least once a day, you can set your watch to it!'').

Iako su ove moderne verzije previše drvene (svidio mi se Michelangelo, a i Splinter je u svim dimenzijama isti) ugodno i najveće iznenađenje su pojava originalnih Ninđa Kornjača iz stripova (prikazani u tipično crno-bijeloj tehnici) i njihov Wolverine/Dirty Harry imidž i sam govor kao iz stripova (imamo čak prilike vidjeti mnogo verzija kornjača u drugim dimenzijama u par sekundi), no što jest jest borci su bolji i od klasičnih i ovih novih kornjača (sam Raphael ih je skoro sve sam sredio).
Što se tiče negativaca uz već klasične imamo i uber Shreddera, te njegove pomagače – Shredderovu kćer Karai, te opakog hulkoidnog Huna. Posebice mi se svidio ovaj Utrom Shredder tj. Ch'rell čija mržnja za uništenjem kornjača dugo nije viđena na filmu, a posebice u crtanom. Vjerujte mi kad taj tip mrzi tako da može i sebe uništiti u toj mržnji...e onda se to zove prava mržnja.


Kornjače iz stripa

Kao veliki fan Konjača uživao sam u svakoj minuti filma. Bilo je tu i dobrih fajtova (među negativcima koje premlate ove nove kornjače su čak i žene što je dodatni plus crtići, jer ne podilazi stereotipima), odličnog humora (pogledaj dolje THE SCENA) gdje se svi međusobno podjebavaju (ovo najviše odpada na Tutlese), a veliko finale i obračun kornjača sa ogromnim Ch'rellom je baš pravo Grande Finale. Ovo je definitivno crtić za ljubitelje klasičnih ninđa kornjača (većinom ljudi koji su u kasnim 20-tima ili su već dobro prešli 30-te), te za one mlađe koji mogu vidjeti kako su njihove moderne kornjače izgledale u 80-tima. Deifintivno gledati kad se uzmogne prilika...


THE SCENA:
- Rafaelovo okretanje prema gledateljima
- "Lets Save April"
- ''TMNT verzije zajedno
- veliki okršaj kornjača sa Ch'rellom
- prikaz stotine različitih ninđa kornjača u drugim dimenzijama
- pojava kreatora kornjača Kevina Eastmana i Petera Lairda u maloj ali odličnoj cameo pojavi (naj komentar je kad jedan od njih kaže hoće li im se te kornjače koju su upravo nacrtali isplatiti)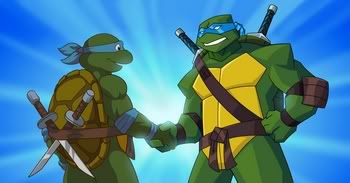 Leonardo verzija iz 87' daje ruku svojoj verziji iz 2003

Mirage Michelangelo: "- So, you're supposed to be us from other worlds... I don't see it."
Mirage Donatello: "- What's with the multi-coloured headbands?"
Mirage Raphael: "- Heh, sellouts."
Raphael: "- Uh, well..."
[points at the 88' Turtles]
Raphael: "- Check out the initialized belt buckles on these yahoos."
1988 Michelangelo, 1988 Donatello, 1988 Raphael: "- Hey!"
Raphael: "- How lame can a turtle get, am I right?"
[Mirage Raphael pins Raphael's arm behind his back and kicks him]
Raphael: "- OW! Geez, what a hardcase."
[the 88' Turtles grin at Raphael]
Raphael: "- What?"
1988 Michelangelo, 1988 Donatello, 1988 Raphael, 1988 Leonardo: "- Nothing."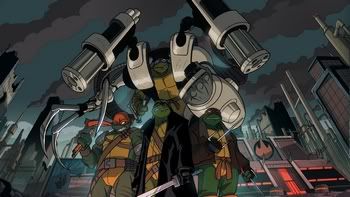 Jedna od opakijih verzija kornjača