srijeda, 01.09.2010.
One Dark Night (1983)

Jedne Mračne Noći (1983)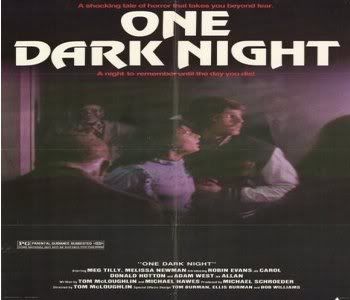 Produkcija: The Picture Co
Redatelj: Tom McLoughlin
Scenarij: Tom McLoughlin i Michael Hawes
Spec. efekti: Ellis Burman, Tom Burman i Bob Williams

Uloge:
Meg Tilley (Julie Rose)..................David Mason Daniels (Steve)
Robin Young (Carol Wells)............ Elizabeth Daily (Leslie)
Leslie Speights (Kitty)....................Melissa Newman (Olivia Raymar)


Film je izašao u kina u veljači, 1983 godine
Film se može nabaviti na DVD-u (double-disc special edition) od 31. 01. 2006 godine
Trajanje: 94 minute
Budžet: oko 978 000$
Foršpan filma
Nagrade:
1983 godina – zaradio nominaciju za najbolji horor film od strane Akademije Znanstvene Fantastike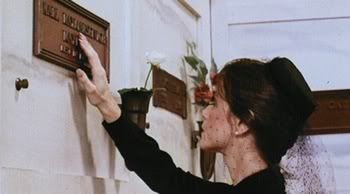 SADRŽAJ:
''- Kad ruski ekscentrik po imenu Karl Raymarseivich Raymar umre misterizonom smrću u svom stanu, policija otkriva u ormaru njegove sobe šest ženskih leševa ispijenih tijela, a sama soba je u neredu dok iz svih zidova vire metalni predmeti kao da ih je neka nevidljiva sila tu zabila.
Priče kolaju da se starac bavio okultnim i paranormalnim, te da je bio moćni telekinetičar i bioenergetičar koji je spoznao tajnu kako pobijediti čak i smrt.

Istog dana kad je stari Raymar sahranjen u ogromnom lokalnom mauzoleju, pripadnice jednog sestrinstva smisle posljednje iskušenje za novu članicu Julie Wells, koja da bi postala punopravna članica mora provesti noć u mauzoleju.
Kad se nađe unutra Julie preostaje samo čekanje zore, no podle Carol i Kitty koje su smislile tu ogavnu igru odluče malo zagorčati noć mladoj djevojci i dobro je prestrašiti. No, ne samo da će i same biti prestrašene kad Raymar oživi i svojim moćima 'razbudi' mrtvace iz mauzoleja nego će se na kraju sve tri djevojke morati boriti za svoje živote, jer starac ima namjeru svojim moćima isisati njihovu životnu energiju i tako sebe u potpunosti vratiti u život...''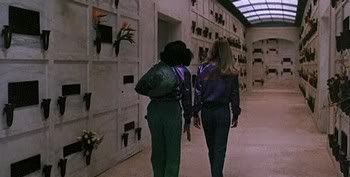 RECENZIJA:
- Nakon što sam nabavio ''Nightmares In Red White And Blue'' (2009) i dok sam malo pregledavao što mi taj dokumentarac nudi u jednom od isječaka vidio sam scene i od ovog filma. Naravno izgledale su mi odlično te sam se vrlo brzo dao na nabavljanje ovog hororca, te nakon odgledanog dojmovi su sljedeći:


Što valja kod filma:
- atmosfera i ugođaj hororaca iz 80-tih
- glumačka postava i scenarij (dijalog u prvoj trećini filma)
- glavna tema ovog djelaca - telekineza i bioenergija
- jedan od glumaca je Adam West (''Batman'' - TV serija i ''Batman'', 1966), a u filmu glumi uvijek dobra Meg Tilly (''Psyho II'', ''Body Snatchers'')
- ovo je film s poukom i porukom (''- Ne radi drugima ono što ne želiš da oni tebi čine.'')
- specijalni efekti na kraju filma (Raymarova mumija, izgled svježih leševa, scena topljenja leša)
- kraj filma, te njegov jezivi početak


Što ne valja kod filma:
- nema neke 'akcije'
- nedorečen sa ponekom scenarističkom nelogičnošću (scene plašenja) i jednostavnim dijalogom u zadnje dvije trećine filma
- Raymarova smrt neuvjerljiva i čudna, te je on sam kao uber negativac slabo iskorišten
- neki specijalni efekti (mumije i svi stariji mumificiran leševi)
- Adam West ovdje ima malu epizodnu ulogu




Završna riječ:
- Prvo nakon što sam pomislio kad je krenula odjavna špica filma jest to da je ovo hororac koji bi Drago Plečko i Krešimir Mišak trebali pogledati, jer se bavi temama koje njih dvojica uvijek rado prate. Naime ovo je jedan od rijetkih filmova strave i užasa sa ovako čudnom temom i mali je broj onih hororaca koji se uopće bavio bioenergijom (trenutno se ne mogu sjetiti niti jednog), dok je stvar sa telekinezom sasvim drugačija (Carrie, Scanners serijal, LOTR trilogija, X-Man serijal...) i mnogima od vas definicija tih nazovimo ih mentalnih moći je sasvim znana.

No, onim horor ljubcima kojima baš ta bioenergija nije nešto zanimljivo i koje ne zanima ta strana parapsihologije film bih opisao kao da je jedan od onih opakih svemirskih vampira iz ''Lifeforcea'' T. Hoopera preživio i dobio svoj film, jer se gl. negativac Raymar hrani na skoro istovjetan način kao ti vanzemaljski majkojebci.
Ovo je hororac ograničenog budžeta (snimljen već 1981 godine) koji se mnogo oslanja na atmosferu (recimo da je približna onoj u ''Night of the Demons'' samo bez ikakvog prisustva demona naravno), kojem to i uspijeva, ali samo do jednog određenog nivoa, te na našu žalost ne zaokruživa je u neku cijelinu.




Iako je djelo redatelja Toma McLoughlina (''Jason Lives: Friday the 13th Part VI'', ''Sometimes They Come Back'') doista napet film zbog stalnih očekivanja da se nešto dogodi, kako se približavao svome kraju u nekim djelovima se osjeća neka vrst monotomije, koja više teži praznom hodu (tj. jednostavnim riječnikom cijelo vrijeme film mami svojim scenama gledatelja da nas očekuje veliko i uzbudljivo finale kad se napokon stari bioenergetičar probudi...a onda kad se i to desi to baš i ne bude onako kako gledatelj zamišlja, iako daleko od toga da je završnica imalo loša...dapače).
Jedna od iznenađujućih stvari koje su me ugodno iznenadile jest da je glumačka ekipa jako dobra, no osim pojave A. Westa (zbog Batmana) izdvojio bih jedino Elizabeth Daily koja glumi Leslie kao prvo glumačko ime. Kraj filma je dobar, ali dosta jednostavan s težnjom da mnogo ne komplicira sa rasplitanjem radnje, što će neke gledatelje, ali i horor fanove ponukati da ga nakon gledanja ocijene solidnim filmom, koji se ničim ne izdvaja od najboljih izdanaka žanra iz zlatnih 80-tih.
Efekti su u nekim djelovima iznenađujuće dobri (Tom Savini pripomogao, pa je zato nekreditiran), a kad se gleda da je ovo jedan mali film u kojeg je uloženo minimalno novca i da u nekim kadrovima i scenama baš ti specijalni efekti izgledaju jeftino i jako trivijalno. Atmosferom i gledajući gdje se radnja odvija (veliki mauzolej) ''One Dark Night'' mnogo podsjeća na ''Phantasm'' serijal.

Moja završna misao bi bila da je ovo film koji treba pogledati samo jednom i to ponajviše zbog najvećeg plusa samog filma a to bi bio onaj poznati tipično-specifični horor ugođaj iz najplodnijeg desteljeća za žanr – 80-te. No, nakon toga, ovom filmu atmosfere koji nije do kraja ispunio moja očekivanja (valjda i drugih ljubitelja horora koji su ga gledali), nećete se više nikada vratiti. To je sigurno...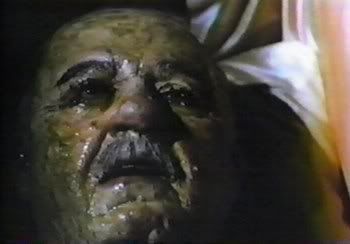 Zanimljivosti u vezi filma (TRIVIA):
- Dominique Dunne se prijavila za gl. ulogu u filmu
- Adam West nije bio prvi izbor za lika Allana, jer ga nitko nije želio aganžirati zbog poznate uloge Btmana, no redatelj McLoughlin ga je ipak aganžirao
- U filmu su korišteni pravi kosturi dovezeni iz indije (odmah sam se sjetio ''ROTLD'')
- Jedan od spomenika na groblju nosi prezime Myers što je aludiralo na Michaela Myersa, no producent se bojao tužbe pa je ime izbačeno iako je redatelj želio staviti
- Montažu filma obavili su producenti tako da scenarist i redatelj u tome nisu sudjelovali; kraj filma kakav su njih dvoje zamislili (i koji meni također dosta dobro izgleda, pa iako je to bio tipičan kraj ovakvih filmova u ono vrijeme) je izbačen iz finalne verzije
- Originalno ime filam je trebalo biti - "Rest in Peace"
- Nancy Mott, koja igra u filmu Lucy, kasnije se udala za Toma McLoughlina, redatelja filma
- Allan je imenovan prema Edgaru Allanu Poeu, čiji je rad inspirirao film
- Martin Nosseck koji je glumio čuvara groblja je umro dva dana nakon snimanaj svojih scena, pa kad se njegova obitelj vratila s pogreba na stolu ih je čekao ček od honorara na kojem je pisalo i ''Rest in Peace Productions''


THE SCENA:
- početak filma kad vidimo Raymarov stan i djevjke u ormaru