nedjelja, 15.08.2010.
Evil Dead: The Musical (2003 - ?)

Zla Smrt Mjuzikl (2003)




Režija: Christopher Bond i Hinton Battle
Kreatori: Christopher Bond i George Reinblatt
Produkcija: Just for Laughs i Dueling Egos Productions
Glazba: Franks Cipolla, Melissa Morris, Christopher Bond i George Reinblatt
Tekst: George Reinblatt i Christopher Bond

Glume:
Ryan Ward (Ash)............................Danielle Meierhenry (Cheryl)
Victoria Nestorowicz (Linda)..........Mackenzie Lush (Shelly)
Matt Olmstead (Scott)...................Pat Brown (Ed)
Ashley Callaghan (Annie)...............Daniel Krolik (Jake)
Tim Evans (Los, prof. Knowby, Demon)

Mjuzikl se prvi put prikazao 2004 godine na ''Just for Laughs Festival'' u Montrealu
Trajanje: 95 minuta
Službena strana mjuzikla
TV foršpan mjuzikla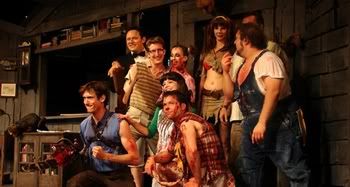 SADRŽAJ:
''- Radnja prati onu iz filma. Skupina napaljenih (zar može biti ikako drugačije?) tinejdžera zapne u izoliranoj kolibici usred šume gdje nailaze na drevnu knjigu 'Necronomicon'. Čitajući je oslobađaju sile mraka i jedan po jedan pretvaraju se u krvožedne demone.''




RECENZIJA:
- Kad sam čuo da se u Kanadi radi mjuzikl prema kultnom ''Evil Dead'' serijalu Sama Raimija sjećam se da sam rekao točno ove riječi: ''- Ma, koje su to sad pizdarije??!?". Stvarno nisam mislio da će od ovog izaći išta dobro i da je ovo samo iskorištavanje franšize i velikog broja njenih poklonika.
Kako sam se grdno prevario. Evo nema niti deset minuta nakon što sam odgledao ovaj mjuzikl mogu reči samo jedno – čudesno.
Koliko sam shvatio ovo što sam gledao je prva predstava sa originalnom postavom iz sezone 2003-04. Prvo što se vidi da je predstava imalo jako mali i ograničeni budžet, no tijekom gledanja to je detalj koji gledatelju (ali gledateljima u publici) najmanje smetao.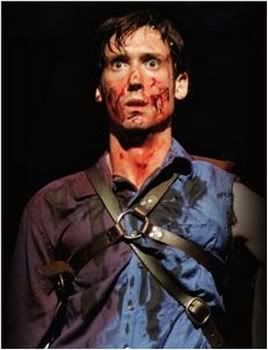 Produkcija ovog mjuzikla je uspijela u svim svojim djelovima i ne bih pretjerivao kad bih rekao da je ravan legendarnom ''The Rocky Horror Showu'' (1973), a da je čak mnogo bolji od ''Little Shop of Horrors'' (1982).
Kako bi Evil Dead fan pomislio da ne mogu ništa originalno smisliti kreatori Bond i Reinblatt ipak to čine, jer u dobro poznatu priču ubacuju neke nove elemente (nema Bobbie Joe, Henriette Knowby, ali zato imamo neka pitanja u vezi drugih likova kao što je ljubavni odnos Asha i Annie, pa uloga Eda u filmovu i sl.). Inače mjuzikl je nastao kao spoj prva dva ''Evil Deada'' sa tim da su mnogo koristili najpoznatije onlinere iz trećeg dijela (''Good, Bad..'',pa ''Well hello Mister Fancypants...'', ''You found me beautiful once...'' i druge), koji su se u same scene jako dobro uklopili i što je važnije ne izgledaju ono kao da su ih samo ubacili reda radi (čitaj: za fanove). Moram pohvaliti dijalog i sam tekst jer iako kako sam rekao da sve prati serijal ED ipak tu ima novotarija koje stvarno lijepo i osviježavajuće izgledaju. Što se tiče teksta napisanog za glazbene točke mogu reći da su pun pogodak, ne samo da su pjevne nego i zarazne, a uz to ima ih par stvarno sočnih.

Glumačka postava je odlična unatoč što neki od glumaca ponegdje malo variraju u svojim glumačkim interpretacijama, dok su u pjevačkim i plesnim točkama stvarno zadivljujući.
Od svih bih istakao najviše glavnog glumca Ryana Warda (tip sigurno ima iskustva u kazalištu kad gledam njegove pokrete po pozornici) koji ne samo da je u licu jako sličan Bruceu Campbellu nego je uhvatio njegove pokrete i facijali izraz (ovo pogotovo) iz filmova. Tip je odličan i baš se vidi da uživa u ulozi, a pjevačke mugučnosti su mu fenomenalne, te ga smatram prvim glasom glumačke postave. Što se tiče ostali koji su me također zadivili svojim glasovnim mogućnostima izdvojio bih Victoriju Nestorowicz kao Lindu čiji je glas uz Wardov u njihovim duetima prekrasan, dok je Mackenzie Lush kao Asova sestra Shelly mnogo bolja u drugoj polovice predstave nego na početku.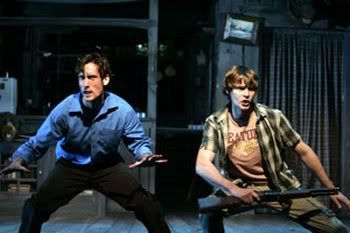 No, kakva je sama predstava? Odlična. Ne samo da su muzički brojevi bezprijekorno glasovno izvedeni nego su ugodni uhu, a sve zahvaljujući dobro napisanom tekstu i glazbi. Od svih glazbenih točaka izdvojio bih tri pjesme:

"Housewares Employee" – koju pjevaju Ash i Linda i koja je odlična ljubavna balada u kojoj se dvoje pjevača glasovno iskazuju da ih je divota slušati (podsjetilo me na ''Kosu'', a kad ovo slušaš pomisliš jebeš Disneya)
Naj stih pjesme:
''I have to ask a question to the gods above
How were we deemed worthy of this perfect love?
I'll ask the trees, I'll ask the sky
I'll ask the whole wide world''

''What the fuck was that?'' – pjevaju Ash i Scott. Legendarno i jako duhovito da sam se kidao od smijeha i pjesma zbog koje sam i išao gledati ovaj mjuzikl. Početak pjesme počinje kao ''Hanabera'' najpoznatija arija iz opere ''Carmen'' G. Bizeta, a onda njih dvojica zapjevaju ''Koji je kurac to?''...

''All the men in my life keep getting killed by Candarian Demons'' - Annie pjeva dok je Ash i Jake prate. Ne samo da je pjesma pjevna zbog milozvučnog teksta nego me podsjetila na legendarnu i meni jako dragu pjevačicu Lesley Gore, ali i na ''The Rocky Horror Show''.
Naj stih pjesme:
''First there was Ed, a really nice guy.
Didn't talk too much but I didn't mind.
I was all set to marry him, but
before we could consummate Ed was killed by a Candarian Demon.''




Predstava ima mnogo smiješnih trenutaka da je teško prebrojiti no svakako se one najsmješnije vežu za Asha i Jakea. Mnogo puta se Ash okrene publici kad nešto naglašava a što je ljubiteljima ED filmova jako poznato, dok je najsmješnija scena ona kad Jake vikne ''- Yes. That's right. I am in charge now.'', pa kad opali puškom u zrak u znak upozorenja pa mu sa stropa padne kao kreč a u stvari je neko bacio šaku brašna njemu na glavu, a on digne pogled u zrak i iznenađeno kaže: ''- Jebote, odakle je ovo došlo?'' kao da ta rečenica nije u scenariju.
Ovo je najkrvavija predstava koju sam ikad gledao (doslovno je na kraju pod prekriven krvlju), jer tu lete i udovi i glave, krvi ima kao u filmovima (prva dva reda u kazalištu se zovu 'The Splatter Zone' jer lažna krv šprica po gledateljima, a ekipa je time oduševljena...a bogme i ja), no najbolji je dio kad se Ash obračuna sa svim opsjednutim likovima (pogledaj dolje THE SCENA dio za detalje).
Mogu samo reći odlično napravljeno (koliko vidim i čujem i publika se odlično zabavila i uživala i ne vjerujem da su baš svi bili ED fanovi) a vjerujem da će u predstavi uživati svi kako i najveći Evil Dead fanovi tako i oni koji nisu upoznati sa serijalom (ma vjerujem da će ovo čak biti dobro i nekima koji vole samo kazalište, ali ne toliko i film). Evil Dead serijal je pravilno prenesen u glazbeno-plesne vode i to me jako veseli. Eh, sad da je tu predstavu i vidjeti ili barem nabaviti pravi DVD mjuzikla...ali o tome su jako škrte inofromacije. Naravno ne trebam niti spominjati da ovo današnje dijelo kod mene dobija čistu peticu.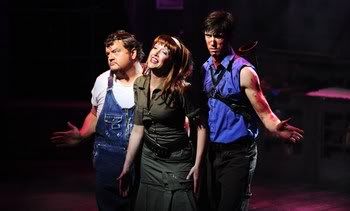 THE SCENA:
- pjesme ''Housewares Employee", ''What the fuck was that?'' i ''All the men in my life keep getting killed by Candarian Demons''
- Jake puca u zrak i dobija (neočekivano?) brašno u glavu
- Ash vs. Deaditi: najprije zarije motorku Evil Edu i trbuh i bude zaliven krvlju, Scottu izvadi srce i stisne ga prema publici a krv šprica prema njima (gledatelji su u deliriju), potom skalpira Shelly gdje joj se vidi mozak, Cheryl pogodi metkom u vrat a krv opet šprica u odličnom mlazu, Jake pogodi metkom u oko a potom Lindu koja proleti kroz drveni zdi (odličan efekt kao u filmovima), onda se opet vrati Cheryl te je pogđa u desni but iz kojeg opet šiklja lijepi mlaz krvi (pravi trash mlaz), a za kraj ga svi opsjednuti zajedno napadnu a Ash uzvikne: ''- Ohhh...Fuuuckkk!!'' Ma jednostavno prejebena scena.
- Ash pila motorkom svoju opsjednutu šaku