nedjelja, 08.08.2010.
Eclipse (2010)

Pomrčina (2010)




Produkcija: Summit Entertainment / Temple Hill Entertainment / Maverick Films / Imprint Entertainment / Sunswept Entertainment
Redatelj: David Slade
Scenarij: Melissa Rosenberg
Prema istoimenoj knjizi Stephenie Meyer

Uloge:
Kristen Stewart (Bella Swan)...............Robert Pattinson (Edward Cullen)
Taylor Lautner (Jacob Black)................Peter Facinelli (Dr. Carlisle Cullen)
Ashley Greene (Alice Cullen)............... Billy Burke(Charlie Swan)
Bryce Dallas Howard (Victoria)............Dakota Fanning(Jane)

Film je izašao u kina 30. Lipnja, 2010 godine
Trajanje: 124 minute
Budžet: oko 65 milijuna $
Zarada u svijetu: 308 262 377 $ (279 827 262 $ samo u SAD)
Zarada prvog vikenda u SAD-u: 83 637 242 $ (u 4 416 kina)
Službena stranica i foršpan filma...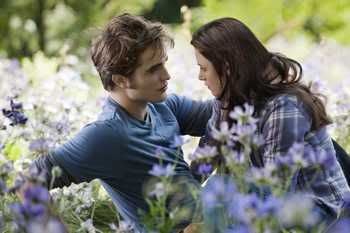 SADRŽAJ:
''- Bella i Edward ponovno su zajedno, ali njihovoj vezi prijeti nova sila: zla vampirica Victoria koja želi svoju osvetu. Bella će biti prisiljena birati između svoje prave, istinske ljubavi Edwarda i prijateljstva s Jacobom dok se nastavljaju opasne bitke između vampira i vukodlaka. Ali, postoji još jedan izbor s kojim će Bella biti suočena: smrtnost ili besmrtnost?''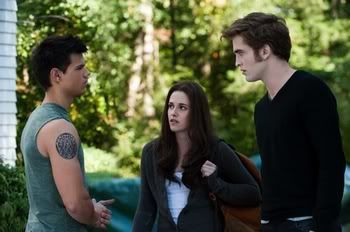 RECENZIJA:
- Evo nas i kod trećeg dijela Sumrak Sage. Jahuuu. Moram se pohvaliti da sam ovaj dio gledao čak u kinu tako da sam iz prve ruke mogao odmah složiti recenziju u glavi. No, što nam donosi treći dio i da li je ikako bolji od prošla dva dijela? Polako...idemo po redu:


Što valja kod filma:
- ovaj dio ima čak i žešćih borbi vampira u vukodlaka (napokon)
- slatka Bryce Dallas Howard glumi vampiricu Victoriju
- saznajemo Jasperovu prošlost
- saznajemo više o sporazumu Cullenovih i Quileute vukova (odlična flešbek skevenca borbe prvih vampira sa vukovima)
- detaljnost vukova tj. točno znaš koji je lik koji vuk, jer je svaki različit po boji i veličini
- Alice i ostali Culleni dobili par minuta više da ih bolje upoznamo


Što ne valja kod filma:
- romantičarska bljuzga ljubavnog trokuta Belle, Edwarda i Jacoba se nastavlja
- previše krupnih kadrova Belle i Edwarda
- film je trebao biti kraći barem 24 minute
- koncept vampira i 'vukodlaka'
- scenarij i režija
- dijalozi previše patetični i nezanimljivi
- borba vampira i vukova jako slaba bez andrenalinske akcije
- drugi likovi u nekim djelovima zanemareni u svojoj boljoj karakterizaciji i podčinjeni glavnim likovima Isabelle, Edawrda i Jacoba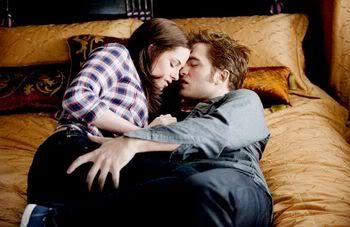 Završna riječ:
- Najgori dio u serijalu. Možete misliti da sam jedva čekao da film završi. Previše tu ima patetike, a sam redatelj se totalno izgubio u ovom filmu. Ne znam zašto i kako se uspio pogubiti u ovakvoj vrsti filma, pa iako mu scenarij nije nimalo pomogao (Melissa Rosenberg koja je napisala i scenarij za prošla dva filma je ovdje ultra loša) mislio sam da će njegov redateljski mozak izvući maksimum, ali sam se prevario (izgleda da mu se odbilo o glavu ono kad je rekao da neće niti primirisati ovom serijalu da bi samo nakon par dana zasjeo u redateljski stolac). Stvarno kad pogledaš da je on režirao tako odlične naslove kao što su ''Hard Candy'' (2005) i ''30 Days of Night'' (2007), a onda je uspio napraviti ovakvo govno od filma.. Ma da je barem tu borbu prikazao malo žešćom i krvavijom, ali nije ni to uspio ostvariti (tu bih sigurno trebao kriviti producente). Ostaje pitanje kakav bi film bio da ga je u svoje ruke preuzela Drew Barrymore (ozbiljno se razmišljalo da ona bude redatelj ovog dijela)...sigurno bi po mojoj procijeni bio najbolji u serijalu, jer slatka Drew ima mota i to ne samo za glumu i produkciju.

Što se tiče glume ona je ovdje dno dna, a to vrijedi samo za tri glavna lika koje glume Pattinson, Stewart i Lautner, jer svi ostali glumci koje glume sporedne likove šišaju ovo troje za par dužina. Baš taj trojac bi trebao biti glavni motor serijala, no po meni nemaju niti karizmu za ovakvu vrstu serijala (kao recimo ostali gl. likovi u također uspiješnim serijalima poput recimo Harry Pottera). Jednostavno ne znaju glumiti i facijalno izražavati osjećaje, nego su jednobojni, drveni i bezlični.
Jedna Victorija (slatku Rachelle Lefevre ovdje zamjenjuje isto tako slatka Bryce Dallas Howard), koja je gl. negativac priče ima više karizme nego svo troje glavnih likova, a to treba zahvaliti mladoj i talentiranoj glumici koja ju glumi. I opet karakterizcaija i njena zastupljenost u filmu je svedena na minimalac, što je pravi zločin, ali je ipak dovoljno da ju se proglasi jednim od velikih pluseva samog filma.




Nadalje moram reći da je najveća ludost u filmu vezana za vampire. Ovdje prvi put vidimo smrt nekoliko njiih i ispadaju više kao neki ledeni rođaci T-1000 (scena sa tekućim dušikom) nego vampiri...majko moja. Kad sam vidio kako rastavljaju jednog od vampira na djelove (jedino ih tako možete ubiti, a za svaki slučaj ih zapalite jer gore bolje nego oni zombiji u ''The Living Dead at Manchester Morgue'') pomislio sam da moraš stvarno biti ultra idiot da popušiš takvu idiotariju.
Po meni su ovo bića koja su samo umislila da su vampiri, a o tzv. 'vukodlacima' sam rekao sve u prošlom postu pa je i suvišno što nadodavati.
Najveći trenutak filma je trebala biti borba loših vampira protiv udruženih snaga Cullena (jel se to izgovara kao Kulen?) i 'vukodlaka'/vukova. Ima tu koji dobar detalj u smislu pojedinih akrobacija kad se timski bore dobri vampiri i vukovi, no ta vam je borba na razini one u prvim ''Narnijskim Kronikama'', a to znači imaš sve (epski trenutak, makljaža i sl.) a kad gledaš nemaš ništa (nema efektivnosti, dramatike i sl.).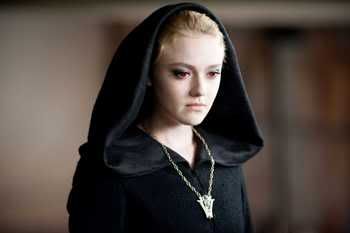 Ovo je definitivno razočarenje na kvadrat. Jedino dobro kod ovog filma su sporedni likovi, a sve ostalo je žali me Bože. A ako ste bili hrabri i gledali prva dijela sad vam kažem – izbjegnite gledanje ovog, jer moglo bi vam stvarno biti zlo od krupnih planova Belle i Edwarda (mislim da bi ovaj film u pogledu toga mogao biti svojevrsni rekorder) koji si kroz cijeli film govore jedne te iste srcedrapajuće ljubavne rečenice sa kojima ne pretjerivaju ni ove meksičko/brazilske sapunice. Ja sam vas upozorio, a vi se ravanajte po svojim nahođenjima...


THE SCENA:
- Fajt Victorije i prokletog Edwarda