četvrtak, 05.08.2010.
New Moon (2009)

Novi Mjesec (2009)




Produkcija: Imprint Entertainment / Summit Entertainment / Sunswept Entertainment / Temple Hill Entertainment
Redatelj: Chris Weitz
Scenarij: Melissa Rosenberg

Uloge:
Kristen Stewart (Bella Swan)..............Robert Pattinson (Edward Cullen)
Billy Burke(Charlie Swan)...................Peter Facinelli (Dr. Carlisle Cullen)
Ashley Greene (Alice Cullen)..............Taylor Lautner (Jacob Black)
Michael Sheen (Aro Volturi)...............Dakota Fanning(Jane)

Film je izašao u kina 16. Studenog, 2009 godine
Trajanje: 134 minute
Budžet: oko 50 milijuna $
Zarada: 296 619 304 $ (samo SAD) i 27 083 155 Ł (u UK)
Službena stranica filma
Foršpan filma...
Nagrade: 1 osvojena i 14 nominacija (među kojima su i 2 Saturn nagrade )




SADRŽAJ:
''- Ubrzo nakon Bellinog 18. rođendana, Edward je odlučuje ostaviti ne bi li je tako uspio zaštiti. Dok slomljena srca sama mjesečari kroz zadnju godinu škole, Bella otkriva da Edwarda može zazvati kad god je u opasnosti. Njezina želja da pod svaku cijenu bude s njime potiče je da poduzima sve veće životne rizike. Uz pomoć Jacoba Blacka, prijatelja iz djetinjstva i pripadnika tajanstvenog plemena Quileute, Bella za svoje pustolovine prerađuje motocikl. Bellino ledeno srce postepeno otapa prijateljstvo s Jacobom koji i sam čuva nadnaravnu tajnu.

Kada sama odluta na livadu, Bella se nađe licem u lice s ubojitim napadačem. Tek je intervencija čopora nevjerojatno velikih vukova spašava od sablasne sudbine, a tada joj postaje jasno da se još uvijek nalazi u velikoj opasnosti. Utrkujući se s vremenom, Bella saznaje drevnu tajnu plemena Quileute i stvarni razlog zbog kojega ju je Edward ostavio. Također, suočava se s mogućnošću smrtonosnog susreta s voljenim, a taj je susret prilično drukčiji nego što ga je ona zamišljala.''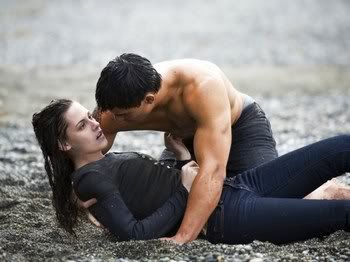 RECENZIJA:
- Evo nas i na drugom dijelu sada već ultra mega popularne Sumrak Sage. Što ima nova i da li je ovaj dio bolji od prošloga? Duljiti nećemo nego evo kako je ispao Novi Mjesec:


Što valja kod filma:
- Jacob dobija bolju minutažu, a bogme i slatka Victoria; Bellin stari je i dalje zakon
- vedriji je od prvog dijela
- ima odličan i jako zanimljiv soundtrack (jedan od najboljih što se tiče soundtracka rađenih za tinejđersku publiku)
- pojava Voltura i tu i tamo poneki solidan fajt
- Michael Sheen kao vođa Voltura odličan kao i mala Dakota Fanning, a gdje bi bio film sa Indijancima da nema kultnoga Grahama Greenea u epizodnoj ulozi
- Kretanje vampira mnogo bolje izgleda i više ne liče toliko na Flesha
- Kad se Jacob pretvori u 'vukodlaka' vidi se kako su mu se gaće i majca razletile na sve strane (nije lako biti vukodlak moraš imati mnogo robe, a Jacob se mogao slobodno porazgovarati sa Hulkom u vezi prihvatljive obleke)




Što ne valja kod filma:
- izgleda kao modernizirana verzija Romea I Julie sa vukodlacima i vampirima
- glumci koji glume Bellu, Edwarda i Jacoba i dalje su slabi ili osrednji u svojoj glumi
- scenarij nedorečen i dalje pati od onih prenatrpanih Oh Bella Oh Edward scena, dok Isabellina neodlučnost polako živcira i već najveće romantičare
- kad se Jacob ošiša sve kod njegovog lika odlazi u nepovrat (postane neki zbunjeni šminkerčić) a bogme u nekim trenucima se primeti da tip nosi loše postavljenu periku
- stvari koje su mi išle na živce:
Jacob vukodlak (dlakavost je izražena kod vukodlaka) a cijeli neki izbrijani svud po tijelu (di su mu dlake??)
kako to da mogu 3-4 mlada vukodlaka koji su tek zadobili moći sjebati vampira starog 300 godina sa tako dugim iskustvom (jedino ako je taj vampir prava tetkica, ali bi onda i barem jedan mladi vukodlak bio koknut)
- je ta Bella stvarno smotana, stalno pada i razbija se (dugo nisam vidio tako smotanog filmskog lika)
- mitologija vukodlaka ovdje odlazi doslovce k vragu (ovo za mene nisu vukodlaci pa da me jebeš koliko god se tjerao na to da prihvatim, a gledao sam sve vrste filmskih vukodlaka i svi su mogli kako tako proći, pa i onu u najgorim smećima od filmova) jer ovo je priča o ljudima koji se pretvaraju u ogromne vukove (zašto mi sad na pamet prvo pada odličan ''Wolfen''?)
- metarmorfoza iz čovjeka u 'vukodlaka' iliti ogromnog vuka je tako nenormalno brza da je to najbrža transfromacija ikad ako se gleda vukodlak podžanr (iako to nisu vukodlaci...jesam li to već napomenuo?) a mislio sam da neću vidjeti bržu od one u ''Van Helsingu''...ta metarmorfoza više me podsjetila na one crtiće s Duškom Dugouškom (dobro Zekoslav Mrkva) gdje se tip pretvara u gospodina Hyda na puf paf način
- Jacob i Edward se nisu pofajtali za Bellu (k vragu)
- kraj filma jadan




Završna riječ:
- Što reći nego da je opet bilo više negativnih stvari nego pozitivnih. Problem ovog kao i prošlog filma je što se suzdržaje u nekim žeščim scenama i što se dodvorava tom prokletom PG-13 predikatu. Doduše film ima tu i tamo koju dobru scenu, par zanimljivih novih likova (Volturi, Emily Young, Mike Newton) ali dalje od svega toga nikako ne ide.
Film je previše prepatetičan u nekim svojim nastojanjima da izrazi neke vrlo očigledne stvari (bezvremenska ljubav Isabelle i Edwarda) i to je onaj dio koji mi najviše smeta, uz to što su Jacoba mogli napraviti malo realističnijeg (iako kao takav izgleda kao najsimpatičniji i najživahniji lik filma) a ne što su ga napravili nabildanijom i toplijom verzijom Edwarda Cullena. Opet tu nisu iskorišteni Bellini prijatelji što je također određene vrsta minusa (kako kome meni sigurno jeste, pa iako to nisam gore spomenuo). Šteta što nisu bolje iskoristili onog rasta vampira Laurenta, dok su upijeli Victoriju prikazati u zanimljivom svijetlu iako je imala jako malu minutažu.
Opet ću reći kao i za prošli film – ovo je samo za tinejđerice koje svršavaju na Jacoba i Edwarda, te ih patnja Belle intrigira i zaokuplja, ostali hard core fanovi možete zaobići film, jer filmova ovakve vrste ima u drugim žanrovima u kojima nisu važni vampiri ili vukodlaci, a ako ništa drugo uvijek možete pogledati Underworld serijal zar ne?




THE SCENA:
- Mike Newton jadnik zaljubljen u Bellu pokušava zadobiti njene simpatije nasuprot mišićavom Jacobu. Scena u kinu gdje Bella sa njima dvojicom ide gledati neki ŽNJ kacić je stvarno legendarna...