subota, 31.07.2010.
Jason and the Argonauts (1963)

Jason i Argonauti (1963)




Produkcija: Morningside Productions / Columbia Pictures Corporation
Redatelj: Don Chaffey
Scenarij: Jan Read i Beverley Cross
Glazba: Bernard Herrmann
Specijalni efekti: Ray Harryhausen i Arthur Hayward

Uloge:
Todd Armstrong (Jason)..............Nancy Kovack (Medea)
Gary Raymond (Acastus).............Laurence Naismith (Argos)
Niall MacGinnis (Zeus).................Honor Blackman (Hera)
Nigel Green (Herkules)................Jack Gwillim (kralj Aeëtes)


Film je izašao u kina 23. Lipnja, 1963 godine
Trajanje: 104 minute
Budžet: oko 1 milijun $
Foršpan filma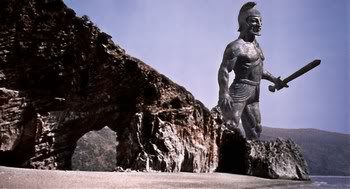 SADRŽAJ:
''- Mitska Grčka. Zli Pelias je osvojio Tesaliju i postao okrutni vladar, ali prema legendi će ga neki mladić zbaciti sa trona. Taj mladić je Jason pa ga Pelias pošalje u Kolhidu po legendarno zlatno runo nadajući se da će ovaj poginuti na svojoj nemogučoj misiji. Jazon unajmi brod Argo i hrabre mornare, među kojima su i Herkul, Kastro i Orfej. Na svojem putovanju stignu na otok na kojem ih napadne ogromni kip Talos, prođu morski prolaz smrti, pobijede Harpe ali i sretnu Medeju, u koju se zaljubi Jason. Konačno, stignu do mjesta na kojem se nalazi zlatno runo..''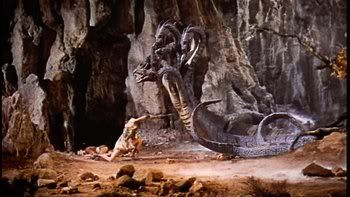 RECENZIJA:
''- Jednom je Tom Hanks u nekom od svojih mnogobrojnih intervjua koje je dao novinarima izjavio: ''- Svi misle da je ''Građanin Kane'' najbolji film ikad snimljen, ali kad ste te 1963 bili mlad pravi je odgovor bio – ''Jason i Argonauti''. Sličnog sam mišljenja i ja bio kad sam ovaj film prvi put pogledao sa koji 6-7 godina i ostao paf...koji prejebeni efekti. No, otkrijmo dobre i loše strane ovog fantasy klasika:

Što valja kod filma:
- specijalni efekti Raya Harryhausena
- glazba Bernarda Herrmanna
- film ima nekoliko epskih fantasy scena
- Nigel Green kao malo drugačiji Hercules (po fizonomiji)
- Argonauti izgledaju realno i uvjerljivo
- u filmu glumi Honor Blackman
- odlična montaža i neki određeni kadrovi tijekom borbi sa raznim monstrumima


Što ne valja kod filma:
- scenarij i gluma, te dijalog
- previše stereotipni likovi (fali karakterizacije)
- film ne prati originalnu priču iz grčke mitologije




Završna riječ:
- Koliko je film danas zakon nakon što sam ga nakon mnogo godina opet pogledao? Efekti su i dan danas jedni od najboljih ikad viđenih na filmu i ne samo to...oni šišaju neke današnje CGI efekte u filmovima sa ogromnim 100 mlijunskim budžetima bez problema.
A film je napravljen daleke 1963 godine. Sam Harryhausen kaže za ovaj film da mu je najdrži u karijeri (gleda se na rađene efekte), a ja bih se složio sa tom konstatacijom (iako ni ostali efekti u drugim filmovima kao primjerice u serijalu o Sinbadu moreplovcu nisu nimalo slabiji od ovih u ovom filmu). Najveći adut samog filma je upravo ta legendrana četvero ipo minutna borba kostura sa Jasonom i njegova dva Argonauta, koju je u stop animaciji Ray radio puna četiri mjeseca, no trud se itekako isplatio jer su te scene po mom mišljenju nakon one scene borbe Konga i T-Rexa iz originalog ''King Konga'' (1933) nešto najbolje što je stop motion animacija prikazala na filmu.
Glazba je također odlična iako je malo ljudi o njoj pričalo, no kad kažem da je autor Bernard Herrmann (partitura iz Psiha je njegovo djelo) onda mislim da sam sve rekao, jer je on ipak stari mačak filmske glazbe koji u svojoj karijeri nikad nije imao slabo ostvarenje.

Iako mi se svidjela ideja da Herkules nije neki nabildani tip ala Steve Reeves i to što ekipa što glumi posadu Arga izgleda fizički vrlo uvjerljivo (nisu nabildani kao recimo u ''300'' nego imaju pivske trbušćiće i izgledaju poput mene ili vas), te što se u cijeloj glumačkoj postavi ne nalazi neko poznatije glumačko ime osim lijepe Honor Blackman (Cathy Gale u seriji ''The Avengers'' i Pussy Galore u oo7 filmu ''Goldfinger'') ipak film ima par dosta zapaženih mana.

Kako je Ken Hanke rekao i sa čim se u potpunosti slažem: ''- Izvrsni specijalni efekti Raya Harryhausena, bezvoljni scenarij i gluma." Tandem Read i Cross su možda uspijeli osmisliti borbe i akciju, no u pogledu dijaloga i protoka radnje sve to izgleda bez ikakve zanimljivije ideje (slična stvar se dogodila i ovogodišnjem ''Sudaru Titana''). Tako nemamo ama baš niti jedan pamtljivi razgovor ili neku odlično izgovorenu rečenicu, te sve ostaje nekako suho i apatično, te se baš vidi ta njihova bezidejnost da kvalitetno popune djelove između borbi sa raznim beštijama (u filmu to izgleda ovako borba sa Talosom – dosadni dio – borba sa Harpijama – opet nezanimljivi dio i td., pa sve do završnog epskog dijela i borbe sa kosturima...a onda naprosto film završi u sretnom tonu). Sa glumom je ista stvar. Nitko se ne ističe, pa iako se gl. glumci Armstrong i Kovack stvarno trude dati nešto više, ali to jednostavno ne ide.

Sve u svemu unatoč tih 2-3 minusa film izgleda mnogo bolje nego neki moderniji fantasy filmovi (npr. ''Eragon'') i svakako on sam spada u sam vrh tog žanra (hoće li više taj rimejk a da ne ispadne kao ''Clash of the titans''?). Svakako gledati, jer ovo je istinski klasik...




Zanimljivosti u vezi filma (TRIVIA):
- Kosturi na svojim štitovima imaju ilustracije Harryhausenovih kreacija iz prošlih filmova na kojima je radio (hobotnica iz ''It Came from Beneath the Sea'', 1955 i čudovište Ymir iz ''20 Million Miles to Earth'', 1957)
- U početnim idejama za film Sinbad se trebao udružti sa Jasonom u ovoj avanturi, a od čudovišta koja su se trebala pojaviti su - Scila i Haribda, Kerber i jedan od Kentaura
- Neki od glumaca su u filmu sinkronizirani glasovima drugih glumaca (Eva Haddon je posudila glas Nancy Kovack, a Toddu Armstrongu britanac Tim Turner)


THE SCENA:
- Sedam kosturskih ratnika (The Children Of The Hydra) vs. Jason i njegova dva Argonauta u borbi epskih proporcija.
Svaki pokret kostura je odličan i dobro ukomponiran sa živim glumcima (ima padanja, odličnog mačevanja, udaranja štitovima, odsjecanja, probadanja...ma svega).
Najbolji detalji su kad u jednoj od scena na kratko vidimo kostura sa krvavim mačem ili kad jedan od Argonauta sredi jednog kostura kojeg prebaci preko sebe, a drugog koji se sa mačem zaletio na njega također prebaci preko sebe nogama. A tek kad kosturi krenu u napad i jezivo kriknu.... uživancija.