ponedjeljak, 05.07.2010.
Loch Ness Terror (2008)

Užas iz Loch Nessa (2008)





Produkcija: Insight Film Studios / Lochness Production
Redatelj: Paul Ziller
Scenarij: Jason Bourque i Paul Ziller

Uloge:
Brian Krause ( James Murphy)
Niall Matter (Josh Riley)
Carrie Genzel (šerif Karen Riley)
Amber Borycki (Zoe)

Film je izašao na američkoj televiziji 5. siječnja, 2008 godine
Trajanje: 91 minuta
Foršpan filma...



SADRŽAJ:
''- Čudoviše iz Loch Nessa pomoću podvodnih špilja dolazi na jezero Superior i počne da terorizira stanovnike malenog gradića Ashburn na otoku Pike. Dok se čudovište gosti neporeznim ljudima koji se previše približu njegovom lovnom terenu, na tragu mu je vješti kriptozoolog James Murphy, koji je jedini preživio susret sa čudovištem prije 30 godina na škotskim obalama Loch Nessa. Kada James uspije ući u trag ogromnom gmazu shvati da je on u stvari ona i da ima potomstvo, koje raste sve veće i veće. Sljedeća meta grupi čudovišta su stanovnici gradića Ashburn, a jedini koji im može stati na put su odvažni kriptozoolog i šerif Karen Riley...''




RECENZIJA:
- Evo jednog tipičnog SyFy filmića no kao da je stvoren za ove vruće ljetne dane. A još kad znate da pred sobom imate film o ogromnom čudovištu (eng. Monster movie) zanimacija postaje i veća. E, sad prije nego uđemo u dublju ocijenu filma bio bi red da otrkijemo kako to uvijek biva i njegove i loše i dobre strane:

Što valja kod filma:
- ovo je televizijski ZF film
- jedan od najboljih filmova koji su se pojavili na SyFy kanalu
- CGI efekti (slični onima u XENI: Princezi ratnici)
- gluma gl. glumaca Briana Krausea i Carrie Genzel
- odlična ideja da Nessie napada po kopnu a ne u jezeru
- izaziva deja vu monster movie filmova iz 50-tih godina prošlog stoljeća

Što ne valja kod filma:
- CGI efekti u nekim djelovima filma
- scenarij i tu i tamo bedasti dijalozi
- čudovište izgleda pre miroljubivo za opakog mesoždernog predatora
- priča je slabo uvijerljiva
- napadi čudovišta više nalikuju onima iz slasher filmova, a i ponavljaju se skoro na isti način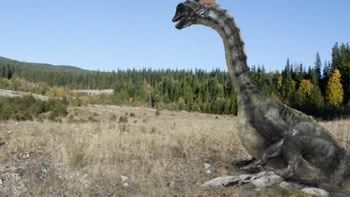 Završna riječ:
- Pogledao sam tek par filmova iz SyFy distribucije i većina je tako očajno napravljena da nakon gledanja slobodno možeš takav film okarakterizirati kao sranje. Na sreću za ovaj film to ne mogu reći, jer kad gledamo da je to ipak film rađen za televiziju onda odmah dobija omanji plus kod mene. Pohvalio bih CGI efekte koji izgledaju sasvim pristojno za ovakvu vrst filma (slobodno mogu reći da pripada C produkciji), te ugodno gledanje specijani efekti kvare samo na par mjesta (recimo primjeti se loše ubacivanje efekta sa stvarnom slikom tj. gdje monster ubija svoju žrtvu).

Druga dobra stvar kod filma što ima dobre glumce koji ga za razliku od drugih glumaca u drugim sličnim filmovima samo djelo ne srozavaju na samo dno patetike. Dodudše nemojte me krivo shvatiti Krause (serija ''Charmed'' glumio Lea Wyatta) i Genzel (glumila u Jennifer's Body i Watchmen ) ovdje samo odrađuju svoj posao, no i to je dovoljno da im gluma bude kako tako zanimljiva i uvijerljiva. Od ostalih glumaca spomenuo bih i epizodnog glumca Neil Chapmana, koji je ugodno ime u glumačkim vodama, no koji je na žalost ovdje slabije iskorišten.




Što se tiče priče ona je tipična za ovakve filmove – čudovište se pojavi (prepliva podvodnom špiljom od Škotskog jezera Loch Ness do jezera Superior u Sj. Americi?!!?) pa počne ubijati svako malo ljude, a onda se pojavi junak koji će ga ubiti (netko je lijepo spomenuo da lik krpitozoologa Murphya ispada kao neka mješavina kaubojskog Indiane Jonesa i kapetana Ahaba što je vrlo točno) sa par modernih igračaka (tako on proganja čudovište soničnim topom (?!!?!), snajperom čiji meci sadrže cijanid i sl. tehnološkim čudima za koje vjerujem da današnja vojska tek može sanjati.... heheh). K vragu kad je izvadio taj sonični top mislio sam da ide proganjati Venoma Spidermanovog najomiljenijeg neprijatelja.
Kraj filma je malo slabiji i mekši od početka i sredine gdje gmaz ubije dobru količinu ljudi u scenama koje nisu ništa specijalno, no također nisu niti ništa što bi se dalo okarakterizirati kao jadno napravljene scene. Naravno scenarij je slabo napisan i to se izraženo vidi kroz cijeli film.

Za kraj bih rekao da baš zbog toga deja vua koji gledatelja podsjeti na one glupave i jednostavne monster movie filmove iz 50-tih godina ovaj film čini tako posebnim među masu ultra loših filmova iz distribucije očajnog SyFy kanala.
Ovo je film baš da se rasterečeno pogleda kad se vratite sa kupanja i kad se zavalite u svoju ležaljku sa hladnom pivom, pa iako se koji put udaljite od ekrana nećete nešto kruncijalno propustiti. Gledati jer je ovo ipak film baš taman za ovako vruće ljetne dane...


THE SCENA:
- kad Nessie pojede simaptičnog i malo udarenog (tipičnog lika za ovakve filmove) ujaka Seana (slika dolje)