petak, 25.06.2010.
The Being (1983)

Biće (1983)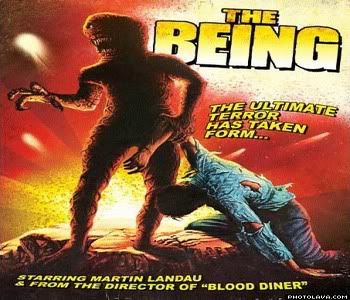 Produkcija: Astral Films
Redatelj i scenarist: Jackie Kong

Uloge:
Bill Osco...........................detektiv Mortimer Lutz
Martin Landau...................Garson Jones
Marianne Gordon..............Laurie
José Ferrer.......................gradonačelnik Gordon Lane


Film je izašao u kina 18. listopada, 1983 godine
Trajanje: 82 minute
Foršpan filma


Junak filma, a ujedno i producent ovog nusprodukta

SADRŽAJ:
''- U gradiću Pottsvilleu u Idahu ljudi počinju nestajati, a njihove nestanke istražuje revni detektiv Mortimer Lutz. Njegova istraga neko vrijeme tapka u mraku, no kad jednu večer biva napadanut od jezivog stvorenja, gdje se jedva uspije spasiti njegovih kandži shvati tko stoji iza tih misterioznih nestanaka njegovih sumještana.
Uz pomoć uglednog znanstvenika Garsona Jonesa odlazi u lov na čudovište. No, koliko će im pomoći njihova odvažnost i njihovo vatreno oružje protiv predatorskih instikta mutanta, kojeg je toksični otpad pretvorio u ono što jest, čije kandže i oštri zubi pokazuju nevjerojatnu snagu?''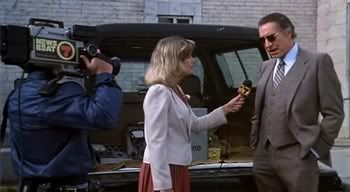 RECENZIJA:
- Ajme majko koji film. Koja dosada i kojih 82 minute potrošenih na ovakvo smeće od filma. Ova vrst creature feature filma je još jedan uradak koji spada u filmove o mutiranim čudovišitima, no nikako nije za svačije oči. Dakle, krenimo:

Što valja u filmu:
- u njemu glume Martin Landau i José Ferrer
- vidimo jedan par prirodnih dojki u gro planu
- koncept čudovišta
- 2-3 scenaristička brilijantna trenutka (početak gdje narator u stilu "Zone Sumraka" objašnjava kakva je situacij, te djelovi gdje naš junak u sebi razmišlja baš kako je to činio Dennis Weaver u "Dvoboju")


Što ne valja kod filma:
- scenarij (5-6 ljudi iz gradića je nestalo, a nitko se na to niti ne osvrće...i sl. gluparije) i skoro svi dijalozi, a nema ni soundtracka
- gluma svih glumaca osim Landaua i Ferrera
- montaža i kadrovi kamere
- glavni junak je jedan od najgorih koje sam vidio u hororima
- ovo je još jedan rip off ''Aliena''
- film obiluje nelogičnim scenama i niskobudžetnim klišejima
- kraj filma i sama borba junak vs. čudovište (sve prije žrtve je monster sredio u par sekundi, a našeg junaka razbacuje po prostoriji i samo jednom malo gricne)
- ovo je vrsta filma kojem je foršpan bolji od njega samog
- DVD ovog filma dođe nevjerojatnih 17.99$ na Amazonu!!!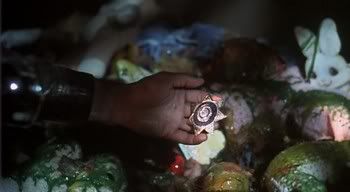 Završna riječ:
- Ovo je tako beskrvan i uspavljujući horor film da sam skoro zaspao sjedeći, pa iako on sam traje kratkih 82 minute (za moj ukus 22 minute predugo). Najprije samo čudovište ne vidimo sve do pred kraj kad se junak obračunava sa njim, no to mogu podnijeti jer znam da film nema neki budžet, ali ono što mi je polako dizalo tlak jeste njegova usporenost i što se u samoj radnji ama ništa zanimljivoga ne događa, a sam redatelj ne zna graditi atmosferu i ugođaj...k vragu ja sam siguran ni da nije znao kako snimiti film.
Tako imamo napad gdje kamera predstavlja čudovište koje napada žrtvu, pa par minuta ultradosadnih dijaloga, pa onda čudovište opet na isti način napadne (čak većinom pravi zasjede iza istog mjesta tj. sa stražnjeg sjedala raznih vozila), pa opet malo dijaloga koji služi samo da prođe do sljedećeg napada...i tako u krug.

Ovdje se baš dobro vidi tko je glumac a tko ne, jer Landau i Ferrero se ističu, pa iako ne davaju neke sjajne glumačke bravure, no i to je dovoljno da zasjene cijelu ekipu.
Iskreno, gledao sam i gore glumce u ovakvim filmovima (naručito u današnjim C i ŽNJ filmovima), tako da ovi ovdje i nisu dno dna, no jedno ime moram izdvojiti - Bill Osco, koji glumi detektiva Mortimera Lutza.
Taj tip stvarno ne zna glumiti (doduše ovo mu je prva glumačka uloga i prije ovog filma nije imao glumačkih ostvarenja), jer u svakoj sceni ima isti izraz na licu (jebote nigdje emocije!!) pa nije važno jer se treba smijati ili biti u romantičnom tonu sa konobaricom Laurie (jedan od najgorih romantičnih trenutaka koje sam ikad vidio u filmu), a jedino je malo pred kraj to otišlo u neku promjenu kad je morao kriknuti tu i tamo kad se monster pojavi pred njim. Što je najgore jadnom Oscu nije pomagao ni 'divno' napisan scenarij koji obiluje glupo napisanim rečenicama od kojih su jedino gluplje jadno osmišljene scene (dijamant tih scena je obračun čudovišta sa junakom koje traje li traje a kad pogledaš na sat prošlo je samo 10 minuta od kada se junak našao sa baštijom i dok ju nije pobijedio, a kao da je sat prošao...).
*no neka vas ova loša gluma glavnog glumca ne čudi, jer on je ipak bio glavni producent filma...mislim da na ovo ne treba trošiti mnogo riječi zar ne?

Što se tiće samog čudovišta ono vam je neka mješavina onih beštija iz ''Feasta'' i onog uglađenog vanzemaljca koji jede srca u ''Split Second'', no naravno ne spada u njihovu klasu ni pod razno.
Naravno kad napokon ugledate beštiju odmah vam je jasno da je ona čistokrvna ''Alien'' kopija i to vrlo loša (toliko loša da ima samo jedno oko, jer izgleda nisu imali dovoljno love za drugo).

Uf, mislio sam napisati stvarno kratku recenziju, ali sam se opet zapričao.
Da završim: ovakav film gledaju samo najhrabriji i oni koji stvarno vole gledati šrot filmove sa ekipom uz dosta piva, jer prosječni gledatelj horor filmova neće imati ni srca ni pameti odgledati ovaj film do kraja...dakle ocijena je – ne prilazite filmu ni za živu glavu, jer sve što ste vidjeli u reklami za film je dovoljno (da to su njegovi najbolji djelovi)...



THE SCENA:
- odlična scena gdje ekipa gleda monster film u drive in kinu gdje neki tip u gumenom odijelu proganja sisatu ljepoticu (da to je onaj par dojki spomenutih gore), a onda se tamo nađe i naše čudovište i kokne jednog napušenog tipa
- iznenađujuće napeti trenutak curice i čudovišta
- romantičan trenutak konobarice Laurie i našeg vrlog detektiva (taman prije nego odlučno krene ubiti monstera)
- kraj filma koji otvara mjesto za nastavak (NEEE!!!!)


Monster glavom i okom