ponedjeljak, 21.06.2010.
Modern Vampires (1998)

Moderni Vampiri (1998)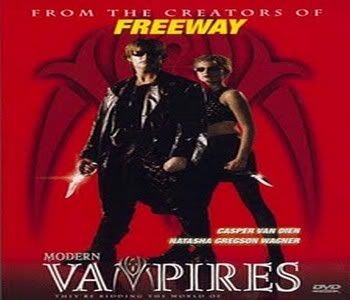 Produkcija: MUSE/Wyman / Storm Entertainment
Redatelj: Richard Elfman
Scenarij: Matthew Bright


Uloge:
Casper Van Dien (Dallas)....................................Natasha Gregson Wagner (Nico)
Rod Steiger (Dr. Frederick Van Helsing).............Kim Cattrall (Ulrike)
Gabriel Casseus (Time Bomb).............................Robert Pastorelli (Grof)
Natasha Lyonne (Rachel)....................................Udo Kier (Vincent)



Film je izašao u kina u ožujku 1998 godine (Brussels International Festival of Fantasy Films)
Trajanje: 91 minuta
Foršpan filma
Nagrade:
1998 godina – zaradio nominaciju za najbolji film na filmskom festivalu Sitges
1999 godina – zaradio nominaciju za najbolji film na festivalu Fantasporto i osvojio treće mjesto na festivalu Fant-Asia




SADRŽAJ:
''- Vampir Dallas se nakon podužeg izganstva vraća u Los Angeles, gdje i dalje nije dobrodošao. Naime grof Drakula ga je protjerao iz grada prije 20 godina kad se ovaj oglušio na zapovijed da ubije slavnog lovca na vampire dr. Helsinga. Sad uz Dallasov povratak grof muku muči i sa serijskim ubojicom koji ubija na vampirski način.
Da stvar bude još i gora u grad dolazi i Van Helsing, koji vrlo brzo okuplja pomoćnike iz redova bande Cripsa sa kojima nastavlja svoj osvetnički pohod protiv vampira. Dallas vrlo brzo otkriva da je serijski ubojica u stvari mlada djevojka Nico, koju je on sam pretvorio u vampira. Sad sa njom i svojim prijateljima ide u noćne izlaske u barove za vampire, no u jednome od njih se nalazi i Grof, koji saznaje da je Nico serijski ubojica za kojim traga. Dallasu i ostalim krvopijcima koji su u njegovu društvu život u LA-u postaje sve nepodnošljiviji, jer ne samo da ih Grof želi smaknuti nego im je za petama i Van Helsing sa svojim pomoćnicima.''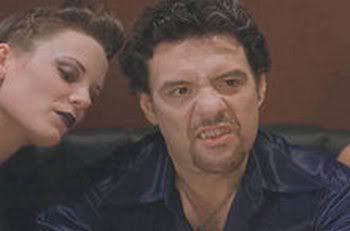 RECENZIJA:
''- Evo jednog vampirskog filma kojeg mnogi nisu vidjeli, a koji su po mom osobnom mišljenju trebali pogledati. Iako, nikad ovaj film neću staviti među recimo najdražih 10 vampirskih filmova ikad snimljenih on svakako zauzima posebno mjesto u mom srcu. No, da prije opširnijeg objašnjavanja zašto mi se ovaj film toliko dopada spomenimo njegove dobro-loše strane:


Što valja kod filma:
- fenomenalna glumačka postava i scenaristički onlineri
- karakterizacija Van Helsinga
- poneki humorisitički dijalozi, te oni koji se tiču Van Helsingove prošlosti
- humor i satiričko-socijalni pristup koji se ne viđa često u drugim vampirskim filmovima
- film u nekim djelovima hvata atmosferu drugog ''Bladea'' (vampirski barovi), te u istoj dozi ''Innocent Blood'' (lik Nico i vampirsko režanje) i ''From Dusk Till Dawn" (maske vampira)
- ovo je drugi najbolji film u kojem glumi Casper Van Dien (nakon ''Starship Troopersa'')
- ovo je još jedan film u kojem Udo Kier glumi vampira
- saznajemo da ako se ševiš sa vampirom također možeš postati vampir
- film je prepun golotinje i predivnih pogleda na prirodne ženske grudi (No Silicone)



Što ne valja kod filma:
- ovo je jedan čudan i vrlo trasherski nastrojen vampirski film
- ponekad je gluma nekih glumaca otišla u preglumljivanje
- specijalni efekti
- neke nelogičnosti u djelovima priče (šta im znači ona montirana značajka kad vampir ugrize i prikažu se neke art fotke?) i ponegdje lošija montaža (najčešće pri kraju filma)
- Casper Van Dien glumi u filmu (*ovo je za one koji ga ne mogu smisliti)
- Scenarist Matthew Bright je želio mračniji manje smiješan/kičast horor film, dok je Elfman želio filmu podariti više zajebancije...i na kraju je ispalo ovo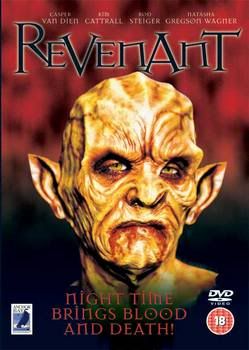 Film je poznat i pod imenom "Revenant"

Završna riječ:
- Ne znam kako su producenti uspijeli aganžirati legendu Roda Steigera (Juan Miranda iz Leoneovog remek djela ''Duck, you Sucker!'' iz 71') ali svaka im čast na tome, jer je odglumio Van Helsinga na vrlo originalan i ultra smiješan način (za austrijski izgovor mu je pomoglo što ima i njemačkih korijena).
Kad bi ga trebali uspoređivati onda bih rekao da njegov Helsing neka ugodna mješavina Dr. Samuela Loomisa Donalda Pleasencea (fanatično proganjanje svog nemesisa) i Petera Vincenta iz ''Fright Nighta'' (komični ubojica vampira), jer Steiger kao da je uspio od ta dva lika pokupiti ono najbolje i stvorio vrlo zabavan horor lik, pa iako će ta glumačka interpretacija nekome biti naporna i iritrajuća.
Još jedna dobra stvar samog lika dr. Van Helsinga je ta da on kako film ide svom kraju i nije tako dobra osoba kakvom se čini na početku (ili kako se on prezentira u drugim vampirskim filmovima), jer kako otkrivamo od samog grofa Drakule naš je doktor surađivao sa Nacistima u raznim eksperimentima na ljudima.




Redatelj Richard Elfman (brat od kompozitora Dannyja Elfmana) je uspio sakupiti odličnu glumačku ekipu u kojoj je svaki pojedinac dao originalne likove:
– Kim Catrall (Samantha Jones iz ''Sex and the City'') je ovdje oglumila vampirsku verziju Samanthe i vidi se po njoj da je uživala u svojoj ulozi (zadržala je svoje vampirske zube nakon snimanja)
- Udo Kier...a ljudi moji što reći nego još jedna odlična i zanimljiva uloga, pa iako je već po ko zna koji put glumio vampira (6 mjeseci nakon ovog filma glumit će vampira i u prvom ''Bladeu'')
- Casper Van Dien (Johnny Rico iz ''Starship Troopers'') je glumac kojeg mnogi ne vole na način na koji mnogi ne vole Stevena Segala, no ako se mene pita Dien i nije tako loš glumac ma u kojem god govnetu od filma glumio. Da, nije baš da je glumački sposoban dati svome liku neku uvjerljivost i toplinu da ga gledatelji kako tako prihvate. Kako sam rekao ovaj film je njegov drugi najbolji film i ovdje funkcionira sasvim zadovoljavajuće, pa iako je po glumi posljednje glumačko ime po svom ostvarenju.
- Natasha Gregson Wagner (najstarija kćer Natalie Wood) je vrlo ugodna figura filma, pa iako i njena gluma šteka (posebice u sceni kad susreće svoju majku u prikolici) i ona je odradila svoj posao baš poput Caspera sasvim zadovoljavajuće.
- Robert Pastorelli je imao i boljih uloga od ove, ali eto i on se uklopio u čudnu atmosferu filma...ali šta je je prepustio se i malom preglumljivanju (pristao glumiti u filmu samo kad je saznao da će glumiti uz R. Steigera)
Ostali sporedni glumci su obavili svoj posao više nego dobro (izdvajam epizodnu ulogu Natashe Lyonne, koja je ovdje šećer na kraju ) i što je najbolje nitko od njih nije podbacio.




Jedino efekti nisu ovdje najbolji (unatoč tome što je Rick Baker bio savjetnik), no to se mora prihvatiti jer se izgleda sva lova potrošila na glumce. Humor je na nivou i film ima onu crnohumornu crtu koju smo vidjeli recimo u ''Vampire in Brooklyn'' (1995).
Moram reći da mi je film izmamio par puta osmijeh na licu i to najviše na račun Steigerovog Van Helsinga i njegovih pulena Cripsa (seks sa vampiricom je jedna od najbolji scena filma).
Znam da film neće biti mnogima tako dobar kao što je meni jer će očekivati pravi vampirski film, no ono što budu vidjeli silno će ih razočarati, jer se film drži više socijalnih tema (vampiri su ovdje više ljudi nego pravi vampiri, nitko od dobrih likova nije ultra pozitivan lik i sl.) sa izrazitom satirom na današnje društvo (vampirizam pada u drugi plan iako vampire gledamo od samog početka filma), no po meni je ovo jedan od boljih vampirskih filmova i sigurno jedan od najboljih koji su snimljeni u 90-tima. Ovaj hororac preporučam ne samo ljubiteljima Caspera Van Diena nego svima koji vole uživati u dobroj zajebanciji uz ekipu i to uz mnogo kokica i piva.


THE SCENA:
- svaka sa Van Helsingom
- gang bang sa vampiricom Ulrike u kojoj sudejluju Helsingovi puleni Cripsi (slika dolje)