nedjelja, 06.06.2010.
Phantoms (1998)

Fantomi (1998)




Produkcija: Dimension Films / Fuji Creative Corporation / Miramax Films / NEO Motion Pictures / Raven House
Redatelj: Joe Chappelle
Scenarij i autor istoimene knjige: Dean R. Koontz
Šminka i maske: KNB Efx


Uloge:
Ben Affleck (šerif Bryce Hammond)...............Peter O'Toole (Dr. Timothy Flyte)
Rose McGowan (Lisa Pailey)..........................Joanna Going (Jennifer Pailey)
Liev Schreiber (Stuart 'Stu' Wargle)...............Clifton Powell (Gen. Leland Copperfield)
Bo Hopkins(Agent Hawthorne)......................Robert Knepper (Agent Wilson)


Film je izašao u kina 23. siječnja, 1998 godine
Trajanje: 96 minuta / 92 minute (Argentina)
Zarada: 5 657 370 $ (samo SAD)
Zarada u prvom vikendu u SAD: 3 065 951$
Foršpan filma...
Nagrade:
1998 godina – zaradio nominaciju za nagradu Saturn u konkurenciji najboljeg horor filma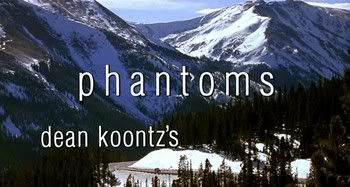 SADRŽAJ:
''- Priča počinje kada dvije sestre, Lisa (Rose McGowan) i Jenny (Joanna Going) stižu na zimovanje u Colorado. Tamo otkrivaju da je njihova gazdarica mrtva i da je gradić poptuno pust. Njima se uskoro pridružuje šerif Bryce (Ben Affleck) i njegovi zamenici Stu (Liev Schreiber) i Steve(Nicky Katt). Oni zaključuju da je grad pust zbog toga što su svi mrtvi ili nestali, ali kada krenu prema lokalnom hotelu, čuti će pjesmu sa radija na drugom katu, gdje u nejasnoj poruci piše "Timothy Flyte" i "davni neprijatelj". Pošto Stua napada užasavajuće stvorenje koje mu isiše mozak, Bryce poziva pomoć preko radija. Federalna policija, zatim, dolazi u kontakt sa Flyteom (Peter O'Toole), profesorom iz Engleske koji im objašnjava teoriju "davnog neprijatelja" koji povremeno izlazi na površinu zemlje i ubija sve na koje naiđe. Dok je istrebljenje ljudskog roda na pomolu, profesor Flyte i vojska komandosa stižu u Colorado sa utvrđenim planom borbe.''




RECENZIJA:
''- Evo jednog malog ZF filmića koji je kod većine ostao nezamijećen, no po meni zaslužuje da se o njemu priča kao o dobrom filmu. No, naprije obavimo formalnosti:

Što valja kod filma:
- atmosfera i ugođaj
- prvih 45 minuta
- scenarij i radnja
- glumačka postava (Peter O' Toole je svakako prvo ime filma)
- Ben Affleck ovdje solidno glumi (nije za đabe Jay izjavio ''- Affleck, you the *bomb* in Phantoms yo!'' u ''Jay and Silent Bob Strike Back'', 2001)
- film ima ''John Carpenter's The Thing'' (1982) i ''The Blob' (1988) dejavu
- ovo je prvi pravi film prema nekoj knjizi Deana R. Koontza
- u cameo ulozi se pojavljuje Bo Hoskins
- šminka i maske (zaslužni legendarni KNB Efx)


Što ne valja kod filma:
- slabijih posljednih 30 minuta filma
- CGI efekti (zaslužan studij Steve Johnson's X.F.X. Inc)
- Film puno posuđuje i kopira neke detalje od filmova ''John Carpenter's The Thing'' (1982) i ''The Blob'' (1988)
- Izgleda kao malo bolje producirana epizoda SF serija ''X- Files'' i ''PSI Factor''
- Ponekdi djelovi scenarija pri kraju i poneki dijalog
- u filmu glumi Ben Affleck
- poneki SF klišeji i kraj filma koji otvara mogućnost za nastavak




Završna riječ:
- Kako sam rekao ovo je jedan mali lijepi Sci Fi filmić, koji nije bez mana, no svakako spada u bolja znanstveno fantastična ostvarenja prošlog desetljeća i po meni spada uz bok zabavnom ''The Faculty'' R. Rodrigueza, koji je gle čuda nastao iste godine kao i ''Fantomi'' (a bogme oba filma puno posuđuju od Carpenterovg ''Stvora'').
Ono što je najveća mana filma (a koliko sam čuo i knjige, no to ne mogu potvrditi pošto ju nisam još nabavio i pročitao) jest što film bolje izgleda dok se čudovište ne vidi nego kad se na kraju otkrije tko stoji iza nestanka 400-ine stanovnika Snowfielda, jer se iz tad film iz odlične horor atmosfere i ugođaja pretvara u već viđenu SF triler avanturu.

Osim što sam primjetio velike sličnosti sa ''Stvorom'' ('Stu' Wargle i njegovi pipci), koja mi nimalo nije smetala, također sam primjetio i da film ima onaj ugođaj koji je imao ''The Mist'' (2008) i to na onaj najbolji način (atmosfera i leteća beštija nalik na moljca što siše mozak).
Redatelj Joe Chappelle (''Halloween: The Curse of Michael Myers'' (1995) mu je bio prvjenac) je pokazao da ima dara kad mu se nađe pristojni scenarij, dosta dobra glumačka ekipa i solidni ostatak filmske ekipe (prvenstveno momci i cure iz studija KNB Efx).
Joe polako gradi atmosferu ne prikazivajući mnogo te se oslanja na onaj ključni dio filmova strave i užasa a to je ne otkrivanje svih aduta odmah na početku, oslanjajući se samo na zvukove i dobar kadar kamere.


Sam kraj filma - ''- Hey, you want to see somethin'?''

No, lošiji dio samog filma se odnosi na zadnjih pola sata kad otkrijemo čudovište, pa se tako gubi sva ona lijepo izgrađena jeza koja proizlazi iz početnog dijela. Ipak, film u nekim scenama i dalje ostvaruje jako veliku dozu napetosti (npr. pas fantom prati šerifa Hammonda u stopu dok ovaj ide iz jednog pokretnog laboratorija u drugi i nazad).
Unatoč toj malo slaboj drugoj polovici film i dalje ne gubi na snazi. Što se tiče glumačke ekipe ona je sasvim pristojna i ugodna za gledatelja, pa čak i taj nesretni Ben Affleck čija gluma u većini filmova nije bajna (neki bi rekli očajna, a ja bih se samo nadovezao kako je on ipak najbolje uloge ostvario na početku karijere u filmovima Kevina Smitha) ovdje izgleda sasvim pristojno (iako Ben ovdje izgleda premlad da bi bio već šerif..ali jebeš ga nećemo gledati dlaku u jajetu). Najviše mi se ipak dopao O'Toole kao Dr. Timothy Flyte, jer me je pomalo podsjećao na neku mješavinu Petera Vincenta iz ''Fright Nighta'' sa znanjem Marti Misterije, te se dobro glumački izbalansirao za ovakvu vrst uloge.
Rose McGowan ovdje samo služi kao lijepa djevojka koja uljepšava kadar, dok Liev Schreiber daje još jednu čudnu ali isto tako zannimljivu glumačku preformansu. Ah, da na nekoliko minuta se pojave kao agenti FBI-a Bo Hopkins i Robert Knepper (T-Bag' iz serije ''Prison Break'') što je svakako dodatni plus samom filmu.

Eto, da nije bilo tog kraja ''- Hey, you want to see somethin'?'' ala ''The Howling'' i po izgovorenoj rečenici koja baca na '' Twilight Zone: The Movie'' (točnije na sličnu rečenicu koju izgovara Dan Aykroyd ''- Hey... you wanna see something really scary?) film bi mi bio i još draži.
I ovako film mi je bio ugodan za gledanje i rado ću ga opet gledati. Svakako ga pogledajte, jer ovo jeste mali SF film sa dosta ograničenim budžetom, no svakako nije neka gluparija iz radionice Syfy-a.


THE SCENA:
- pas fantom prati šerifa Hammonda u stopu dok ovaj ide iz jednog pokretnog laboratorija u drugi i nazad
- napad opakog moljca