četvrtak, 27.05.2010.
Parasite (1982)

Parazit (1982)




Produkcija: Embassy Pictures Corporation
Redatelj: Charles Band
Scenarij: Alan J. Adler, Michael Shoob i Frank Levering
Specijalni efekti: Stan Winston

Uloge:
Robert Glaudini (Dr. Paul Dean)...............Demi Moore (Patricia Welles)
Luca Bercovici (Ricus)................................James Davidson (Wolf)
Al Fann (Collins)..........................................Tom Villard (Zeke)

Film je izašao u kina 12. Ožujka, 1982 godine
Trajanje: 85 minuta
Budžet: oko 800 000 $
Zarada: 7 000 000 $ (samo USA)
Foršpan filma...




SADRŽAJ:
''- U budućnosti gradove uništavaju radioaktivne padaline. Sve veće gradove kontroliraju moćne korporacije koje su razvile parazite koji se hrane ljudskim mesom.
Nesretnim slučajem jedan od parazita uđe u znanstvenika Dr. Paula Deana, no on ga uspavljuje pomoću injekcija, te sa drugim parazitom koji je zaštičen u posebnoj cilindričnoj posudi bježi iz laboratorija. Kad se nađe u jednom izoliranom mjestašcu, počinje niz eksperimenata kako bi uspiješno odstranio parazita u sebi. No, kad ga napadnu lokalni razbojnici i otmu mu posudu, te je otvore – pakao počinje. Deanu ostaje vrlo malo vremena, jer injekcija više nema, te uz pomoć mlade djevojke Patricije Welles (D. Moore) mora pronaći drugog parazita da bi završio svoje eksperimente. Parazit u njemu se sve više budi, dok je onaj na slobodi sve gladniji i opasniji, jer što se više hrani postaje veći, a što je veći potražnja za ljudskim mesom je izraženija.''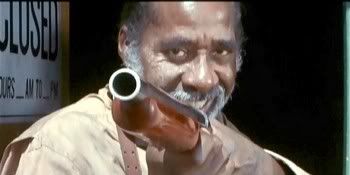 RECENZIJA:
- Nakon što je izašao ''Alien'' (1979) žanr znanstvene fantastike pa tako i horora je ispoljio mnogobrojne uglavnom loše kopije dotičnog filma.
Jedan od takvih loših nedjela je i današnji film. No, evo maloih natuknica dobrih i loših strana:

Što valja kod filma:
- Demi Moore u svom prvom filmu
- specijalni efekti Stana Winstona
- trash element
- ovo je film o parazitima


Što ne valja kod filma:
- radnja i sam tok priče
- karakterizacija likova (pogotovo Ricusa, koji se od tipičnog bezosjećajnog nasilnika odjednom pretvori u neku osjetljivu dušicu i pozitivnog lika/heroja)
- dijalozi, scenarij i gluma
- montaža i režija
- akcija (posebno žalosno koregirane tuče)
- ovo je jedan od najgorih filmova o parazitima
- elementi SF-a
- Demi Moore nije pokazala grudi
- nema niti 3 od 3D efekata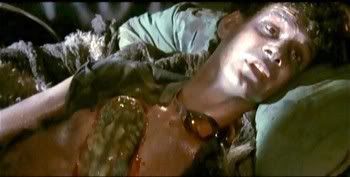 Zaključak:
- Najveći razlog zbog kojeg sam išao gledati ovaj film jeste taj što sam ga sa svojim starim gledao 1985 godine u kinu (tad su neki filmovi znali kasniti i po 2-3 godine u kino prikazivanju). Već tada sam stekao loše mišljenje o njemu, a ono se na moju nesreću nije nimalo promijenilo...štoviše i nakon 25 godina ostalo je isto.

Charles Band kao tada mladi režiser nije se iskazao, pa je razumljivo da je bolju i za nas važniju karijeru imao kao producent (sa svojim ocem osnovao Empire Pictures, da bi na kraju osnovao i Full Moon Pictures).
Ovdje uz neinspirativnu režiju imamo jako dosadan film usporenog ritma, očajne montaže i što je još gore užasno napisanog scenarija, kojeg su pisala čak tri scenarista. Hej, 3?!??
I njih trojica nisu mogli ništa bolje osmisliti. Jednostavno žalosno. Najgore od svega je to da film ne upada ni u one filmove tako loši da su na kraju dobri, a imao je u par scena potencijala.

Kažu da je ovo Sci-Fi film, a to znamo po jednoj rečenici, koja nam govori da smo u nekom futurističkom svijetu (eh da je on o takvom svijetu budućnosti govorio kao recimo Mad Max serijal...odmah bi imao za nivo veću ocijenu) i po plastičnom laserskom pištolju (da...dobro ste čuli plastičnom baš kao onaj što vam djeca kupuju na pijaci za kojih 30-40kn) u najboljoj maniri trash filmova.
Gluma je nikakva, pa iako se glavni glumac Robert Glaudini zdušno trudio da nešto odglumi, nije mu polazilo za rukom (iako moram priznati da pri sredini filma ima svojih boljih momenata).
D. Moore je na početku bila odlična, no pri kraju je glumački totalno pala i tako pokvarila dobar dojam. Ostali su nezanimljivo loši glumci, tako da tu neću mnogo pametovati.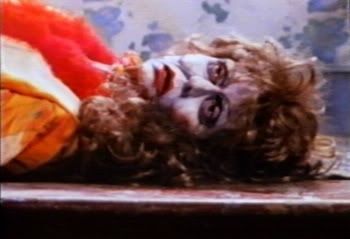 Jedino pozitivno u samom filmu su specijalni efekti, koje je radio Stan Winston i koji za ono vrijeme i za tako mizeran budžet izgledaju i više nego dobri. Šteta što redatelj to nije iskoristio u svoju korist i na najbolji mogući način, nego je išao iz greške u grešku navaljujući i pretjerivajući sa BU scenama gdje paraziti jurišaju na kameru u smislu da se prezentira nesretni 3D efekt.
Za kraj bih rekao da će se ovaj SF pamtiti ne po dosadi koju izaziva njegova radnja kod gledatelja (ali ipak začuđuje da je film uspio zaraditi 7 milijuna $, skoro 10 puta više nego je uloženo u njega) ni po nepotrebnim slow motion kadrovima ala Walter Hill i Sam Peckinpah, nego po tome što je ovo prvi film u kojem je glumila slatka Demi Moore (što lijepo i sama naslovnica kupljenog DVD-a dokazuje u kojem je smijeru reklama ovog filma započela na svom putu do potrošaća). Preskočiti definitivno....