nedjelja, 25.04.2010.
Under the Mountain (2009)

Ispod Planine (2009)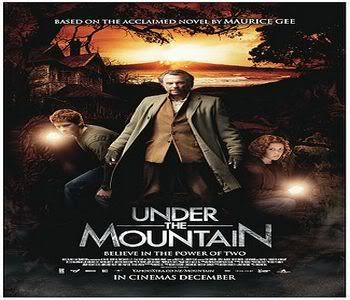 Produkcija: 120dB Films / Index Films / Liberty Films / New Zealand Film Commission / New Zealand On Air
Redatelj: Jonathan King
Scenarij: Matthew Grainger i Jonathan King
Prema knjizi "Under the Mountain" (1979) autora Maurice Geea


Uloge:
Tom Cameron (Theo)................Sophie McBride (Rachel)
Sam Neill (Mr. Jones).................Oliver Driver (Mr Wilberforce)
Leon Wadham (Ricky)................Matthew Chamberlain (ujak Cliff)


Film je izašao u kina u srpnju, 2009 godine (Puchon International Fantastic Film Festival)
Trajanje: 91 minuta
Foršpan filma
Službena stranica filma




SADRŽAJ:
"- Kada im iznenada umre majka blizanci Theo i Rachel odlaze na neko vrijeme kod ujaka Cliffa, koji živi uz obalu jezera Pupuke. No, tamo će upoznati misterioznog čovjeka znanog jedino kao gospodin Jones, koji im otkriva da je on pripadnik jedne vanzemaljske rase koja predstavlja dobro i koja se bori protiv druge zle rase znane kao Wilberforce, čiji je cilj pretvoriti cijelu planetu Zemlju u svoj dom u kojem ne bi bilo mjesta za zemljane.
Uz pomoć gospodina Jonesa Theo i Rachel moraju zaustaviti zle vanzemaljce svojim novonastalim moćima, jer su oni jedine osobe koje to mogu učiniti, a ako to ne naprave...Zemlja je osuđena na propast."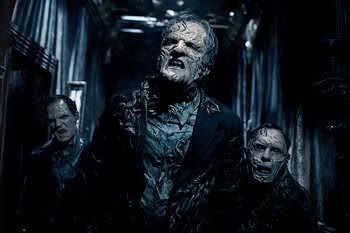 RECENZIJA:

Razgovaraju dvije prijateljice:
"- I? Kako je sinoć bilo u kinu?"
"- Pa... tako. Na kraju smo svi plakali."
"- Da? Zar je film imao tako tužan završetak?"
"- Nije! Bilo nam je žao potrošenog novca."

- Eto, tako sam zamislio da je bilo na prvoj kino premijeri filma kojeg danas recenziram, jer on je u svakom pogledu još jedan fantasy promašaj. I to samo kakav...


Što ne valja kod filma:
- radnja i sam scenarij
- gluma i režija
- specijalni efekti
- atmosfera i sam ugođaj, te nezanimljivi svi likovi filma
- negativci i pojavljivanje vrlo malo likova u filmu

Kako primjećujuete film nema onaj pozitivni dio tj. "Što valja kod filma", jer stvarno nisam ništa mogao napisati osim da u filmu glumi Sam Neill, a kako je i on podbacio onda se nisam želio zamarati sa tim.
Mislim da je najveća krivnja što je film ispao ovako bljutavo na samom redatelju Jonathanu Kingu, koji se nije nimalo iskazao ni sa svojim zadnjim filmom "Black Sheep" (2006).
Kod "Crne Ovce" je King sigurno imao bolje napisan scenarij i sa mnogo boljim osmišljenijim scenama (ni tada mu to nije pomoglo da ta crna komedija ima moj pozitivan osvrt), no ovdje je sve loše i napisano i izvedeno.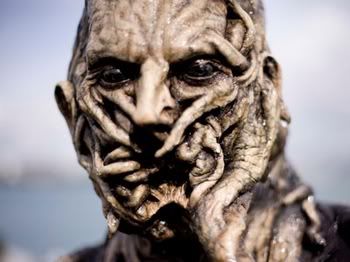 Dijalozi nisu loši nego su jednostavno nezanimljivi, a sama gluma (S. Neill je ovdje totalno glumački nezainteresiran, te sam mišljenja da se ovdje pojavio samo zbog dobro plaćenog posla ili zbog usluge samom redatelju; dok sam scenarij nije niti dopustio mladim glumcima da se dokuažu u prezentaciji svojih likova) i scene jako dosadne i uspavljujuće, tako da gledatelj nakon kojih pola sata gledanja ili zakunja ili moli Boga da što prije dođe kraj filmu. Film nema akcije niti atraktivnih scena kakve bi trebale biti u ovakvoj vrsti filma (ovo je ipak dječiji fantasy film, gdje bi osjećaj avanture trebao biti vrlo visok), a specijalni efekti su na razini TV produkcije (i to one vrlo niske).
Prema ovom filmu zabavni "Percy Jackson i Olimpijci" je ultra mega remek djelo.

Najgore bi bilo kad bih vam trebao malo detaljnije prepričati radnju jer ovdje jedino što znaš jeste tko su dobri a tko loši momci, a sve ostalo tko, zašto i kako? e to je bačeno u drugi plan, pa tako iako imamo neke odgovore koji nešto ipak šturo objašnjavaju o par stvari u filmu to je nedovoljno da bi se gledatelj barem malo zakačio na sve to.
Koliko god pozitivni likovi bili kako tako prolazni, tako su negativci jedni od najnezanimljivijih i nimalo strašnih fantasy likova koje dugo nisam vidio na TV-u, što je vjerojatno i najveći minus samog filma.
Redatelj J. King mi je sa ovim filmom dokazao da je slab redatelj za kojeg nisu veći projekti od onih televizijiskih, jer ovaj film ne samo da nema dušu i srce avanturizma kakvog viđamo u skoro svim boljim fantasy filmovima, nego ovaj film nema niti potrebitu atmosferu i ugođaj, a što se primjeti od samog početka.

Za kraj bih rekao - nisam volio "Black Sheep", a na žalost još manje ljubim i ovaj film. Vjerujem da ne griješm kad vam preporučam da slobodno zaobiđete ovu filmsku nezanimljivost, jer jedino što možete izgubiti jeste sat i pol svog života gledajući ovako deprimirajuće djelo. Bolje se odlučite na neki drugi film slične tematike ili ako već želite gledati "Ispod Planine" onda se odlučite na osmodjelnu TV seriju također iz produkcije Novog Zelanda iz 1981 godine, pa iako ju nisam gledao, mislim da je mnogo bolja od ove neukusne spačke iz kuhinje netalentiranog J. Kinga.