nedjelja, 18.04.2010.
The Spiderwick Chronicles: The Field Guide (2008)

Kronike Spiderwick: Vodič (2008)




Produkcija: The Kennedy/Marshall Company / Atmosphere Entertainment MM / Nickelodeon Movies / Spiderwick Productions / Gotham Group
Redatelj: Mark Waters
Scenarij: Karey Kirkpatrick, David Berenbaum i John Sayles
Spec. Efekti: Tippett Studio / ILM
Film rađen prema dječijoj fantasy knjizi "The Spiderwick Chronicles: The Field Guide" (2003) autorice Holly Black i ilustratora Tonyja DiTerlizzija

Uloge:
Freddie Highmore (Jared Grace / Simon Grace)................Mary-Louise Parker (Helen Grace)
Nick Nolte (Mulgarath).........................................................Sarah Bolger (Mallory Grace)
Andrew McCarthy (Richard Grace)....................................Joan Plowright (ujna Lucinda Spiderwick)


Film je izašao u kina 31. siječnja, 2008 godine
Trajanje: 96 min | 107 min (necenzurirana verzija)
Budžet: oko 90 milijuna $
Zarada: 71 148 700 $ (SAD), 10 530 519 Ł (UK)
Zarada u prvom vikendu u SAD: 24 740 537 $ (u 3 847 kina)
Službena stranica filma
Foršpan filma...
Nagrade:
2008 godina - osvojio nagradu Sierra u kategoriji najboljeg obiteljskog filma
2009 godina - zaradio nominacije: 2 nagrade Saturn (najbolji mladi glumac - Freddie Highmore i najbolji fantasy film), nagradu VES (za iznimne vizualne efekte), nagradu Mladi Umjetnik (Freddie Highmore), nagradu IFTA (najbolja glumica u sporednoj ulozi - Sarah Bolger) i nagradu za najbolju produkciju i dizajn društva "Art Directors Guild"




SADRŽAJ:
"- Nakon što se zajedno sa svojom majkom Helen (Mary-Louise Parker) dosele na zapušteno imanje Spiderwick, blizanci Jared (Freddie Highmore) i Simon (Freddie Highmore) te njihova sestra Mallory (Sarah Bolger) otkrivaju kako se na velebnom zdanju zbivaju jako neobične stvari. Nemajući nikakva objašnjenja za gotovo svakodnevne nestanke i incidente, obitelj za sve okrivljava Jareda. Odlučan dokazati kako nije ni za što kriv, Jared uz pomoć brata i sestre počinje razotkrivati fantastičnu tajnu, punu neobičnih i ponekad jako opasnih bića."




RECENZIJA:
- Nakon uspijeha "LOTR" i "Harry Potter" serijala uvijek slabo filmski zastupljen (ako se gleda po kvaliteti filma ili po zanimanju filmskih studija naravno) žanr fatazije (engl. fantasy) je u zadnjih 10 godina dobio ono zanimanje koje zaslužuje.
Iako, u književnosti njegova popularnost nikad nije jenjala i uvijek je bila na visokom nivou, filmska popularnost nije imala tako sretan put, bez obzira što publika obožava taj žanr. Tako i danas kao i recimo u 80-tima žanr fantazije (a ovdje se ne misli na SF-fantasy, nego na čistokrvni fantasy...a kako recenziramo današnji film onda ćemo gledati samo dio bajkovite fantazije) ima upitnu kvalitetu sa tu i tamo odličnim uradcima. Među te odlične ubrajam i "Kronike Spiderwick"..

Reći ću i to da mi je Spiderwick mnogo bolji od samog "Harry Potter" serijala, jer se u svijet malog čarobnjaka nikad do kraja nisam totalno ufurao (fali ono nešto) bez obzira što film ima veću produkciju i pregršt raznih mitološko-bajkovitih bića koje uvijek volim gledati. Ovo znači i da šiša "Narnijske Kronike", "Percy Jacksona i njegove Olimpijce", "Eragona", "Golden Compass"...i sl. filmove, koje publika i nije baš tako zavoljela.
Ono što potonji nabrojeni filmovi nemaju jest ugođaj (doduše neki su i slabo snimljeni ako ćemo iskreno govoriti). On je sve za ovakvu vrstu filmova, jer ako radnja i likovi nisu usklađeni onda film može imati i budžet od 500 milja dolara, no to mu neće nimalo pomoći. Film je po ugođaju neka mješavina "The Gate" (1987) i "Little Monsters" (1989) samo sa još boljim učinkom, dok sama radnja je vrlo slična onoj u filmu "Bridge to Terabithia" (2007), jer i Most i Spiderwick se bave nevidljivim svijetom vila i sličnih stvorova.




Redatelj Mark Waters se nije oslanjao na specijalne efekte kao gore spomenuti filmovi, nego je polako od samog početka filma gradio ugođaj tako da bi gledatelj vrlo lako ušao u taj divni fantazijski svijet, te vrlo brzo priglio same junake. No, ovaj zadnji aspekt ne bi bio ispunjen da glumci nisu bili na nivou.
Tako uz kvalitetnu Mary-Louise Parker i odličnu epizodnu pojavu Nicka Noltea imamo dvoje mladih i jako talentiranih glumaca Freddija Highmorea i slatku Sarah Bolger. Kod njih nema niti drvene glume, preglumljivanja i sličnih negativnih strana glumačkog zvanja...oni su jednostavno prirodni i vidi se da su se dobro uklopili u radnju filma.
Scenarij je odlično napisan i to bez ikakve mrlje ili kako to ja volim nazvati praznog hoda (čitaj zavlačenje da se nabije minutaža), sa britkim i prijaznim dijalozima, efektivnim scenama i pravocrtnim protokom radnje.
Specijalni efekti su odlični te kreacija goblina, trola-krtice i ogra Mulgaratha, te ostalih pozitivnih bajkovitih bića (izdvajam cvijetne vile i grifina) su ugodni oku, te što je najvažnije ne zasjenjuju samu sadržaj filma. Svidjelo mi se što se film ne suzdržava prikazivati onaj mračniji ton koji mnogi filmovi za djecu konstantno izbjegavaju, a to je da vidimo kako čudovišta krvare, ostaju bez ruku ili očiju, te da čak ni junaci ne ostaju dužni u pogledu toga (ujedi i rane). Sa tim realističnim elementom dobro se uklopilo i to što imamo mladog junaka sa svojim osobnim i teškim problemima (rastava roditelja, otac ne mari za svoju djecu, selidba u drugo mjesto) što svakako pospješuje da se bolje upoznamo i poistovjetimo sa glavnim likom.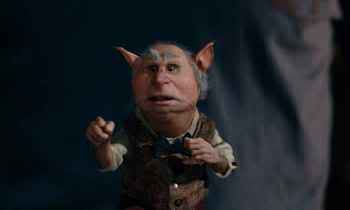 Ne znam što više reći nego da sam uživao gledajući ovaj film, jer kod njega sve štima da je milina. Najviše sam guštao u priči, koja me je ponukala da uskoro potražim knjigu i da je pročitam (takav efekt bi trebao izazvati svaki film koji se temelji na nekoj knjizi). Nadam se da će se jednom pojaviti i nastavak, te da će biti barem jednako kvalitetan kao ovaj film. Naravno, toplo preporučujem gledanje ovog filma i to ako se ikako možete dočepati necenzurirane verzije...


THE SCENA:
- kad naše junake natjerava kroz podzemne tunele trol-krtica
- posljednji obračun između goblin vojnika i obitelji Grace