srijeda, 14.04.2010.
''Sumrak Razbijenog Uma'' - Mislav Pasini

Mislav Pasini - ''Sumrak Razbijenog Uma''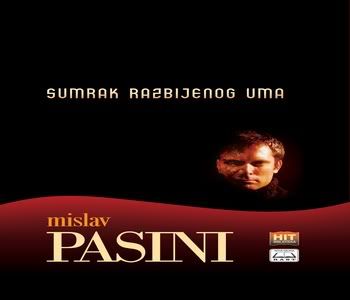 Izdavač: Nova knjiga Rast
Stranica: 315 (tvrdi uvez, 2008)
Cijena knjige: 149kn (internet narudžba 115kn)


SADRŽAJ:
''- Mark Morrison uspješan je pisac horor romana. Nakon rasprodanih pet milijuna primjeraka svoje knjige «Napad u krvi», na poziv policijskog inspektora Erica Dolana, Morrison stiže u gradić Elmore.
Kako se pisac i inspektor poznaju od ranije, obzirom da je Morrison svojim instinktom riješio Dolanov prethodni slučaj, inspektor se nada da će piscu to i ovaj put poći za rukom. Gradić Elmore ponovno je opsjeo nemilosrdni ubojica. I dok dvojac tapka u mjestu, bez ikakvog rješenja na vidiku, situacija se pogoršava.

Pravi pakao nastaje onog trenutka kada novi roman Marka Morrisona biva objavljen polovično. Strah i trepet dobivaju nove dimenzije jer je ubojica u Elmoreu iznenada pronađen mrtav. Nešto novo, nešto strašno i demonski snažno, proizašlo baš kao iz samog pakla, okomilo se nad gradić Elmore… ali i ne samo nad njega već i nad sve koji su bili odgovorni za objavu Morrisonovog romana s pogreškom.''



RECENZIJA:
- Evo mene opet sa novom književnom recenzijom i to treće knjige Mislava Pasinija (kako sam obećao). Da li se Mislav popravio u svom pisanju i koliko vrijedi najnovije napisana knjiga pogledajmo u sljedećem prilogu.


Što valja kod knjige:
- bolje napisana od prošle dvije Pasinijeve knjige ''Blackout'' i ''Mrtva Straža''
- napkon ima zadovoljavajuću naslovnicu
- jedan od likova je iz Hrvatske
- kad ubojica ubije prvi put


Što ne valja kod knjige:
- radnja i sama priča bezkrvne
- karakterizacija likova (pogotovo Jelene i Dolana)
- česta ponavljanja nekih iritirajućih i jednih te istih riječi
- ponekad korištenje engleskih upadica
- sam kraj romana
- cijena od 159kn je i dalje previsoka za ovako slab roman


Završna riječ:
- Kako vidite jednim sam dijelom ostao ugodno iznenađen, jer se Mislav u svom pisanju popravio na bolje no na našu opću žalost samo za nijansu više tako da i ovaj njegov roman ima pregršt negativnih strana.
Pisanje je ovdje mnogo tečnije nego recimo u njegovom prvom romanu (dok u drugom tj. zbirci priča u pojedinim djelovima smo također vidjeli da ima tu mogućnost posložiti dobre i ugodne riječi). Problem kod ove knjige (ali najvjerojatnije i kod Mislavovog pisanja) je taj da fabula treba imati bogatiju i smisleniju priču, sa mnogo boljom karakterizacijom. Naime pisac ima samo fragmente ideja no ne uspijeva te djeliće ukomponirati u pravi tijek priče. Pa tako u romanu izgleda sve nekako porazbacano, nategnuto i neuvjerljivo.

Od neuvjerljivih djelova bih spomenuo kad se Mark Morrison upucava Jeleni, gdje njihov dijalog više baca na one očajne koverzacije u našim sapunicama nego u pravi zavodnički razgovor. Onda dio koji me je najviše smetao, a to je veza Marka i inspektora Dolana. Meni je taj dio najnevjerljiviji od svih ovih neuvjerljivijih koji se protežu tu i tamo kroz roman. Način na koji je Mark jednom pomogao Dolanu (objašnjenje na str. 127 a mogu samo reći da ima veze sa osnovama foreznike, koje policija zna i bez da im to neki tamo pisac objašnjava) u jednom slučaju ne bi osmislilo ni 8-godišnje dijete, pa mu zbog toga ovaj dopušta kao Poirotu da švrlja po mjestu zločina kao da je ovaj uber rješavalac zločina (što je na početku i bilo tako, no autor vrlo brzo prekida to što je započeo, pa odlazi u nekom drugom pravcu...zašto je tome tako vjerujem da ni on sam ne zna).

Druga bolna negativnost ovog romana je slaba karakterizacija likova. Vjerujem da je barem ona trebala biti mnogo bolja ako se uzme u obzir da u romanu i nema baš mnogo likova (4 glavna i 3 sporedna), te da su karakterizacije u prošle dvije Pasinijeve knjige bile jako loše. Ovako vam dok čitate roman nije stalo ni do glavnih likova, a kamoli do onih sporednih što je priznat ćete najgore za svaku knjigu.
Kako je Mislav i profesor hrvatskog jezika mislio sam da mu se neće potkradati sljedeće greške – ponavljanje nekih riječi koje iritiraju čitatelja (npr. Str. 105 – ''dok mu se slina nakupljala u krajevima usana'', pa str. 111 – ''Oblizao je usnice.'', pa str. 116 – ''oblizao je donju usnicu'', pa str. 121 – ''sjećao se pljuvačke koja je procurila u kutovima usana'', str. 130 ''Dolan pliže gornju usnicu'', str.163 – ''pljuvačku koja mu se nakupila u krajevima usana'' i sl.), te nepotrebno korištenje engleskih upadica (npr. spomenuta riječ redneck na str. 171, koja je mogla biti zamjenjena sa seljačinom) koje imaju i vrlo dostojne zamjenske hrvatske riječi. Sama radnja romana je jako plošna i sa svojim drvenim likovima vrlo brzo umara čitatelja, te niti pokušava biti iole zanimljivijom ili dinamičnijom u nekim svojim 'žešćim' scenama.

Sve u svemu bolje od prošle dvije knjige, no opet je to dosta loše napisano. Splitski pisac bi se trebao malo bolje pozabaviti karakterizaciji i izrčaju, te formiranjem fabule, pa bi tek tada imao svoj dobro napisani roman. Ovako na žalost ne preporučujem ni ovaj roman (bliži trileru nego horor žanru) za vaše čitanje, jer je naposljetku vrlo zamoran i nezanimljiv...