ponedjeljak, 29.03.2010.
Night of the Living Dead 3D (2006)

Noć Živih Mrtvaca 3D (2006)




Produkcija: The Horrorworks / Lux Digital Pictures
Redatelj: Jeff Broadstreet
Scenarij: Robert Valding


Uloge:
Brianna Brown (Barb)...............................Joshua DesRoches (Ben)
Sid Haig (Gerald Tovar, Jr.)......................Greg Travis (Henry Cooper)
Johanna Black (Hellie Cooper).................Adam Chambers (Owen)


Film je izašao u kina 08. rujna, 2006 godine (World 3D Film Expo)
Trajanje: 80 minuta
Budžet: oko 700 000$
Foršpan filma...
Službena stranica filma




SADRŽAJ:
"- Brat i sestra imenom Johnny i Barbara odlaze na pogreb majčinoj sestri. No, kad dođu na groblje bivaju napadanuti od živih leševa. Johnny bježi automobilom, ostavljajući Barbaru da se sama također spašava bijegom, ali pješice. Bježeći onoliko koliko su je noge nosile, stiže kasno noću na prividno napuštenu farmu.
Nedugo potom u toj istoj farmi se nađe još nekoliko ljudi, neznanaca, koji spoznaju da vani vlada neka čudna epidemija u kojoj oživljuju nedavno preminuli. Ti isti oživljeni leševi napadaju žive ljude i hrane se njihovim mesom. Oronulu kuću na osami polako sve veći broj živih mrtvaca opkoljuje. Samo se jedno pitanje pojavljuje svim protagonistima u njihovim glavama : «Tko će živ dočekati jutro?"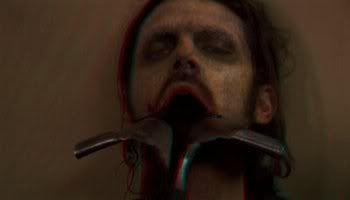 RECENZIJA:
- Evo nam već drugog po redu rimejka Romerovog kult klasika iz 68' (ove godine bi trebao izaći i treći). No, moram vam reći da smo nakon fenomenalnog rimejka Toma Savinija iz 1990-te dobili jedva prolazni zombi film. A evo i zašto:


Što valja kod filma:
- ovo je rimjek Romerovog klasika i prvog zombi filma gdje leševi jedu ljude
- ugođaj i atmosfera
- specijalni efekti i šminka
- Sid Haig glumi u filmu


Što ne valja kod filma:
- gluma i scenarij
- kraj filma
- redatelj ne zna svoj posao
- Sid Haig nije iskorišten kako treba
- ovo je jedan loš rimjek
- 3D efekta i nema baš puno u filmu


Završna riječ:
- Iako, film nije potpuna katastrofa (spašava ga odlična atmosfera i ugođaj, koju redatelj ne zna iskoristiti u radnji) ovo je jedan od lošijih zombi filmova. Ono što ga najviše srozava jeste jako loša gluma većine glumaca, no pozitivne strane glume kako tako zadržava Greg Travis, glumac koji se nije isakzao no svakako odaje neki minimalni talent u ovakvoj glumačkoj postavi. Što se tiče Sid Haiga (ugodno glumačko ime mnogih hororaca), on svakako nije u svojoj najboljoj ulozi no i ovakav je svjetlosnim godinama ispred svih što se tiče glume naravno (a i dodjeljena uloga mu pristaje). Scenarij je tu i tamo malo promjenjen (Ben više nije crnac...ali hej ovo je jedan od rijetkih zombi hororaca koji nema crnca u glavnoj postavi), no glavne stvari su i dalje tu (Barb, Johnny, Cooperovi, Kuća, zombiji...). Jedino je kraj mlohav i jako slabo scenaristički napisan (jednostavno ne pušim tu priču o 'ostavštini' Tovarovih i ponašanju Tovara Jr.-a)

Glavna boljka filma je redatelj Jeff Broadstreet, koji ne samo da nije uspio glumce uputiti u bolji način glume nego nije iskoristio sve one dobre aspekte što ih film ima (već spomenuti atmosfera i ugođaj, te specijalni efekti tj. šminka).
Zbog njegove redateljske nezrelosti film izgleda nedorečen, bljutav u nekim momentima, no opet u drugi ruku neki kadrovi odavaju da je ovo mogao biti sasvim pristojan film (većinom one na sredini filma, gdje se pojavljuju zombiji). Moram istaknuti da zombiji izgledaju jako dobro što se tiče toga da je film imao budđet od oko 700 000$, no kad živi leševi izgledaju bolje nego živi glumci u svojoj glumi to ne može dobro završiti zar ne? 3D efekte nisam primječivao (jedino početak kad ide naslov filma) tako da neću trošiti mnogo riječi na taj reklamni trik.
Ovako iako sam film gledao već po drugi put (zbog atmosfere i ugođaja...već 3 put to spominjem zar ne?), nisam nimalo očaran njim. Kako bilo ovaj film vam ne mogu toplo preporučiti, nego ću samo reći gledajte ga na svoju ruku, jer ako ga i odlučite ne gledati nećete mnogo propustiti (bolje pogledajte "Zonu Mrtvih", koji je imao sličan budžet, no izgleda u svim segmentima superiornije)...