nedjelja, 14.03.2010.
Corey Haim (1971 - 2010) R.I.P

Corey Haim




PRAVO IME: Corey Ian Haim
DATUM ROĐENJA: 23. prosinca, 1971 godine
MJESTO ROĐENJA: Toronto, Ontario, Kanada
DATUM SMRTI: 10. ožujka, 2010 godine
MJESTO SMRTI: Burbank, Kalifornia, SAD
NADIMAK: Space Ace (Svemirski As) i The Haimster (igra riječ njegovog imena i hrčka)
PRVA ULOGA: u filmu "Firsborn" (1984)
PRVI HIT: "The Lost Boys" (1987)
KULTNI FILM: "The Lost Boys" (1987)
NAJPOZNATIJA FILMSKA ULOGA: kao Sam u filmu "The Lost Boys" (1987)
NAGRADE:
- bio nominiran tri puta za nagradu mladih umijetnika (86', 87' i 88), te istu nagradu dva puta osvojio (87' i 89')
- zaradio tri nominacije nagrade Saturn (88', 90' i 92')
- VH1 ga je proglasio #8 najboljom dječjom zvijezdom svih vremena, a 2006 godine VH1 ga je stavio na #26 mjesto 100 najvećih dječijih zvijezda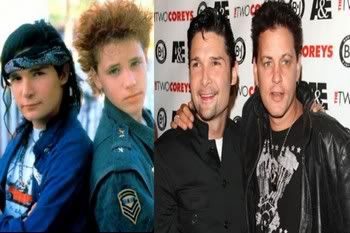 Corey Tim u naponu slave (80-te) i danas

Rođen u kanadskom gradu Torontu i od malenih nogu odgajan u židovskom duhu (majka Judy je porijeklom iz Izraela). Otac mu se bavio prodajom, a majka je radila kao kompjuterski operator.
Iako, je više volio skupljati stripove i baviti se hokejom i glazbom (svirao klavijature), na majčin i nagovor dvije godine starije sestre Carol počinje se baviti glumom (majka plaćala sate glume, a sestra mu nalazila audicije). Prvu prigodu dobija u popularnoj kanadskoj obiteljskoj komediji "The Edison Twins", koja je trajala sve do 1986.
Vrlo brzo dobija svoju prvu filmsku ulogu 1984 godine u obiteljskoj drami "Firstborn", gdje ima prilke glumiti rame uz rame sa Sarah Jessicom Parker i Robertom Downey Jr-om. Nakon omanjih uloga u "Secret Admirer" i "Murphy's Romance", dobija svoju prvu pravu ulogu koja je ujedno i glavna - onu dječaka paraplegičara Martyja u hororu "Silver Bullet" (1985), koji se bori protiv vukodlaka. Tu je uz malu pomoć Gary Buseya, ponudio ugodnu i stvarno pamtljivu glumačku prezentaciju, što će se manifestirati sljedećih godina u još bolja glumačka ostvarenja, a on sam će biti omiljen dječiji glumac MTV generacije. Da nije samo lijepo lice i ugodna pojava pokazuje u svom sljedećem filmu "Lucas" iz 1986 godine, gdje su mu glumački partneri bili Kerri Green, Winnona Ryder, Charlie Sheen i Courtney Thorne-Smith. Film nije bio zapažen, no za Coreya tek je taj film za njega imao veliki utjecaj u daljnoj glumačkoj karijeri, jer baš tada njegova karijera kreće uzlaznom putanjom.


U svom najpoznatijem filmu "The Lost Boys" sa braćom Frog

Tad snima svoj najpoznatiji i njegov zasigurno najbolji film "The Lost Boys" (1987) u režiji Joela Schumachera. Baš u tom filmu se sve pogodilo od odlične režije, scenarija i glume. Da svi glumci u filmu su dali svoje najbolje (ili jednu od najboljih) uloga u svojim karijerama, pa tako i sam Haim, koji se odlično uklopio u svoj lik
tinejđerskog dječaka Sama koji se sa svojim prijateljima braćom Frog bori protiv modernih vampira.
Ovaj film je bio važan i zbog toga što je tu započeo svoje prijateljstvo sa filmskim kolegom Coreyom Feldmanom, sa kojim je (uz ovaj) glumio u čak osam filmova ("License to Drive" (1988), "Dream a Little Dream" (1989), "Blown Away" (1992), "Last Resort" (1994), "Dream a Little Dream 2" (1995), "Busted" (1997) i "Lost Boys: The Tribe", 2008).
Baš te godine započinju i njegovi problemi sa drogom (te 87' popušio svoj prvi joint), pa tako kako njegova slava sve više raste, tako njegova ovisnost o sve jačim drogama postaje izrazitija (sa marihuane je prešao na kokain, a poslije koke na crack). 1988 snima još jedan horor film "Watchers", no već te godine njegova slava počinje bljedeti da li zbog lošeg izbora uloga ili zbog sve većih njegovih problema sa drogom ili pomalo zbog oboje, to je teško reći no početkom 90-tih on kao glumac nestaje, jer nakon što je sa Patriciom Arquette snimio " Prayer of the Rollerboys" svi sljedeći filmski projekti mu završavaju ravno na video. Ne samo da mu je karijera krenula strahovito nizbrdo nego mu je i život također krenuo tim putem (nije pomoglo ni to što su mu se roditelji 1993 godine rastali nakon 18 godina braka).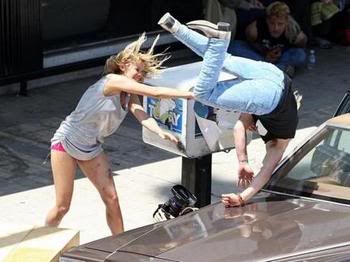 Na snimanju filma "Crank 2"... sa Amy Smart

Droge su mu postale životni prijatelj ("...gutao sam tablete kao bombone."), pa je tako već par puta doživio blisku smrt zbog zatajenja srca. 1997 godina je bila izrazito teška jer zbog financijskih problema doživljava bankrot. Tak polovicom prošlog desetljeća karijera mu kreće novom uzlaznom putanjom, pa tako počinje dobijati sve bolje filmske ponude (Randy u "Crank 2"). Uz to krenuo je u odvikavanje od ovisnost o drogama i raznim tabletama (pio i 85 vrsta na dan). Živio je u malom apartmanu sa majkom koja je bolovala od raka dojke i za razliku od mnogih filmskih zvijezda nikad se nije ženio.
U 02.15 sati 10. ožujka, ove godine proglašen je mrtvim. Špekulacije su odmah krenule da je umro od predoziranja, no službeno stoji pulmonary congestion (dotok tekućine u pluća), no kakve činjenice bile jedna od najvećih filmskih dječijih legendi je umrla, tako i jedan djelić prelijepih 80-tih.

Evo što je rekao o njemu njegov prijatelj Corey Feldman Larryju Kingu na dan Haimeove smrti:
"...On je sam sebi bio neprijatelj. Gledajte, mnogo ljudi koji su umjetnisti teže da budu sami sebi najgori neprijatelji zato jer smo strastveni ljudi... U posljednje vrijeme je bio, iskreno, u najboljem stanju svijesti u prošlih par godina..."

Zato kapa dolje i Rest in Peace legendo (hej hodao je i sa Victoriom Beckham 1995 godine, ako to nekome išta znači), jer meni ćeš uz Coreya Feldmana biti najdraža dječiji tandem ikad i jedan od najdražih horor glumaca pa iako nisi imao mnogo uloga u takvim filmovima. Ovo što si napravio mi je sasvim dovoljno...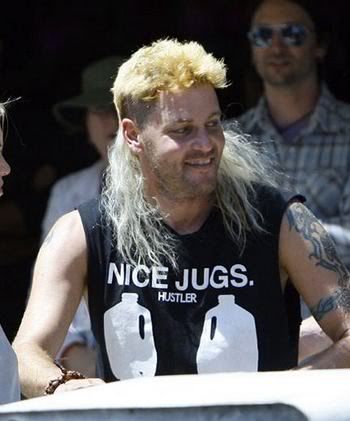 Kao Randy u "Crank 2"