utorak, 09.03.2010.
The Descent part 2 (2009)

Užas iz Dubine 2 (2009)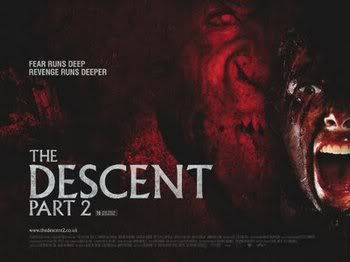 Produkcija: Celador Films
Redatelj: Jon Harris
Scenarij: J Blakeson, James McCarthy i James Watkins


Uloge:
Shauna Macdonald (Sarah)
Natalie Jackson Mendoza (Juno)
Krysten Cummings (Rios)
Gavan O'Herlihy (Vaines)


Film je izašao u kina 24. kolovoza, 2009 godine (Fantasy Filmfest)
Trajanje: 94 minute
Službena stranica filma
Foršpan filma...
Zarada: 587 087 Ł (UK)
Zarada u prvog vikenda u UK-u: 313 739 Ł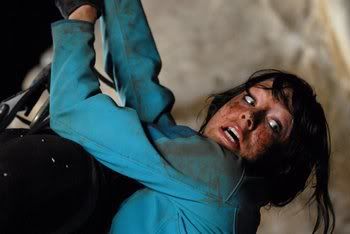 SADRŽAJ:
"- Sarah Carter, jedinu preživjelu planinarku iz ženske skupine koja je zašla u jednu od još neistraženih pećina u Appalachi brdima pronalazi jedva živu spasilačka ekipa. Nakon što jedva dođe k sebi i nakon što se sazna da pati od blage amnezija Sarah je ipak primorana da krene sa malom spasilačkom ekipom natrag u špilje i pomogne u traženju ostatka njene družbe. No, kad se sjećanje na stravične događaje koje je preživjela počnu vraćati, Sarah zna da ih duboko u špiljama čekaju stvorenja...gladna sviježeg mesa."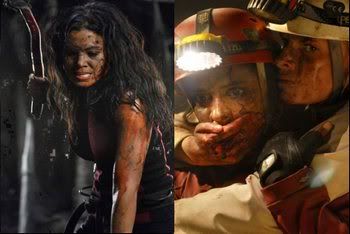 Juno i Sarah are back

RECENZIJA:
- Moram reći da sam ovom filmu jedva nadjenuo naslov na hrvatskom "Užas iz Dubine 2", jer stvarno se divim talentu koji je prvom djelu nadjenuo takvo ime. Inače film bi se po našem trebao zvati "Potomstvo" ili "Porijeklo", eh da se barem osnove engleskog jezika znaju...
Dobro što je tu je. Da film i to nastavak remek djela iz 2005 godine, no ovaj put u redateljskoj stolici nije Neil Marshall. Koliko je to pozitivno za sam film, pa pogledajmo:


Što valja kod filma:
- Shauna Macdonald i Natalie Jackson Mendoza repiriziraju svoje uloge iz prvog dijela
- odnos Sarah i Juno
- sadrži više akcije i krvi od prvog dijela
- ima 3-4 jako dobre i efektne scene
- gore element izrazito prisutan
- osjećaj klaustrofobije i dio atmosfere iz prvog dijela također prisutni
- ovo je i dalje ženski film
- kraj filma


Što ne valja kod filma:
- slab i neuvjerljiv scenarij
- ponavljanje nekih scena iz prvog dijela
- zadnjih 2 minute filma, koji vrijeđaju gledateljevu inteligenciju
- karakterizacija likova slabašna




O filmu:
- Kako sam i mislio to se i dogodilo. Kakav je REC 2 naspram prvom REC-u, takav je Descent 2 svom prvjencu. Usudio bih se reći ćak i nešto slabiji. Naime najveća negativnost filma jest scenarij, koji je vrlo neuvjeljivo napisan, sa šturim i jednoličnim dijalozima, kopiranim scenama koje smo već vidjeli u prvom djelu, no koji su zakamufirani pojačanim akcijskim elementima (a koji izgledaju odlično). Također likovi su lišeni neke bolje karakterizacije (čak i Sarah i Juno izgledaju slabašno naspram onoga što smo vijdeli u Marshallovom filmu).
Unatoč neoriginalnosti scenarističkog trojca sve te iskopirane scene ipak imaju neki svoj šarm, a da li je to baš zbog tog akcijsko-krvavog štiha ili je to samo zbog toga što podsjeća na prvi dio ni sam nisam siguran. Znam da će se većini kraj činiti glup ako ne i odbojan, no meni je bio sasvim u redu i čak mi se pomalo svidio što film ima 'američki' završetak. No, nije mi se svidjelo onih zadnjih 2 minute, jer je kraj filma toliko glup da je nevjerojatno da scenaristi imaju tako malo pameti da se igraju sa gledateljem i da mu daju kraj kakav smo viđali u u B-horocima tijekom 80-tih (tad je to prolazilo danas već ne) ili koje viđamo u današnjim horocima C i ŽNJ produkcije, koji su naravno ravno na DVD produkti.




Moram spomenuti i dobre stvari - više ogavnih i kravih scena (odgrizanje prstiju, kidanje ruke cepinom, kidanje grkljanja zubima, gnječenje glave jednog od beštija gromadom stjene...krv, krv na sve strane i to doslovno...). I dalje je prisutan klaustrofobičan ugođaj (špilje i tijesni prolazi...svaka čast redatelju).
Iako, film ima muških likova vrlo brzo postaje jasno da je ovo ipak ženski film, kao što je to i prvi dio bio. Jedna od malobrojnih pozitivnih stvari scenarija je ta što odnos Sarah i Juno odlazi na viši nivo (no i ovo je moram reći moglo i trebalo biti bolje scenaristički odrađeno i napisano). Unatoč svemu i svim tim minusima koje film ima mogu reći da kod mene ima prolaznu ocijenu i sasvim je u redu nastavak,a što se tiče samog redatelja kojem je ovo debi onda i on sam može biti zadovoljan odrađenim poslom. Šteta što će ovom djelu prvi dio visjeti nad glavom kao Demaklov mač, ali hej nije jedini (pogledajmo REC 2). Pogledati, ali pod uvijetom da zaboravite kakav je prvi dio bi filmčina (k vragu ako se gleda po originalnom završetku, koji mi je draži od 'američkog', onda ovog dijela nikad ne bi ni bilo, što ne bi ni bilo neka velika šteta).


THE SCENA:
- obračun i brčkanje u sraoni beštija
- borba na plafonu (vidimo i ženku beštija)
- svaka scena u kojoj vrat krvari usljed udaraca, griženja i sl.
- finalna borba do zadnje kapi krvi - žene vs. grupa beštija plus alfa uber jaki teško ga ubiti mužjak