četvrtak, 28.01.2010.
Book of Eli (2010)

Knjiga Iskupljenja (2010)




Produkcija: Alcon Entertainment / Silver Pictures
Redatelj: Albert Hughes i Allen Hughes
Scenarij: Gary Whitta

Uloge:
Denzel Washington (Eli).....................Gary Oldman (Carnegie)
Mila Kunis (Solara)..............................Ray Stevenson (Redridge)
Jennifer Beals (Claudia)......................Tom Waits (Inženjer)
Frances de la Tour (Martha)................Michael Gambon (George)


Film je izašao u kino 15. siječnja, 2010 godine
Trajanje: 118 minuta
Budžet: oko 80 milijuna $
Zarada: 38 437 553 $ (za sada u SAD-u; u 3111 kina)
Službena stranica filma...
Foršpan filma...




SADRŽAJ:
"- Radnja filma odvija se u post-apokaliptičnom svijetu u kojem usamljeni ratnik (Denzel Washington) putuje razorenom Amerikom kako bi sačuvao svetu knjigu koja skriva tajnu spasa čovječanstva. Međutim, odmetnik (Gary Oldman) iz malog gradića ima vlastite planove i na sve moguće načine pokušava se domoći knjige, kako bi ostvario svoje želje o moći…"




RECENZIJA:
- "Book of Eli" će ostati prvi film koji sam gledao u CineStaru Šibenik i mogu reći da nisam bolji film odabrao za gledanje (uvijerljivo je pobijedio "Avatar"). Netko je jednom rekao da je ovakva radnja već viđena i da nije ništa nova...i to je sveta istina, ali zar trebamo tako oštro suditi o post-apokaliptičnim filmovima?
Činjenica je ta da glavna radnja jest uvijek ista, no još je važnije da takvi filmovi moraju prikazati preživljavanje preživjelih na najbolji mogući način jer samo tako mogu zaintrigirati gledatelja.

Po meni ovom filmu je to uspijelo tako dobro da on sam već na početku ove naše godine upada među najbolje filmove u 2010 godini. Sajno zar ne?
Za sve su zaslužni najviše sami redatelji braća Hughes (odlični "Dead Presidents" (1995) i poznatiji no isto tako slabiji, ali i dalje zanimljiv film "From Hell", 2001) koji su svojim stilom i nadasve sigurnom režijom zaokružili sve ono najbolje u filmu. Dakako pomogao im je i odlično napisani scenarij (manje u dijalozima, a više u vizualnom smislu dočaravanja filma) scenarista novaka Garyja Whittae (već radi na scenarijima filmova "Akira" i superherojskom "The Defenders", koji je baziran na Marvelovim junacima). Spomenut ću i da je fotografija/kamera također sjajna, no to nije niti za čuditi u filmovima braće Hughes (pogledajte samo "Iz Pakla" ako niste već i sve će vam biti jasno).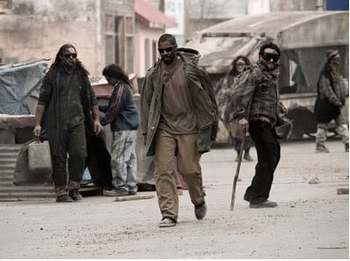 Iako je redateljski dvojac perfektno posložio svaki djelić filma (radnja, tehnlogija, CGI, akcijske scene...) film ne bi bio tako odličan da nema odličnu glumačku postavu:
Denzel Washington je bio jako dobar izbor za ulogu usamljenika Elija, jer svojim glumačkim umijećem i talentom brzo dopušta da ga gledatelj simpatizira, pa tako po mome osobnom mišljenju daje svoju treću najbolju ulogu u karijeri (prva je bila uloga Nicka Stylesa u "Ricochet" (1991) , a druga još bolja i njegova najbolja "Training Day" (2001) gdje je glumio pokvarenog drota Alonza). Još je bolje to što sve borbe odrađuje sam (trenirao ga je učenik Bruce Leeja Dan Inosanto) i što su relistički koreografirane bez ikakvih pogrešaka, a da ne govorim kako vizualno izgledaju predivno i brutalno u istom momentu kad fajt krene. Kad Eli krene lete ruke, iznutrice, no sve to ne ulazi u prvi plan koliko samo borilačko umijeće i njegov brzi-precizni način borbe.
Gary Oldman standardno dobar, no isto tako ne i u svojoj najboljoj interpretaciji, dok je mlada Mila Kunis napokon u jednoj pravoj i ozbiljnoj ulozi (ako ovako nastavi karijera joj može samo ići uzbrdo). Dodatni šećer filma je epizodno pojavljivanje Jennifer Beals i Toma Waitsa, te se i Ray Stevenson lijepo uklopio u sam film što mi je izrazito drago, jer je glumac s kvalitetom ("Punisher: War Zone" i "Outpost").




Kako vidimo u filmu sve funkcionira savršeno i bezprijekorno, tako da nije niti čudo da atmosfera i ugođaj filma nisu ništa manje zanemarivi ili uvjerljiviji. Pogotovo bih istaknuo početak filma, koji mnogo govori o samoj radnji, ali i post-apkaliptičnom svijetu i izolaciji koju preživljavaju preživjeli (Eli u svojim samotnim trenutcima).
Ako izuzmemo B-filmove na temu post-apkalipse većina (evo se trenutno ne mogu sjetiti niti jednog) A-filmova se nije baš bavila kanibalizom (naravno uzimam samo one filmove gdje nema mutanata ili 'zaraženih') gdje su kanibali obični ljudi, koje je sila prilika na to natjerala.
Eli tijekom filma naleti čak dva puta na ljude kanibale (drugi susret je pomalo jezovit, tako i smiješan u isti trenutak), a sam odbija postati jedan od njih, pa se radije hrani štakorima i mačkama. Ovo je stvarno bio jako hrabar, ali i pametan dodatak samom filmu. Ovaj film definitivno nabavljam na DVD-u, a vi svi koji ga niste gledali, ali ste voljeli igrati serijal "Fallout" znajte da čete stvarno uživati u Knjizi Iskupljenja, koji je dobar spoj filmova "Pobješnjeli Max II" (radnja nakon atomskog rata) i "Ja sam Legenda" (junak crnac koji samo želi preživjeti u post-apoklaiptičnom svijetu). Toplo preporučujem.


THE SCENA: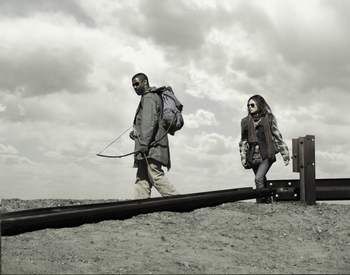 - Kad Eli i Solara naiđu na 'čudan' par staraca Marthu i Georgea i njihova borba sa bandom Garya Oldmana
- svaka borba u kojoj Eli sređuje grupu nasilnika na jako brz i učinkovit način
- početak filma zbog ugođaja i kraj zbog saznanja o samoj knjizi